Capilano University Windows laptops can now be registered for access to the secure CapU-Employee wireless Network.
The CapU-Employee wireless Network is more secure than our public CapU-Guest or eduroam Networks and enables access to Capilano University applications that are not available using public Wi-Fi.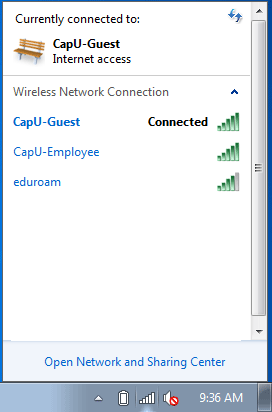 To access this network for the first time on your CapU issued laptop:
Plug your CapU Windows laptop into a wired Network port.
Log in to your computer.
You should now see CapU-Employee in the Network list.
Click on this network to connect.
You should not be prompted for a passphrase and should be connected to this network in the future.
If you are not able to connect to CapU-Employee by following these steps, please contact IT Services.