Recommended Reads for Black History Month
Published16 February, 2023
Photo credit Patrick Leung
Visit the CapU Library to explore compelling books and poetry by Black authors.
This year's Black History Month theme is Black Resistance, which focuses on how resistance to historic and ongoing oppression has enabled Black people to achieve triumphs, successes and progress.
Resistance writing is central to Black Resistance. It is a way that Black authors can question and challenge those in power, call out systemic inequity, and examine other forms of oppression. It is a powerful way to connect people, foster reconciliation, and communicate shared goals. It takes courage to speak out in this way.
As Audre Lorde (self-described "black lesbian feminist warrior mother") wrote in The Black Unicorn: Poems:
The Capilano University Library supports the intellectual development of our community to collect and preserve Black stories, and those of other underrepresented groups. To that end, we offer you these highlighted works by Black authors that are available in the Capilano University Library collection. We hope they engage, enrage, enlighten, enliven and encourage you.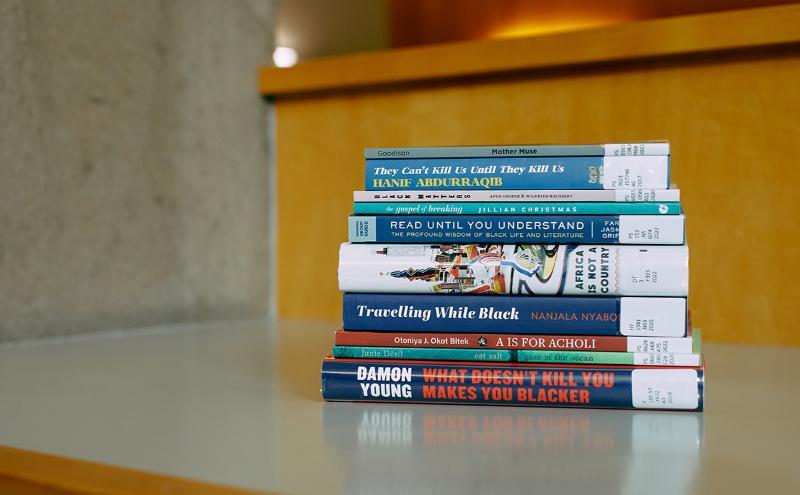 Non-fiction
Africa Is Not a Country: Notes on a Bright Continent
By Dipo Faloyin
On the shelves at: DT3.F315 2022
The acclaimed journalist Dipo Faloyin highlights the realities of Africa's communities and histories. Africa is a diverse continent of 54 countries, over two thousand languages, and 1.4 billion people, but Western culture depicts it in terms of generalizations and stereotypes. This book is a witty and insightful study of a diverse continent that needs to be understood, respected and celebrated.
Traveling While Black: Essays Inspired by a Life on the Move
By Nanjala Nyabola
On the shelves at: HT1581.N93 2020
What does it feel like to move through a world designed to limit and exclude you? What can travel tell us about our sense of self, of home, of belonging and identity? From Nepal to Botswana, Sicily to Haiti, New York to Nairobi, Nanjala Nyabola's insightful and humane essays ask hard questions and offer surprising and sometimes humorous responses.
They Can't Kill Us Until They Kill Us
By Hanif Abdurraqib
On the shelves at: PS3623.I57748 A6 2017
Hanif Abdurraqib is a music critic, essayist and poet. In these essays, he reflects on recent events such as the nightclub attacks in Paris and ongoing realities like the everyday threats to the lives of Black Americans. Abdurraqib uniquely uses the lens of music and culture to view our world, so that we might better understand ourselves.
What Doesn't Kill You Makes You Blacker: A Memoir in Essays
By Damon Young
On the shelves at: E185.97.Y632 A3 2019
For Damon Young, being a Black American induces a ceaseless state of angst. This book recounts his efforts to survive and make sense of the unease his country has given him. Hailed as one of America's most respected cultural observers, Damon Young's truthful debut is a celebration of Blackness, a critique of white supremacy, and an analysis of how America defines masculinity.
Read Until You Understand: The Profound Wisdom of Black Life and Literature
By Farah Jasmine Griffin
On the shelves at: PS153.N5 G74 2022
When Farah Jasmine Griffin's father died, he left her a closet full of books and other archives of Black genius. With them was a letter that included a line inspiring the title of this book, "Read until you understand." In this book Griffin shares her discoveries via the inheritance; she explores themes such as grace, justice, rage, self-determination, beauty and mercy through an immersion in the works of Black artists, culture and history.
Discovery Search
Search the Capilano University Library collection for works by Black authors.
Search Our Database
Poetry
Eat Salt / Gaze at the Ocean: Poems
By Junie Désil
On the shelves at: PS8607.E85 E28 2020
Junie Désil uses her personal narrative of being Black, Haitian and the child of immigrants on stolen land to inform her poetry. She writes using the Haitian zombie as a metaphor for the condition of and treatment of Black bodies and to explore themes of Black sovereignty, Haitian sovereignty and Black lives.
Mother Muse
By Lorna Goodison
On the shelves at: PS8563.O83435 M68 2022
Canadian-Jamaican Lorna Goodison's new book of poetry moves boldly and ranges widely. This collection focuses on two under-regarded Jamaican artists, Sister Mary Ignatius (who nurtured many of Jamaica's most gifted musicians) and celebrated dancer Anita "Margarita" Mahfood.
The Gospel of Breaking
By Jillian Christmas
On the shelves at: PS8605.H752 G67 2020
Vancouver-based Canadian poet Jillian Christmas sources family history, queer lineage and a racialized life to create an opulent and subversive collection of poetry.
A is for Acholi
By Otoniya J. Okot Bitek
On the shelves at: PS8629.K68 A75 2022
Vancouver-based Canadian poet Otoniya J. Okot Bitek's work incorporates themes of exile, home, belonging and diaspora. A is for Acholi explores diaspora in depth, focusing on the marginalization of the Acholi people. She explores ways of rethinking the history of Acholi contact with Europeans while dreaming of living in a world without empire.
Black Matters
By Afua Cooper
On the shelves at: PS8555.O584 B53 2020
Halifax's Poet Laureate Afua Cooper and photographer Wilfried Raussert collaborate in this book of poems and photographs. Cooper translates Raussert's photos into poetry, creating a conversation that is a tribute to Blackness in the African diaspora around North America and Europe.
Connect with the CapU Library
These and many more titles by Black resistance writers can be found at the Capilano University Library. We invite you to visit us in person or online at the Library for help finding further materials. We have books, e-books, e-audiobooks, journals, magazines and even movies for you to borrow.
Our collection includes works from creators across the diaspora that are just waiting to be discovered by you!