When Research Hits Home
Published17 November, 2020
Photo credit Tae Hoon Kim
CapU instructor uses personal tragedy to push for better rehabilitation for stroke victims.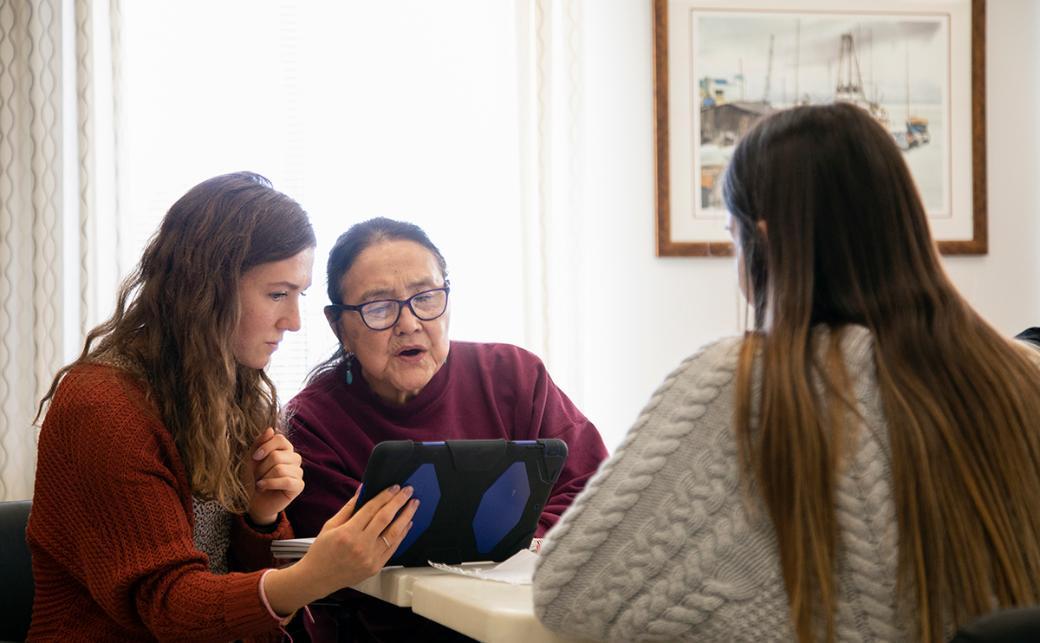 One morning in 2008, Tracy Dignum got a call no parent wants to receive.
"It's urgent. You need to go to your son's school."
The Capilano University instructor had just dropped off her kids at school and was heading to campus when the call came. She turned around and drove back to the school as fast as she could.
When Tracy arrived, she found her six-year old son Thomas on the floor. He couldn't talk or move. He had started crying, then told his sister he couldn't stand up. He couldn't breathe or swallow. He was scared.
"I looked at him and said, 'He's had a stroke,'" Dignum said.
Her diagnosis was unusual. While a stroke can happen at any age, it is especially unexpected when it happens to a child. In Canada, pediatric strokes affect only 2 to 5 out of every 100,000 children.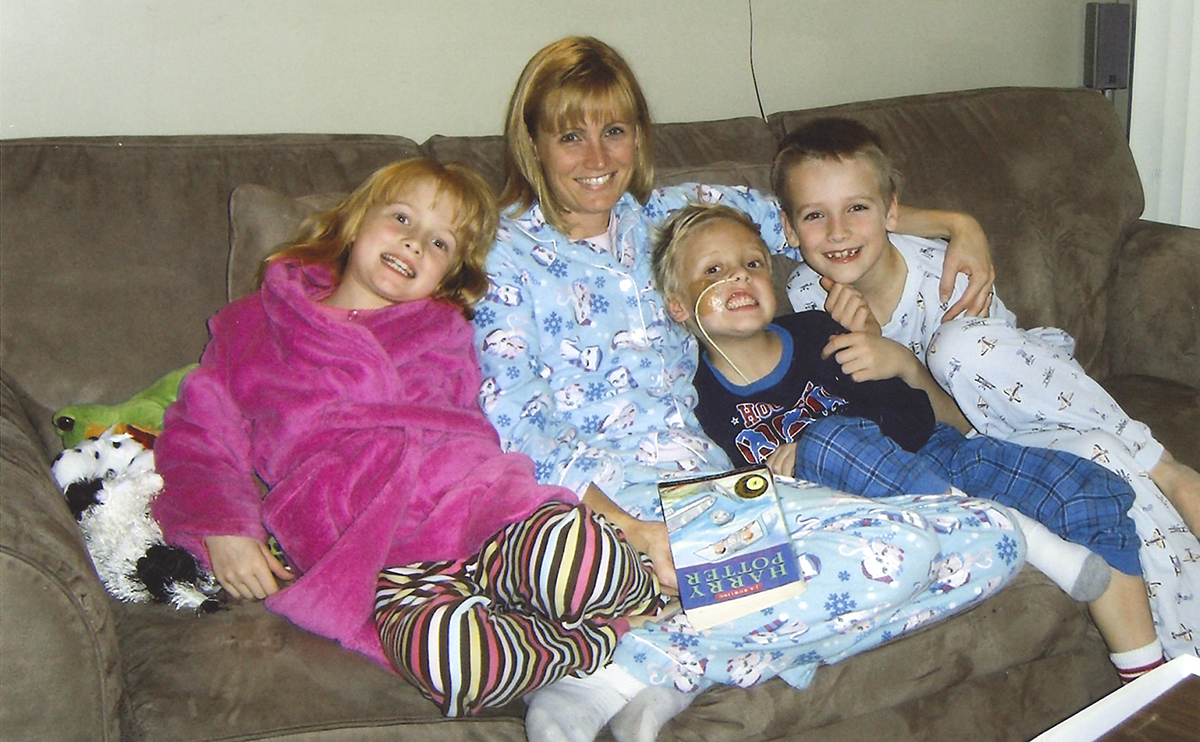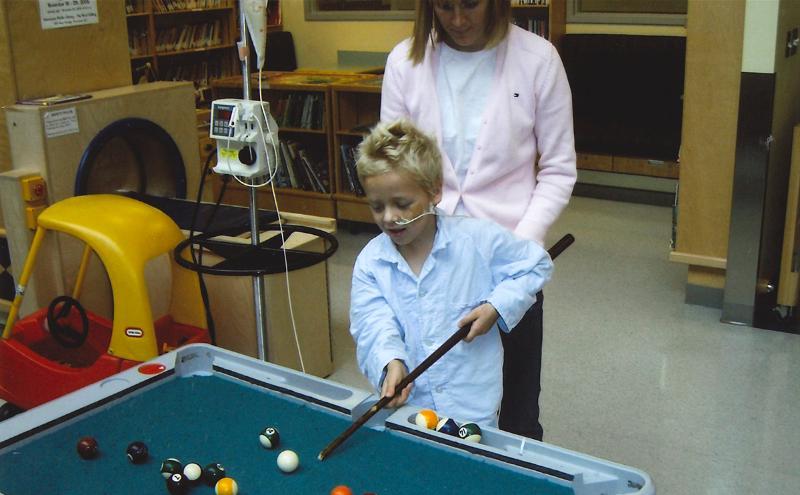 Although no one believed her at first, Dignum knew what she was seeing. Her first job after graduating from university was working in acute neurorehabilitation, where she worked closely with stroke survivors. She was intimately aware of the diagnostics and therapeutics for strokes.
Thomas was transferred to BC Children's Hospital where doctors confirmed what Dignum already knew: he had suffered a massive stroke, known as brain thrombosis. Time was vital; the first hours after a stroke is critical in determining whether someone will survive.
Thomas became the first child in British Columbia to receive the clot buster drug required to treat a stroke.
"It was absolute sheer luck that the medical team was willing to try it," Dignum said. "Thomas shouldn't be alive; he is a walking miracle."
The rehabilitation and treatment following the operation were intense and emotionally draining. Her six-year old boy was "locked in" and on a ventilator. He couldn't move his body. He couldn't swallow for six months and couldn't talk for a few months after that. He could only blink.
It was a long road to recovery — one month at BC Children's Hospital and three months at neighbouring Sunnyhill Health Sciences Centre — but he gradually improved. Because he was young, his brain was able to remodel and recover what it had lost.
"He had a ridiculously amazing recovery, just insane," Dignum said.
Dignum's knowledge of strokes as a medical professional helped immensely — and probably helped save her son's life — but it was new to be on the patient side of treatment.
Thomas' stroke may have been caused by a soccer ball to the head or a fall on the ice while playing hockey a few weeks earlier, but they will never know definitively. Today, Thomas is a student at the University of Calgary pursuing a degree in physics. He is the poster child of stroke recovery.
Teaching as service
Dignum has the kind of welcoming presence you would want to encounter as a new student on campus. There is a warmth about her that puts you instantly at ease.
As a physiotherapist, Dignum's first love was working in the community. Unlike some of her contemporaries who sought out the fame of working with star athletes, she found fulfillment in helping seniors and other everyday heroes regain motor skills and mobility to do the things they love most.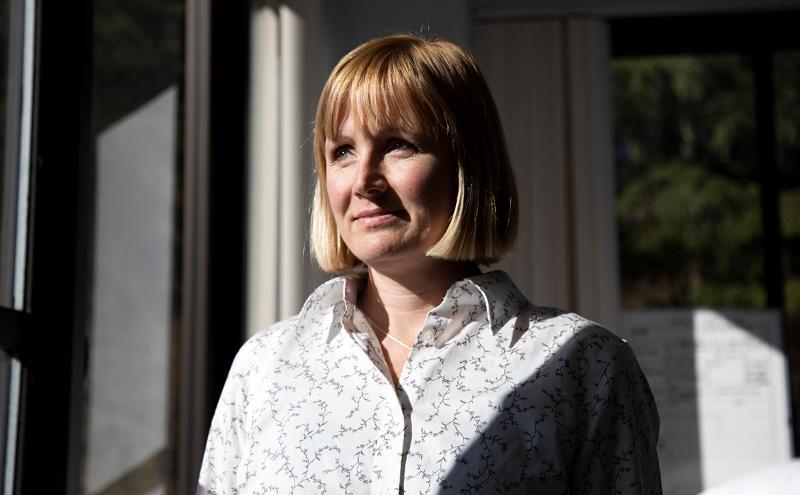 She set up a private practice, but had a hard time staffing her clinic. She needed well-trained support staff. She began teaching and arrived just as CapU's Rehabilitation Assistant program was getting off the ground.
At the time, the field was brand new, and CapU was the only post-secondary institution in the Lower Mainland offering rehabilitation assistant training.
A significant part of Dignum's role involved convincing reluctant physiotherapists to open their minds to having a rehabilitation assistant in their practice groups.
As an instructor, she realized she could have a larger impact teaching than in clinical service delivery.
"It has been super exciting to bring our program through accreditation, and to watch the rehabilitation assistant role develop to the point now that recruiters are in our classroom hiring all our students before they graduate," Dignum said. "There are so many more jobs than our students can fill."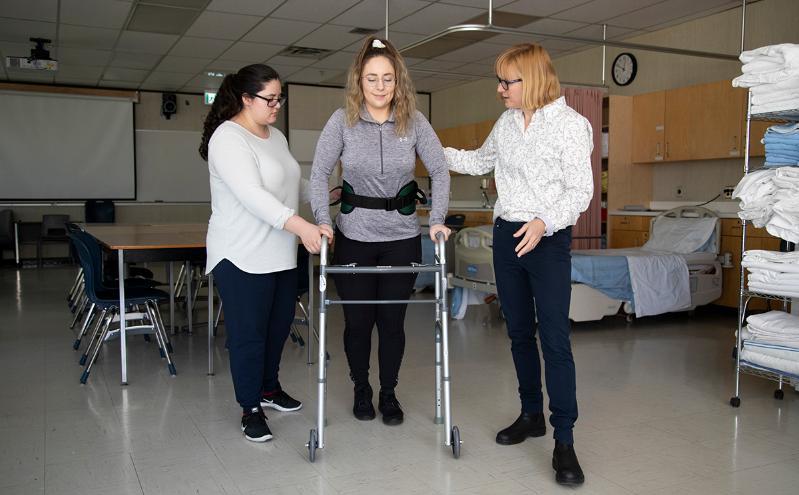 The Unified Grant
In late 2019, CapU's Creative Activity, Research and Scholarship Office (CARS) launched the Unified Grant program.
The $5,000 grant is CapU's first foray into financially supporting faculty research opportunities. The funding allows instructors to build community-based research partnerships and hire student research assistants, both facilitating research for faculty and coveted academic work opportunities for students.
Although the grant is a modest amount in the context of research funding, its existence represents a major leap forward for the university, according to Dr. Dawn Whitworth, Director of Creative Activity, Research and Scholarship.
"Promoting creative activity, research and scholarship opportunities motivates faculty and students," Whitworth said. "It opens new avenues for innovation in learning and teaching. It starts as a support to faculty research, but the students gain so much as well."
Tracy became one of the program's first recipients, and with the grant she set out to study stroke survivors' use of iPad apps and other technology tools to facilitate communication following a stroke.
Community impact
Dignum connected with Penelope Bacsfalvi, Speech Language Pathologist at the North Shore Stroke Recovery Centre (NSSRC), to begin a pilot project to get students hands-on learning experience working in the community.
This would be the perfect opportunity to address the difficulty students faced in getting practicum experiences in speech therapy. CapU students would work with speech impaired individuals and apply their training in a clinical setting, while the Centre would benefit from having additional trained volunteer help.
"Lots of people stand to win," Dignum said.
She knows about the heavy burden carried by those living with aphasia, or impaired speech, following a stroke.
"When you can't communicate, either because you can't receive or express communication and you can't understand what's going on, that's very frightening," Dignum said.
Yvonne Kisoun-Camsell would probably agree. A regular attendee of the Centre, she has a vocabulary of about five to ten words — a huge shift for someone who, in the past, relied on her voice as an activist and a CBC journalist.
Now, she uses the Touch Chat app on her iPad as a second voice. With the help of NSSRC staff, she has loaded the app with information about her family and her activities. It acts as a conversation starter to help her engage with others when her voice can't do it for her.
When asked what is hard about being a stroke survivor, her eyes welled with tears as she pointed emphatically at the answer: social isolation.
Despite the struggles, there is a noticeable resilience to the stroke survivors who come to NSSRC.
"Every day... they're dealing with unilateral paralysis, or inability to communicate," Bacsfalvi said. "Most of them are really positive and hardworking. I find the people quite amazing."
CapU's involvement at NSSRC came in two stages. In fall 2019, two Rehabilitation Assistant students, Caitlin Lumb and Alecia Ferreira, spent every Wednesday morning — their only free time as students — at the Centre working with stroke survivors.
The survivors and students communicated using augmentative and alternative tools like books, the TouchChat App on their iPads, maps, gestures, cue cards, pen/paper and drawing.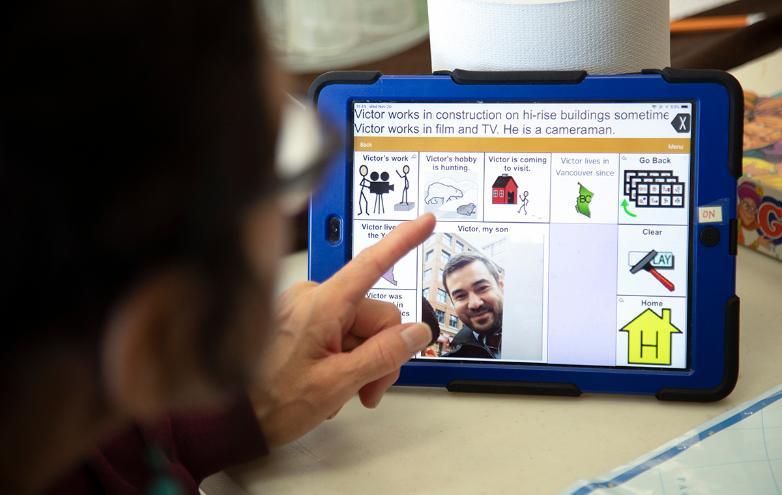 "The students get all that knowledge that you can't possibly get in a classroom," Bacsfalvi said. "Plus, they're mentored by these people who are really training them how to use their systems, how to interact with someone who's had a stroke at different levels. Our stroke survivors really are experts helping train the students as well."
In the early months of 2020, Dignum collected data with the help of research assistants Amy Ash and Justin Boys. The research assesses the NSSRC and CapU partnership and what they can build on, and how stroke survivors use the Touch Pad app and other technology communication tools.
Amy identified themes in the data that will be useful for future similar projects and Justin is analyzing video to gain further insight from the student participants.
Key learnings from this project will help to optimize the role of the rehabilitation assistants and the use of technology to enhance communication for people with aphasia following stroke.
Dignum planned to share their findings by having the students present a poster on their work at a national aphasia conference at UBC in June 2020, and to have a paper published in a national speech language pathology journal.
That was the plan before COVID-19. She and her team hope to share what they have learned, but now they are unsure when or how it will happen.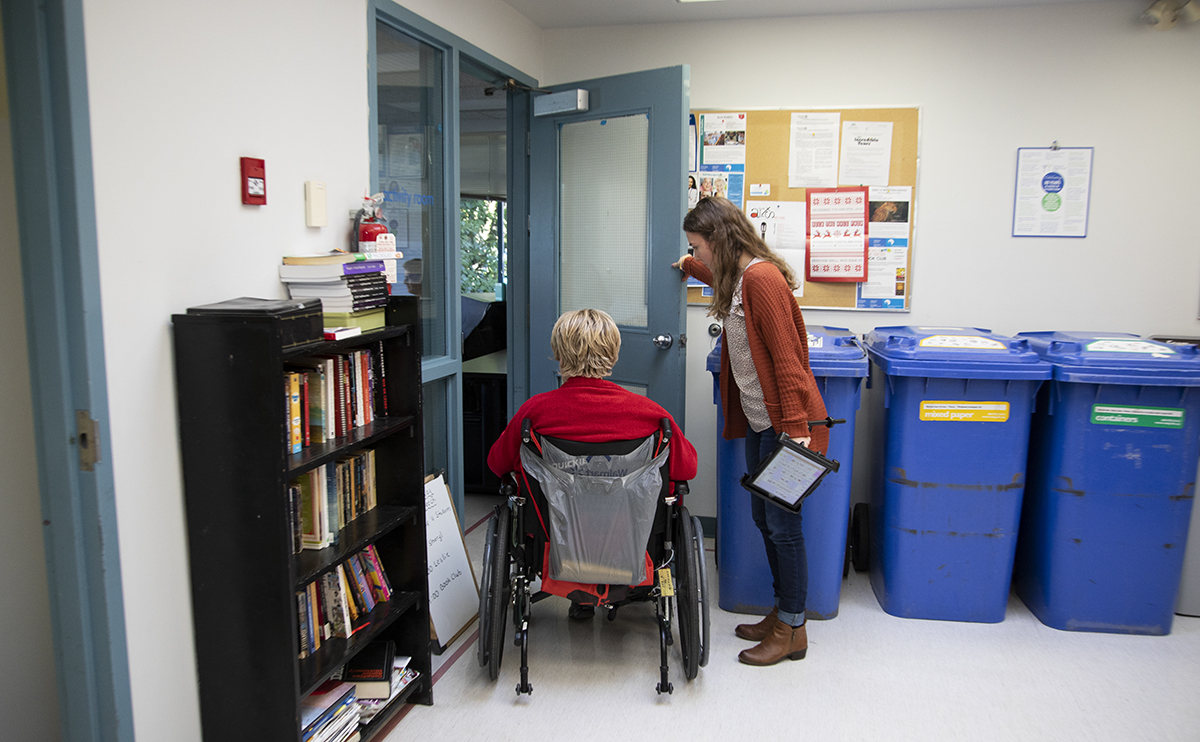 Looking to the future, Dignum would love to make CapU's partnership with NSSRC a lasting collaboration on a more permanent basis.
Aside from having on-going practicum opportunities for students, Dignum has a bigger vision: offer a student-run, instructor-supervised, clinic with services for stroke survivors in the health lab at CapU on the weekends. CapU Rehab Assistant students already participate in a student-led clinic run by UBC Rehabilitation Medicine students at Royal Columbian Hospital.
"If this is being done elsewhere, why couldn't we do it here too?" she asked.
It feels like a lofty idea today, but that's how movements start.