The Capilano University Alumni Association (CUAA) wants to give back to the community by supporting CapU alumni-affiliated charities, non-profit initiatives or services that impact and serve the local community.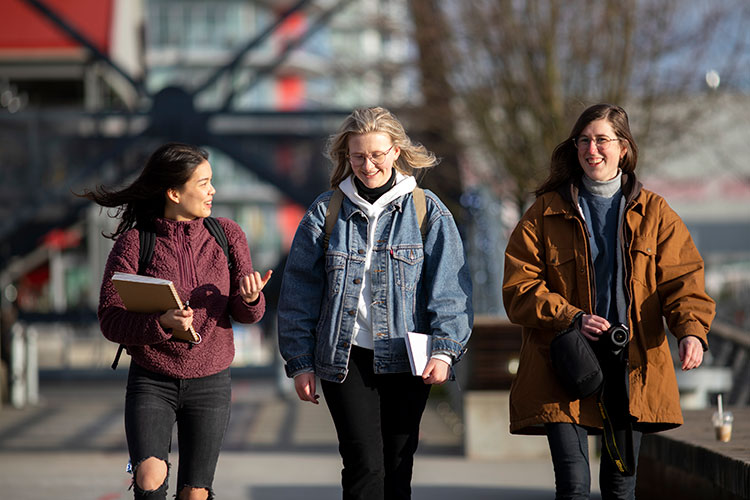 CapU alumni give back
Funding available to grant alumni with an opportunity to give back to the community
The CUAA recognizes that our CapU Alumni have a passion to drive change through service to the community. With a commitment of funds from the CUAA, we are working with our alumni to be able to support the development of healthy, vibrant and inclusive communities.
The CUAA is providing an opportunity for CapU Alumni to apply for funding to support an alumni-affiliated charity, non-profit initiative or service that will benefit the local community.
We are currently accepting applications for funding requests on a rolling intake, and reviewing submissions monthly as they come in. If you have sent in a request, please allow up to eight weeks for a response.
Eligibility
Carefully review our eligibility requirements before you apply.
To apply for funding you must qualify as a CapU Alumni;

Alumni requirements: previous CapU student who has completed 12 credits prior to 2017, 54 credits 2017 and after, or credential;

CapU alumni must be linked to the benefitting charity or non-profit through volunteerism or their place of work;
Initiatives must show proof of legitimacy and serve within Metro Vancouver;
Funding will help address a need in the community (i.e., poverty reduction, education, Indigenous reconciliation, health services, climate change, etc.); and
Benefitting charity agrees to complete a post-initiative report.
How to apply
Submit the application form with the requested information below. Please provide as much detail as possible.
Please note, the form will not save your answers. If you need more time, type your answers in a Word (or similar) document and copy/paste when ready.
Here's what you'll need:
Contact information for your affiliated charity/non-profit initiative (it is strongly suggested that the alumni applicant discusses their application with the charity/initiative in advance of applying).
Detailed information to support how your affiliated charity/initiative achieves the community needs identified above.
Privacy statement
We are committed to protecting your privacy and personal information through responsible information management practices. We collect, use, retain, disclose and dispose of personal information in accordance with the Freedom of Information and Protection of Privacy Act (FIPPA), other applicable legislation and Capilano University privacy management practices.
This form collects personal information for the purposes of verification of your Capilano University Alumni Association Funding Application. It is collected by Capilano University under (s)(26)(c) of FIPPA. By submitting this form, you are providing your consent for the CapU Alumni Association to collect and use this information for this purpose. If you have any questions, please contact alumni@capilanou.ca.