Cruising Into a Key Role at Tesla
Published1 March, 2023
Photo credit Teresa Grant
A CapU grad is helping the next generation of automotive pros prepare to work for the electric vehicle giant.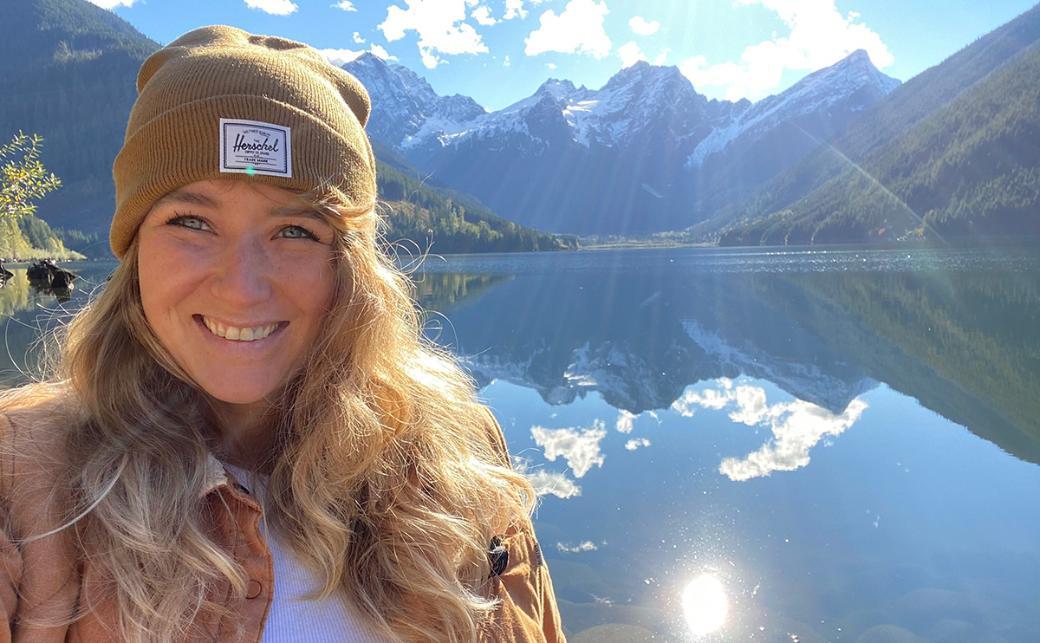 Recruited by Tesla out of CapU, a communications alum is training high-tech workers of the future.
Teresa Grant, a CapU's Bachelor of Communication Studies grad, is the Workforce Development and Education Lead at Tesla, a ground-breaking automaker and technology company that needs no introduction.
While a student at CapU, Grant tried on a few different hats, including working on a federal election campaign, volunteering on the BC Transit Referendum of 2015 and getting her auto sales license, all of which she saw as crucial steppingstones to where she is now.
After working at the Capilano Students' Union and a spell as a recruiter for the University, Grant was sought out by Tesla in 2015, first as a product specialist in Vancouver, then moved into recruitment before taking on her current role at their new hub in Austin, Texas.
"The road to success is not a straight one," she says. "Many students are understandably scared of the next step after school – or don't know where to start – but trust yourself and the turns life will take you on."
"Explore, cast a wide net, and don't be afraid to have a little trial-and-error in different roles."
Getting started: Studying communications at CapU
Grant is remembered at CapU as a sunny and thoughtful student by her peers and instructors.
"Teresa was a memorable student for all the right reasons," said Sue Dritmanis, communications studies instructor at CapU. "Her assignments were thoughtful and well-written, and she asked challenging questions in class."
"Her career pathway is inspiring because it began as a practicum in her degree. We are enormously proud of her and excited to see what her future holds."
She encourages environmentally-minded students to look for a match with their interests, with options including working on sustainable transport, food security and land rehabilitation.
Next, take these passions and combine them with the kind of work setting they'd be interested in – non-profit, start-up, private company, government – and jump in on the ground floor, wherever they might fit and make themselves indispensable.
"Internal mobility is such a huge part of the workplace today. We are not as beholden to our titles," she said. "Never stop having big ideas and thinking creatively. Feeling confident in exploring ideas and discussing them with your team in a professional setting is a great career advancer."
Bachelor of Communication Studies
Gain the skills to work in strategic communication, PR, journalism and more, combining theory with practice in this four-year bachelor's degree.
Bachelor of Communication Studies Degree
Building Education Partnerships at Tesla
In her current role, Grant has forged partnerships in the educational community, working with Austin Community College to renovate three labs into robotics centres, and offering free training that allowed more than 400 students to upskill and advance their careers.
She also works on the company's education fund, which includes everything from robotics education to high school mentorship programming.
"Since joining Tesla, I have been able to navigate my way into a unique position," Grant said. "Building out regional education and community programming has been incredibly rewarding."
The most important career advice she can impart on CapU grads joining the workforce today is effectively navigating failure and using it to fuel your next big idea.
"Navigating failure effectively is one of the greatest learning tools I received at CapU," she said. "Being able to pursue "moon-shot" projects and navigate failure with supportive instructors and classmates instilled a professional resiliency I still carry today."
"If you aren't failing and pushing boundaries, you aren't learning or exploring your biggest ideas," Grant added. Despite all her success, she hasn't forgotten where it all started.
"I've had the privilege of working with post-secondaries across the world, and given the opportunity, I'd choose CapU again."