Opening Doors to Cultural Perspectives
Published28 September, 2022
Photo credit Patrick Leung and Alia Youssef
Open the lessons and wisdom carved into the wooden doors at the Lonsdale learning centre.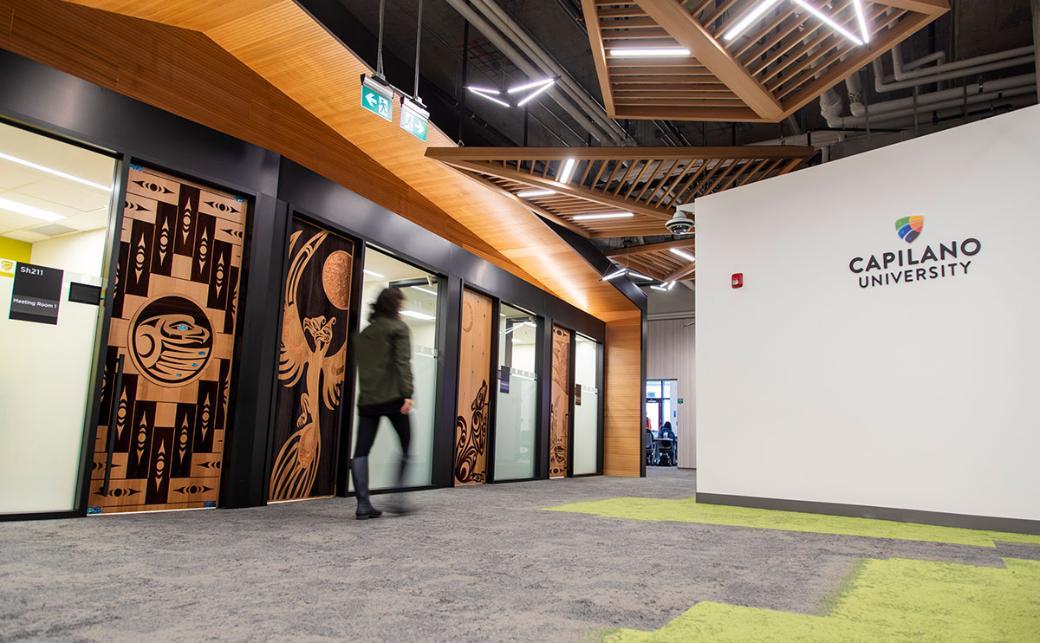 Education opens doors metaphorically, but this story is about actual doors. Capilano University's Lonsdale location, which houses Continuing Studies and other courses, features beautifully carved doors for four meeting spaces. These doors are designed with a look created through an engraving, marquetry and inlaying process.
The doors represent the cultural heritage of the Sḵwx̱wú7mesh (Squamish), Tsleil-Waututh, Musqueam, Lil'wat and shíshálh (Sechelt) Nations, on whose unceded territories Capilano University operates.
Meet the group of artists who brought these breathtaking art pieces to being and hear the stories behind the doors, which have become visual centrepieces in the waterfront learning centre.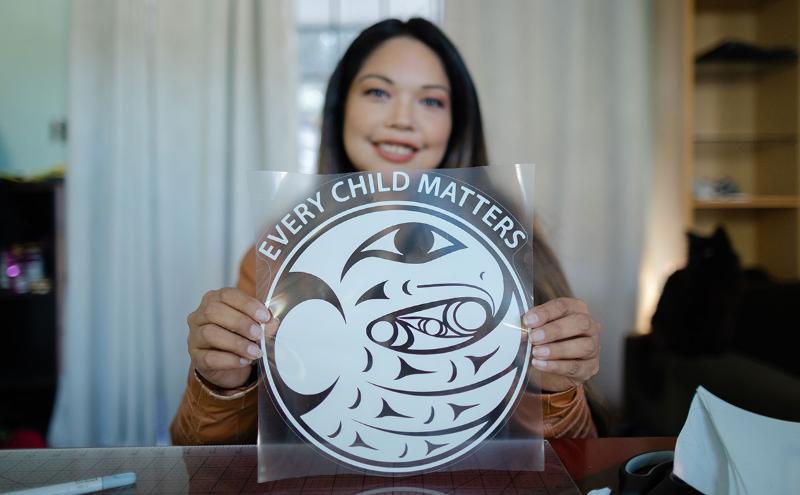 Marissa Nahanee
Sḵwx̱wú7mesh (Squamish) and Nisga'a Nations
Marissa Nahanee, of Sḵwx̱wú7mesh (Squamish) and Nisga'a Nations, designed a door featuring an eagle with the symbolism of wisdom, power, freedom, truth and courage. Nahanee says eagles have the gift of foresight as they must plan to ensure they are flying to the right depths to catch prey to avoid crashing, much like students need to focus to reach their goals.
The design also integrates the eyes of the Creator going in different directions, symbolizing cedar weaving and interconnection, which is crucial in university.
"We need to rely on our teachers, the staff, the faculty, supporting friends and family, our ancestors, and it's all interconnected," she explains. "On the student journey, we may not always see it, but it's there to show that each student has more support than we know."
A lover of art her whole life, Nahanee studied graphic design and has also digitally stylized her father's designs which inspired her to go further to harness her skills and gain mentors. She went on to study Northwest Coast Jewelry Arts program at the Native Education College. She's also a singer and public speaker.
This wasn't Nahanee's first project with Capilano University – she co-designed the University's logo, a process which began in 2016. The eagle wing in the door she created also inspired her contribution to the logo design.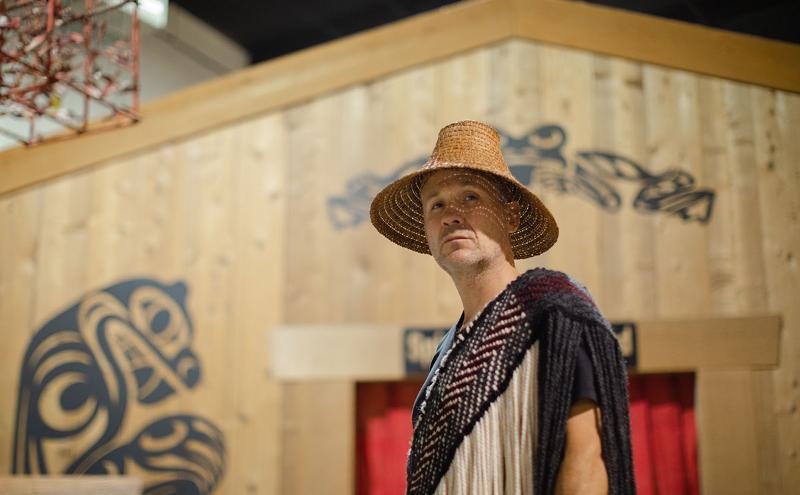 Shain Niniwum Selápem Jackson
shíshálh (Sechelt) Nation
Shain Niniwum Selápem Jackson of shíshálh (Sechelt) Nation designed a door featuring "Ch'as-kin," the double-headed golden eagle.
Jackson is an artist, lawyer and executive director of Golden Eagle Rising Society, an organization that aims to protect Indigenous lives. He is the president of Spirit Works Limited, which designs, creates and distributes Indigenous art. Jackson carved all four doors in consultation with the artists to ensure his work reflected their vision.
The double-headed golden eagle helps people accomplish impossible tasks for the benefit of all.
"Golden eagle teachings emphasize that we must help one another, that we do not live in an individual society," he says. "This is a collective society."
Describing his perspective on art, Jackson explains, "artwork is not like a written language. It is a written language if you can understand the symbolism. Artwork is a codification of not just our history, our worldview, our culture, but also our laws."
Jordan Gallie
Tsleil-Waututh Nation
Jordan Gallie, of Tsleil-Waututh Nation, designed the door that features a wolf. The wolf symbolizes family and togetherness because wolves are one of the few creatures that mate with their partners for life.
Gallie also has ties to Sḵwx̱wú7mesh (Squamish) Nation by way of his grandmother. He knew he wanted to be an artist at the age of nine when he went to the Museum of Anthropology and was inspired by the artwork he saw. Later, he attended the Native Education College and took the Northwest Coast jewelry and fine arts program.
Since graduating, he's been engaged in his artistic practice, including creating murals around the Lower Mainland and co-designing the Capilano University logo.
Carman McKay
Musqueam and Matsqui Nations
Carman McKay, of Musqueam and Matsqui Nations, created a door design called "Salish Waters" with an orca. The design includes the symbolism of harmony, travel and protection.
Reflecting on the placement of his art in the University, he says, "there is a welcoming in the sense that the door is there before they enter, and there's an acknowledgement of earth and life before they enter into their places of learning."
McKay is an artist, educator, life skills facilitator, drum maker and cultural resource from Vancouver but was raised in Cultus Lake. Well-travelled across the continent, McKay has learned from elders and studied the interconnection of the physical and spiritual realms.
"When I consider Capilano University and the grounds that they're on, I am definitely sensing more spiritual activity on the site," he says.
Education opens metaphorical doors, and the literal doors installed on campus are opening more than just meeting rooms. They're opening the eyes and minds of students, faculty and community members to the worldviews and perspectives of the artists who conceived their designs.
Of course, much can be learned in a university. Still, when the teachings are inscribed into the very architecture of a space, much can be learned from a university and from the people who shared their talent and wisdom in their creations.