Alumni Q&A: Andrew Kopecki
Published22 March, 2022
Photo credit Alicia Wynter
Andrew Kopecki is finding sustainable transportation solutions for fleet operations.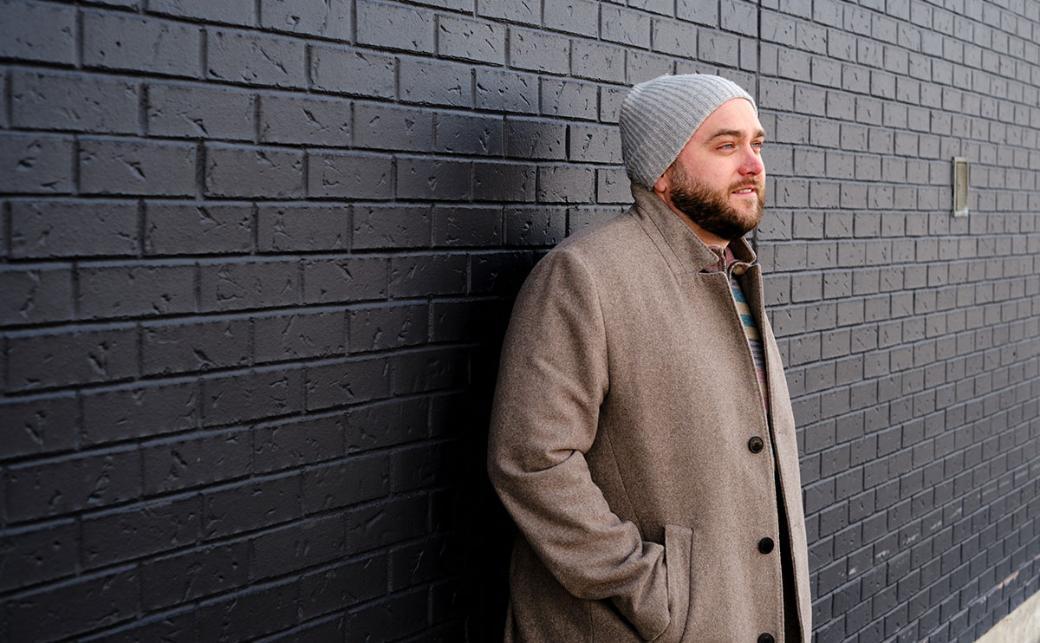 Bachelor of Business Administration (BBA) alum Andrew Kopecki is solving fleet operational issues through his company Advantage Asset Tracking and Connected Coverage Systems.
As an expert in connected vehicle technology, Andrew is helping fleet operators across North America to keep drivers safe and implement technology for a more sustainable approach to transportation.
CapU is proud to honour Andrew Kopecki with the Creative Award, sponsored by the North Shore News, at the upcoming 2022 Alumni Awards of Excellence. His interview has been edited for brevity and clarity.
What brought you into the world of telematics and connected vehicle technologies?
When you study the broad topics included in the BBA, sometimes your path isn't a straightforward journey. I knew from my studies I wanted to work with people to help solve problems and communicate about products and services.
Right out of school, I worked at an investment relations firm and immediately started utilizing some of the great skills I learned at CapU. However, it only took a year or so working in investments to determine I wasn't cut out to be in the office every morning before 5 a.m.
I always had a passion for technology and, well, gadgets. I was drawn to a job posting on Craigslist, of all places, that was looking for an operations manager for a small but growing GPS tracking company. The ability to apply technology to solve problems and to leverage my business communication skills cemented my career in what we now call telematics.
Why did you start Advantage Asset Tracking and what makes you competitive in the fleet industry?
We didn't know it at the time, but I realized that it was a desire and need to leverage more data in the fleet industry that led me to identify the opportunity to take a leap into entrepreneurialism.
Our competitors were, and still are, some of the largest telecommunications companies in the world. We had to be creative to differentiate ourselves. We had to find a way to be everything to a few companies. Finding a niche use case for connected vehicle data in a specific industry such as government fleets, logging (timber transport), logistics, port freight forwarders, etc., allowed us to stand out for being creative.
Once we established a name for ourselves, being creative in overcoming complex technological challenges for fleets to do more with telematics, we became a trusted choice for companies that didn't have such complex use cases. We still follow that same go-to-market strategy today: solve complex problems through creativity, and gain market share after proving your competency.
With supply chain delays slowing the production of consumer goods, what additional hurdles do you see in the long-term?
Based on very recent events, the cost of energy will impact the global supply chains for the foreseeable future. Beyond current geopolitical impacts, the supply chain is still significantly disrupted by COVID and labour shortages. We're seeing trucking companies go out of business due to a lack of parts for their trucks. The ports are just as backed up now as they were a year ago.
Most of the bottlenecks that keep supply chains from being disruptive on the broader global economy don't seem to be easing. Many of the stakeholders we see rely on credit to operate their fleets, from purchasing new trucks to expanding their labour resources and paying the higher costs of business inputs brought on by inflation.
Should there be a broader slowdown in demand for goods and consumables through continued stagflation or contractionary economic conditions, the credit will dry up, and all those stakeholders in the supply chain that are hanging on by a thread will likely be unable to survive. This includes parts manufacturers, logistics companies, rail services, shipping companies, maintenance repair providers, import/export companies, etc.
Hopefully, consumer/business demand for goods and services is maintained long enough for bottlenecks to ease, and inflation decreases from increased supply without a lack of credit availability.
Where do you see the transportation industry going?
It's interesting to see a broader awareness of the challenges faced in the transportation industry; for example, the recent weather events in British Columbia that limited the supply chain, COVID-19, the current political events related to the trucking industry.
It's tough to see how this all plays out in the next year or two. We know for sure that higher diesel prices will impact the cost of transporting goods and limit transportation companies' ability to increase compensation to keep drivers in an industry they are already leaving in droves. We also know transportation companies are unable to expand and grow at the pace needed, due to a lack of new trucks and parts to repair existing vehicles.
All these challenges could potentially lead to some significant changes in transportation. Supply chain issues are forcing companies to shift away from "just-in-time" inventory practices, which considerably strain logistics.
With more focus on calculated inventory, transportation companies can focus on becoming more efficient in their core operations. Technology must play a massive part in making transportation companies more efficient and profitable. In today's environment, it's still crazy to see how many transportation companies use spreadsheets and SMS messages to dispatch loads or choose routes. Technology adoption must happen, or companies will fail (this hasn't been the case until now).
On a larger scale, I think we'll see a considerable shift toward autonomous vehicle adoption in transportation. Driverless trucks will also be implemented on long and non-complicated routes. This shift will cut costs significantly and allow for growth and increased efficiencies, causing all sorts of changes. Hopefully, for the better!
How has your education aided in your current success?
Such a good question! Honestly, it's something that I think about from time to time. We all remember being in algebra back in the day, thinking, "When am I ever going to use this knowledge?"
The same is true of my education. I don't particularly remember stats and macroeconomics, but I still use many of the broader skill sets I learned during my time at CapU.
I remember specifically a professional sales class in which the final exam was a 20-minute one-on-one with the professor, where we had to sell them a pair of blue jeans. It was so intimidating but also seemed silly.
So, what does a pair of blue jeans have to do with professional sales? It turns out that the way you identify the buyer's needs and exemplify the value of what you're offering doesn't change much, regardless of what you're selling.
Most importantly, the communication skills I learned as part of my BBA have significantly impacted my success. They allowed me to stand apart as soon as I started my career. From the ability to write a captivating email to how to speak confidently on the phone. To the ability to impart trust through communication with everyone you interact with professionally (and personally): your colleagues, your boss or manager, your customers, your vendors.
I can say without a doubt the communication skills I learned in school have absolutely been the cornerstone on which I have built an enjoyable and passionate career.