Alumni Q&A: Dennis Thomas-Whonoak
Published17 March, 2022
Photo credit Steph Townsend
Dennis Thomas-Whonoak is a business leader ensuring Indigenous voices and values are heard.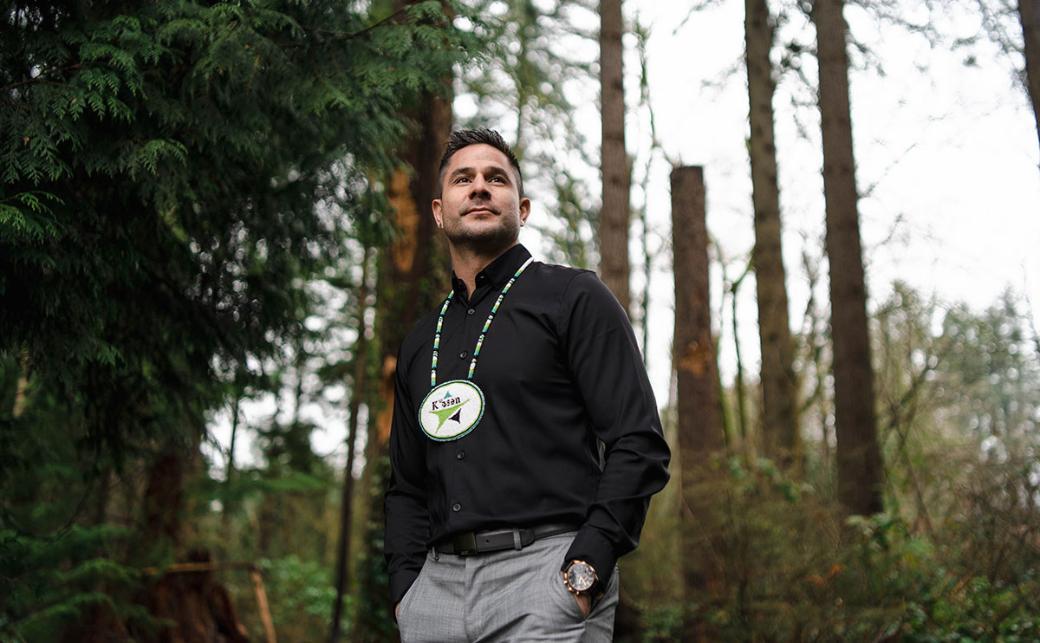 Dennis Thomas-Whonoak is a member of the Tsleil-Waututh Nation (TWN) and works as a Senior Business Development Manager within the Economic Development Department of the Nation. He is also an elected council member of the Tsleil-Waututh Nation.
Dennis drives business initiatives within some of British Columbia's most significant sectors, including tourism, real estate development and cannabis. He has won several Indigenous Tourism awards on behalf of Takaya Tours, a company that takes locals and tourists out on 35-foot traditional style ocean-going canoes to explore the rich marine coastlines of Burrard Inlet (Səl̓ilw̓ət).
A recipient of Business in Vancouver's Top 40 Under 40 in 2022, Dennis is part of a collective group within the Tsleil-Waututh Nation Economic Development department that is leading a mixed-use development, in partnership with Darwin Properties, on the North Shore. Dennis plays an integral role in this development project, not only on the business side of the development, but ensuring Tsleil-Waututh Nation culture and values will be present throughout the proposed project.
Dennis is leading the way when it comes to breaking the cycle of systemic oppression, one degree at a time. Knowledge is power and sharing it is an important practice in Indigenous communities — one we can all learn from.
CapU is proud to honour Dennis Thomas-Whonoak with the Enduring Award, sponsored by Neptune Terminals, at the upcoming 2022 Alumni Awards of Excellence. His interview has been edited for brevity and clarity.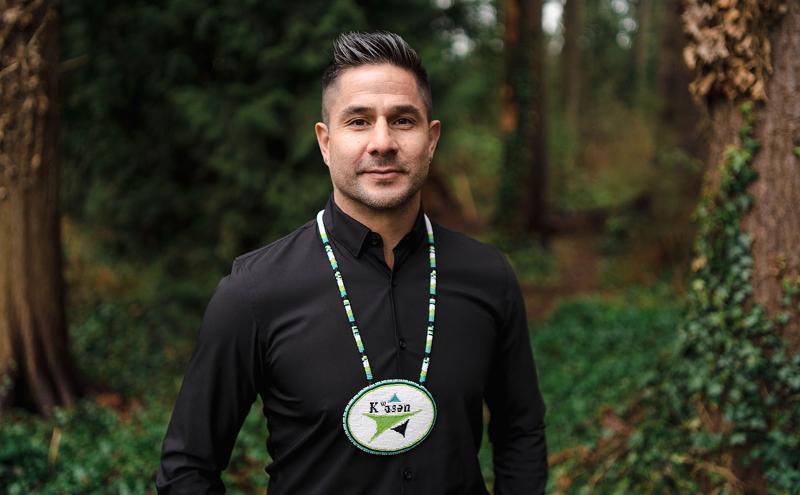 What has been the most rewarding project you have worked on in your role as the Tsleil-Waututh Nation's Senior Business Development Manager?
My most rewarding project has been helping to establish a 350 solar panel project for our new administration building. The project aims to elevate the TWN to the forefront of renewable energy.
Our goal for the new administration building is to create the energy required to run it on-site to achieve NetZero. In addition, this project will inspire our members and provide a path of guidance for other nations to follow on the journey of decarbonization.
A couple of fun facts: it's the largest ground mount solar project in the Lower Mainland, and the largest solar project on the North Shore.
Can you explain what trans-systemic Indigenous knowledge systems are and why they are so important?
In my studies, a trans-systemic knowledge system approach not only requires competence navigating between Anglo-Western and Indigenous business theories, but increasingly calls for navigation among different global Indigenous knowledges. This would include Canada, the United States, Australian Aboriginals and Aotearoa-New Zealand.
This approach provides other Indigenous perspectives on their business theories and how they can be useful or in alignment with other Indigenous perspectives. From learning these tools, it can provide a cohesive and holistic approach to a new framework of business.
Can you share with us the role that sports have played in your life?
Sports played a huge role in my life. It allowed me to focus on activities that were important to me. Playing with friends, who are still my friends 20-30 years later, is a positive outcome of playing in local sports leagues.
My main sport was football with Windsor Secondary school in North Vancouver. We won three Provincial Championships. The level of commitment it took helped me to focus on school. It was a dual relationship where I had to do well in school in order to play sports.
What was a defining moment in your life and how did it change you?
Working with the Four Host First Nations as the 2010 Olympic Coordinator for my Nation was a special moment. It ultimately changed my trajectory and led me into pursuing business as a career, which has lasted more than 15 years now.
I also had the privilege of representing my Nation in the 2010 Opening Ceremonies where I welcomed the world to our traditional territory. This is a defining moment for me.
What are your thoughts on the importance of an Indigenous-led bid for the 2030 Winter Olympics?
The pathway to meaningful reconciliation is a long and difficult path. For too long, Indigenous Peoples have been invisible in their own lands and territories.
Article 91 of the Truth and Reconciliation Commission's findings clearly underlines: those countries looking to host events like the Olympic Games must respect Indigenous Peoples' territorial protocols and Indigenous Peoples must be engaged in all aspects of planning and execution.
By leading this potential bid, the Host Nations can tell Canada and the world that we are here, we have always been here, and we will continue to shape our future in our land.
What role has education played in your life from theatre to business to, now, your MBA?
My educational journey began in theatre at CapU, which provided many great attributes in my personal growth: building presentation skills, being a confident speaker to intrinsically understanding the topic of discussions are a few of them.
After my short career in acting in Vancouver, I transitioned into business when I was 27. I enrolled in the Business Administration program at CapU. I worked and studied at the same time. This allowed me to apply what I was learning in the classroom to the businesses I worked at. At this stage in my career, I am continuously growing, especially with the many business ventures my Nation is a part of.
Going back to school for my MBA, through SFU's Indigenous Business Leadership program, has elevated my perspectives on a global scale when it comes to Indigenous business theories and how to embed our ways of being into western ways of knowing.
What advice would you give to indigenous students who are pursuing their education at CapU right now?
To build self-reflection into your day to ensure you are bringing your best for yourself and for others. Embed your Indigenous values into everything you do.