Practical learning is where students partner with local businesses, associations, non-profits or municipalities to work on projects as part of their study. It is also known as "work-integrated learning" or WIL.
What practical learning means
At CapU, practical learning is students gaining experience in their fields, giving our community partners support with their projects, benefiting both the students and the community.
Practical learning can include:
Applied research projects;
Co-ops;
Practicums;
Field placements; and
Internships or industry placements.
Practical learning, work-integrated learning and experiential learning
In some schools, practical learning is known as "work-integrated learning" or "WIL." Students often talk about practical opportunities, whereas staff and sometimes employers refer to these same opportunities as "WIL."
If you're a member of the community, you'll talk to our WIL team about practical learning opportunities.
Practical learning and WIL make up part of experiential learning at CapU: learning by doing, inside and outside the classroom. Learn about Experiential Learning at CapU.
Co-operative education
Internships
Entrepreneurship
Service learning
Applied research projects
Mandatory professional practicum/clinical placement
Field placement
Work experience
Note: These elements are embedded in program or course design and include third party engagement, e.g. employer, industry or community partner.
Field experience
Interactive simulations
Teaching labs
Project-based coursework
Note: These elements are embedded in program or course design.
Observing a demonstration
Job shadowing
Student clubs
Athletics
Volunteer experiences
Summer or part-time jobs
Note: These items are all student driven, and may or may not be program related. They are not embedded in program or course design.
Work with Capilano University students
CapU is offering more practical learning opportunities in all faculties and departments. We're looking to add community partners who can provide a work opportunity for our students.
Our students get practical experience by working with you, and you get to work with well-prepared students keen to learn and give back.
What could this look like?
Give a class of students a design challenge, or a research problem to be solved;
Take on students for co-ops or internships;
Offer students work experience to get new ideas into your business; or
Take on students as volunteers for industry events.
If you're interested in working with students at CapU, either as a one-off or as part of a recurring project, contact wil@capilanou.ca.
Opportunities for students
With the practical learning opportunities offered at CapU, you'll gain experience in your field and build a portfolio to help you transition into a career after you graduate.
CapU is integrating practical learning opportunities into all program areas. Recently, students from our schools of Business and Legal Studies spent their practicums supporting local businesses.
Interested in getting involved, but not sure where to start? Contact wil@capilanou.ca.
Capsule Stories
Visit Capsule Stories for student features about practical learning opportunities.
Mentoring for Success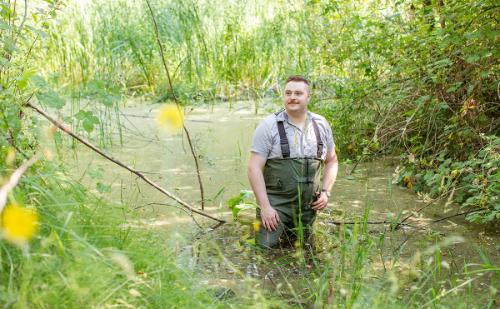 Student research opportunities are creating transformative, hands-on learning experiences.
Cycling toward a greener future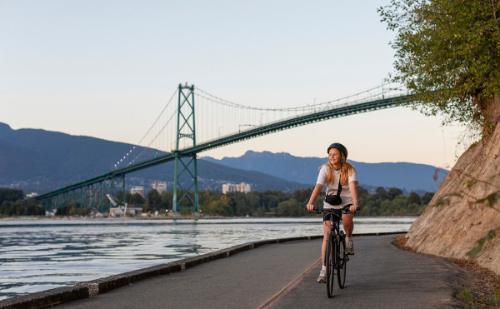 CapU student researching bike-friendly developments in Vancouver.
Enhance your teaching with practical opportunities
If you're a faculty member looking to integrate work-integrated learning with your program or course, contact wil@capilanou.ca and we'll share faculty-specific resources.