As an international student, you must have both basic and extended health insurance for your entire period of study in Canada.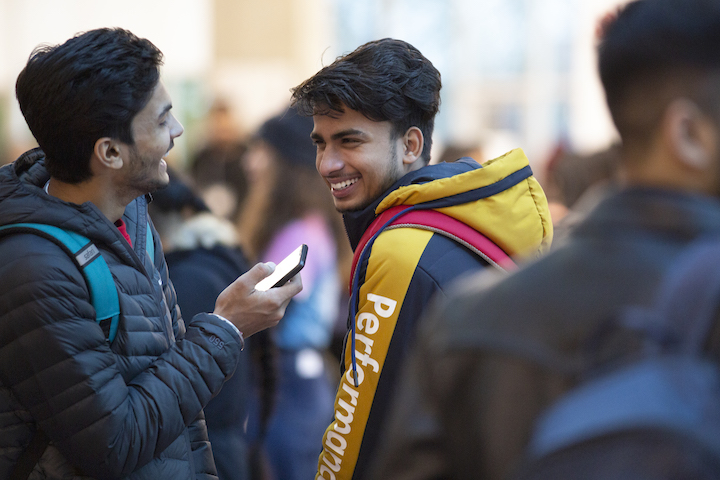 If you are a short-term visiting or exchange student, please read about your specific medical insurance requirements.
Basic health insurance
Permanent basic health insurance: B.C. MSP
As an international student, you must sign up for the Medical Services Plan (MSP) of B.C. if you'll be living in British Columbia for more than six months.
At $75/month, B.C. MSP covers the cost of medically-necessary insured doctor services.
Apply online for MSP as soon as you arrive in B.C. and before you start your studies at CapU.
In order to apply online for MSP you will need:
a Canadian address and phone number;
a passport (arrival date information);
a digital copy of your study permit; and
internet access
On your first day at CapU, during the New International Student Orientation, we will provide more information about B.C. MSP. However, it is your responsibility to apply and send your payment directly to Health Insurance BC, which administers the MSP on behalf of the Ministry of Health.
For newcomers to B.C., there is a waiting period before the MSP takes effect. To ensure your well-being during this period, CapU will automatically enrol you in guard.me, a private insurance plan contracted by Capilano University to provide basic health insurance coverage before MSP starts.
Note: The issue date on your MSP card is not the effective date of your health coverage. The effective date of your health coverage is shown on your MSP letter.
Temporary basic health insurance: guard.me
Effective date and duration
CapU's Centre for International Experience will automatically enrol you in guard.me to provide temporary health insurance coverage, effective on the first day of your start term (the first day of classes). The duration of your guard.me coverage is three months, to ensure that you are covered while you are waiting for your MSP to take effect.
If you will be arriving to Canada before the first day of classes, please purchase early arrival coverage. Early arrival is a one-time purchase only and it cannot be purchased beyond your program start date (first day of classes). You can apply for insurance for up to 8 weeks prior to the start date of your program.
Please refer to guard.me to submit any medical expenses claims incurred during this period.
Cost
The cost of guard.me is approximately $188 for three months, payable to Capilano University through your myCapU account. This charge will appear on your myCapU account approximately two weeks after the start of the term.
Adding dependents to guard.me
You can also add your dependents such as a spouse or children to your guard.me plan.
How to opt out of guard.me
You can opt-out and avoid being charged for the guard.me insurance plan if you already have valid B.C. MSP coverage. The opt-out deadline is the end of add/drop period.
To opt out, you must complete the online application and provide proof of MSP coverage for the entire term via guard.me/capilanou or your opt-out will be declined.
If your application to opt-out is received prior to the opt-out deadline and is submitted successfully, you will not be charged for guard.me.
Note: All student accounts with an outstanding balance are subject to late payment fee penalty and students will not be able to access and or renew their U-Pass BC (transit pass).
Extended health insurance
Extended health insurance: StudentCare
The Capilano Students' Union (CSU) Health and Dental Plan provides extended medical coverage for services not covered by B.C. MSP, including:
prescription drugs and vaccinations;
accidents and emergencies;
health practitioners (physiotherapists, chiropractors, massage therapists, etc.);
vision care;
dental care; and
travel coverage.
Extended medical coverage is also mandatory while you are studying in Canada. Favorable rates have been negotiated by the CapU Student Union, making this a cost effective option for your extended health and dental insurance.
Starting in the fall term?
If you are starting at CapU in the Fall term, CapU will automatically enroll you in the CSU Extended Health and Dental Plan. The charges will already be included in your fees and will appear in your myCapU account.
Note: if you already have this level of coverage with another plan, you can opt-out of StudentCare.
Starting in the spring term?
If you are starting in the spring term, you will not be automatically enrolled. Instead, you will need to self-enrol into the CSU Health and Dental Plan when you register for the spring term.
Starting in the summer term?
You will not be able to enrol in StudentCare, so it is recommended you purchase private short term extended health insurance for this period of time. You will be automatically enrolled in StudentCare in the following fall term.