We want our graduates to leave Capilano University empowered to take charge of their career paths and ready to stand out from the competition.
What is Cap Core and why is it a baccalaureate degree program requirement?
Today's graduates need a broad knowledge base to take with them beyond university.
To thrive in a job market that is constantly evolving, university grads must be critical thinkers and excellent problem-solvers. Employers want to hire good communicators with strong interpersonal skills. As well, all graduates will have greater success if they combine these skills with social and environmental awareness.
The aim of Cap Core is to help you become a well-rounded, successful graduate, with the broad knowledge base and skills needed to support your lifelong learning and intellectual growth.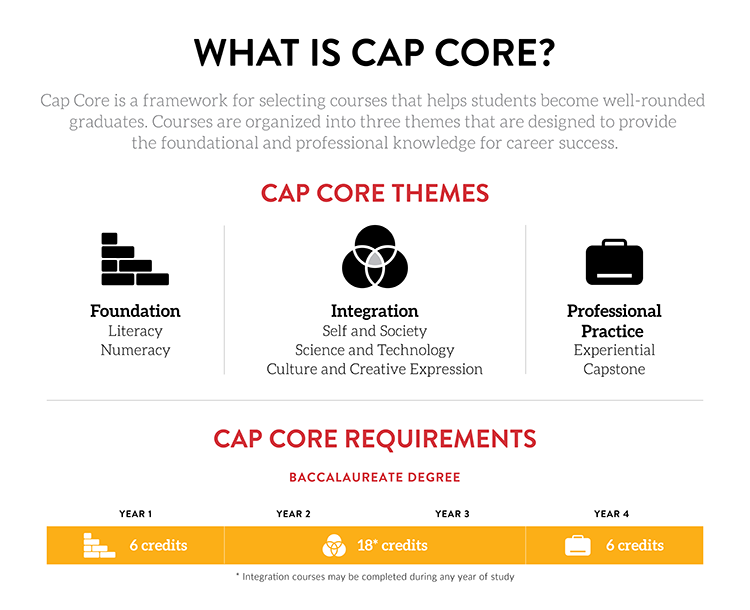 Cap Core implementation & requirements
Cap Core is a set of courses grouped by theme. Each theme contains several courses at different levels. As you progress through your credential, you'll work through the themes and levels.
Effective fall 2018, students in baccalaureate degrees are required to complete 30 Cap Core credits as part of their program.
Beginning in fall 2021, students in certificate and diploma programs laddering into CapU baccalaureate degrees will typically complete their foundational requirements and a portion of their integration courses while fulfilling their certificate and diploma program requirements. The remaining Cap Core requirements will be met while completing their baccalaureate degree requirements. Specifics will vary from program to program.
For more information, please contact Academic Advising.
Cap Core themes and credits
Foundation (6 credits)
Establish the fundamentals in Literacy and Numeracy.
Normally completed in the first year.
Degrees require 3 credits each of Literacy & Numeracy
Senate-approved Literary and Numeracy courses.
Integration (18 credits)
Understand the world through a variety of perspectives. Incorporated into degrees only.
At least three credits in each of the following subject areas:

Culture and Creative Expression
Science and Technology
Self and Society

May be completed across the four years of your degree.
Senate-approved Culture and Expression, Science and Technology and Self and Society courses.
Professional Practice (6 credits)
Put what you have learned into practice through Experiential and Capstone courses.
Completed in the final year.
Senate-approved Capstone and Experiential courses.