Mixing Education and Travel: Studying Abroad
Submitted by Wong and Trainor Centre for International Experience (CIE)
Published18 November, 2022
CapU students describe their exchange program experiences in England, Denmark, Austria and Scotland.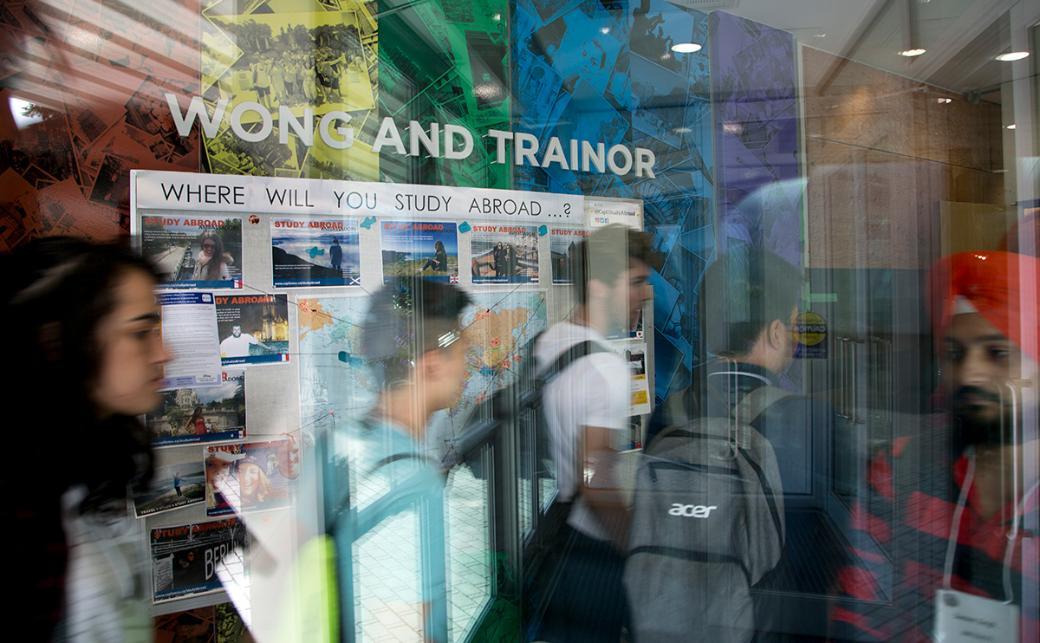 With the reopening of international borders, the Study Abroad team at Capilano University has been helping students get set up for full-term exchange programs at many of our partner institutions and destinations around the world. With the International Education Week 2022 events at CapU fast approaching on November 21 – November 25, here are some travel stories from students who have had a chance to study abroad, earn credits and, more importantly, gain new experiences and confidence.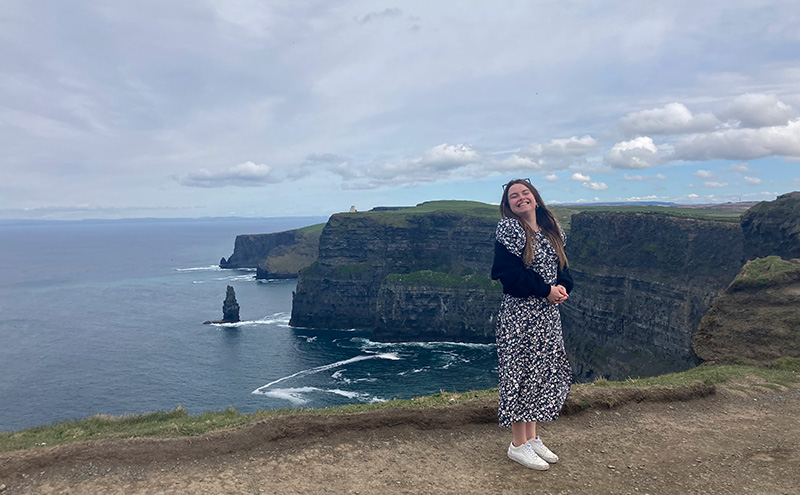 Alayna Gibbs, University of Hertfordshire, Hatfield, England
Alayna Gibbs, a Bachelor of Communication Studies Degree student in her fifth year at CapU, studied at the University of Hertfordshire in Hatfield, England, outside of London. It was her parents who encouraged her to apply to study abroad.
"They always wanted to see me travel and experience the world," Gibbs says. "They specifically thought I should study in the United Kingdom, so Hatfield was a great choice."
Along with a semester overseas, the trip delivered a deeper connection to her family history. Gibbs discovered that Hatfield is near a town called Houghton Regis, which her eighth great-grandfather founded. Houghton Regis was just an hour by bus from where Gibbs was staying, so she made the trip.
"My proudest moment was probably connecting with the historical society in Houghton Regis," she says. "They gave me a tour of the town and showed me the manor owned by my family in the 1700s. They even invited me to participate in a plaque-unveiling ceremony for a tree planted in the manor's garden in honour of my dad. Truly the coolest day."
Along with connecting to her ancestral roots, during her time abroad, Gibbs learned that she was much more resilient than she knew.
The International students Gibbs met at school even invited her to stay with them in their hometowns after the term ended, which resulted in trips to Norway, Venice and Tunis.
After studying in the UK, Gibbs gained a different perspective on Communications as a discipline and learned about culturally specific events, jargon and social media techniques.
"Having these perspectives interwoven with my knowledge from the Communications program here at CapU has deepened my appreciation for the academic discipline," she explains, adding that she is now looking to return to the UK for work in January.
Sophia Berezowski, VIA University in Aarhus, Denmark.
The opportunity to study in a foreign country was a lifelong dream come true for Sophia Berezowski. During her time abroad at VIA University College, Berezowski discovered more about the adult she was becoming and realized that those characteristics were quite familiar.
"I learned that tidiness is vital to my productivity and happiness. I learned that I need a larger social circle to be consistently happy," she says, adding, "it was surprising how many of my 'newfound' traits came directly from my parents."
The other important thing that happened on her trip was that she connected with others.
Reflecting on VIA's New Screen Experience program, Sophia says it entirely changed her mindset around school, career and life. The school days were full at VIA, but they didn't have homework because work was done in class. This shift taught Berezowski not to procrastinate, which has always been a big challenge for her. They also learned about new technology such as VR, AR, and projection mapping, which sparked her interest so strongly that she is considering it as a career.
To future students applying to study abroad, Berezowski says don't stress too much about the details of it all.
"Before you go, things can feel very overwhelming, but I encourage you to get lost in the excitement of it all and stay present. The experience is incredible and will be over before you know it. So go explore and enjoy."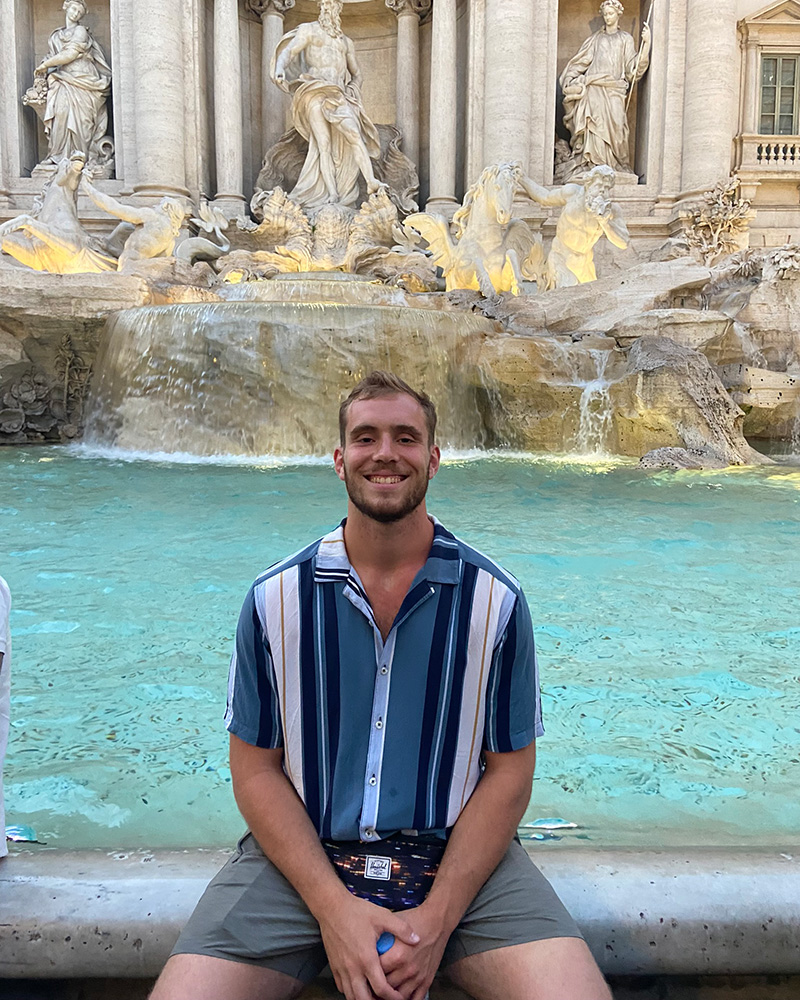 Matias Suez, FHWIEN University of Applied Sciences of WKW in Vienna, Austria
Since high school, Suez knew he wanted to travel. One reason he chose to study at CapU was that the Study Abroad program is among the most affordable and offers a wide range of options for exchange.
He viewed the full-term exchange as an opportunity to test the waters in a new country, to see if he could adapt, meet people and navigate in a country where he didn't speak the language.
After spending time abroad at FHWien in Austria, Suez says his confidence has grown. He learned to deal with the occasional realities of life – injuries, colds – and made it in a country where he didn't speak the language.
Suez recalls his biggest challenge was balancing new experiences and personal change with relationships back home. "I travelled while having a partner, and it was difficult to balance and maintain," he says.
The biggest tip he can share with future students applying to study abroad is to take advantage of student discounts and free events. "Once you're over there, it's worth every penny to take every opportunity," he says.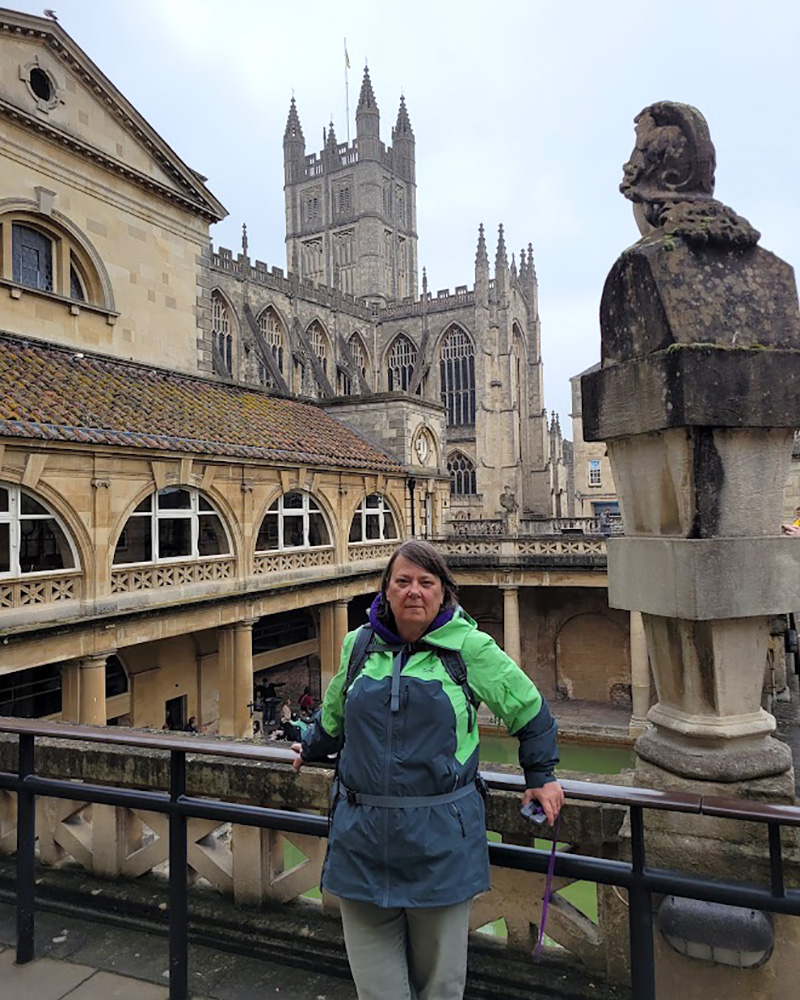 Beth McCloy, University of Hertfordshire, Hatfield, England
For Beth McCloy, a mature fourth-year student in the Bachelor of Communication Studies Degree program at CapU, going to another country to study after the pandemic lockdowns was too good an opportunity to pass up.
"I knew I would regret it if I did not apply," she says.
One aspect of life at the University of Hertfordshire McCloy liked best was how close she was to the campus. Attending classes meant crossing the street, literally. She also appreciated that she didn't have to balance the day-to-day responsibilities of maintaining a home while studying abroad.
In contrast to most students who were struggling with cultural differences and sometimes loneliness abroad, Beth's main challenge was physical. "The bed I slept in was very uncomfortable, and walking was difficult because there were very few unpaved trails to follow. My body did not like British food very much, even though I certainly did."
On the plus side, she could take courses she was interested in but were unavailable in her program. Ultimately, the experiences helped McCloy focus on her interests and hone her skills.
"I learned that I am quite content to travel on my own and, in fact, prefer travelling by myself because it is much less complicated," she says. "I was surprised at how easily I adapted to the British culture and how comfortable I was in Hatfield."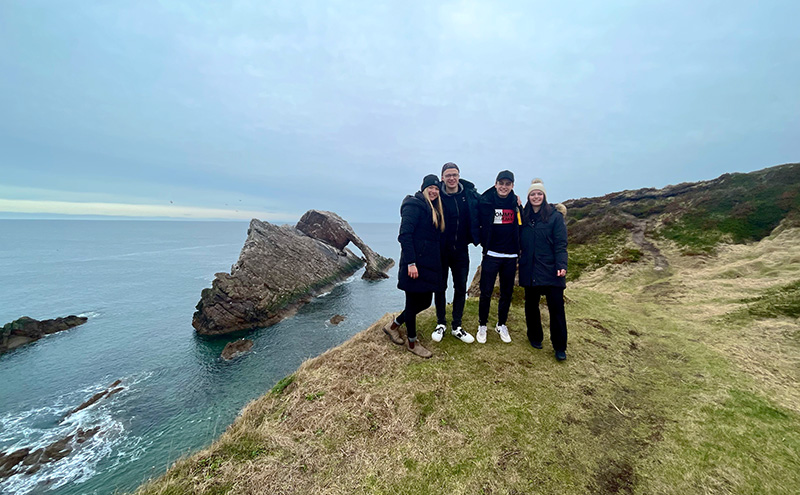 Nathalie Berghauerova, Robert Gordon University, Aberdeen, Scotland
Since she was young, Nathalie Berghauerova, a fourth-year Bachelor of Business Administration student, has been lucky to travel and discover new cultures for family vacations.
Berghauerova was born and grew up in Austria. As soon as she graduated high school, Berghauerova sought a big adventure and moved to Vancouver for a year – which then led to studying at CapU.
Berghauerova was always keen to experience different countries, so naturally, she was excited by the possibility of taking a term overseas.
When it came to her full-term exchange experience at RGU, Scotland, Berghauerova even surprised herself at how organized she was throughout the whole exchange term, so much so that she took the lead in organizing trips with her friends.
Berghauerova especially liked the academic structure – the way lectures and tutorials were held – at RGU. She didn't have quizzes or midterms, which created a more relaxed learning environment, but lectures were mandatory.
She would encourage other CapU students to pursue study abroad opportunities – to "take the risk of experiencing a new country and meeting new people."
"This was such a memorable trip, and if I had the chance, I would do it all over again," she adds.
International Education Student Week 2022
Join us for International Education Student Week 2022 to learn more about CapU's study abroad opportunities. Our ambassadors will cover their unique experiences, must-see travel destinations and will answer any questions about studying abroad.