ELS is an academic support service for non-native speakers of English enrolled in courses at Capilano University. ELS is designed to assist students with their reading, writing, speaking and listening skills.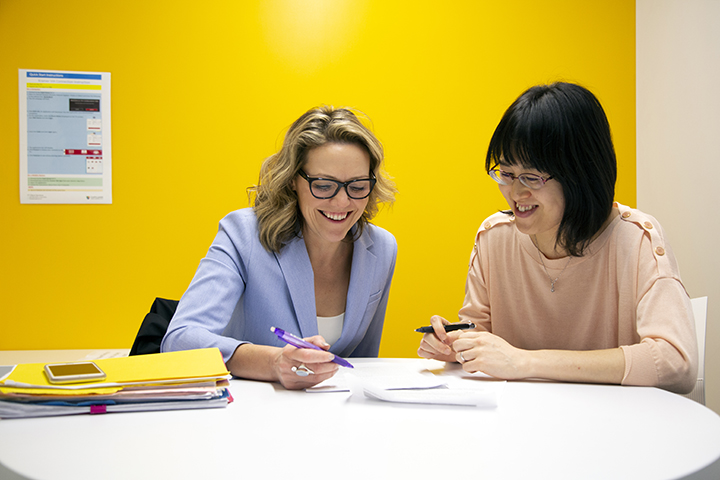 Student Support
ELS provides 30-minute one-on-one learning support sessions with an instructor who has expertise in language learning. The sessions are by appointment only (see schedules below) and are either online through video conferencing or in person in the Learning Commons in the Library Building, LB 126.
Types of Support Offered
| Reading/Vocabulary | Grammar/Writing | Listening/Speaking |
| --- | --- | --- |
| Clarification of course assignments | Overview of academic writing styles | Overcoming pronunciation challenges |
| Academic text comprehension | Academic writing/grammar | Conversation confidence building |
| Guidance with critical thinking | APA and MLA citation | Academic listening strategies |
| Learning and retaining new vocabulary | Sentence structure | Group discussion strategies |
| | Editing checklist development | |
ELS Appointments
Scroll down to the "Schedules" section of this page and choose the desired ELS service. If you don't see your program listed, choose "General ELS."
Click on "Make An Appointment."
Choose an instructor and an appointment date/time.
Fill in your personal information carefully; be sure to use your Capilano email address and provide a current phone number. Indicate appointment type (online or in-person), your program, course number and instructor's name. Click "Submit."
You will receive 2 emails (A & B) when making an in-person appointment and 3 emails (A, B & C) when making an online support appointment.
A) Appointment Confirmation Email: If you need to cancel your session, please use the link provided.
B) ELS Instructor Email: An ELS instructor will contact you before your appointment and request a digital copy of your assignment and the instructions.
C) MS Teams Notification Email: You will receive a notification that your ELS instructor has created a private MS Team for you to use for ELS sessions.
Click "Open Microsoft Teams" Button
Click "Accept"
Open MS Teams in Webapp or download the MS Teams app to your desktop (preferred)
Use your Capilano email information to login
Your meeting will take place here at the scheduled time.
Note: It's important for students to fill in their Capilano email addresses and phone numbers accurately in order for ELS to contact you with your appointment information.
Spring 2023 Schedules