The Early Childhood Care and Education Pathway Program is a partnership with the ECCE program at Capilano University. You can begin getting credit for an ECCE credential while you are improving your English.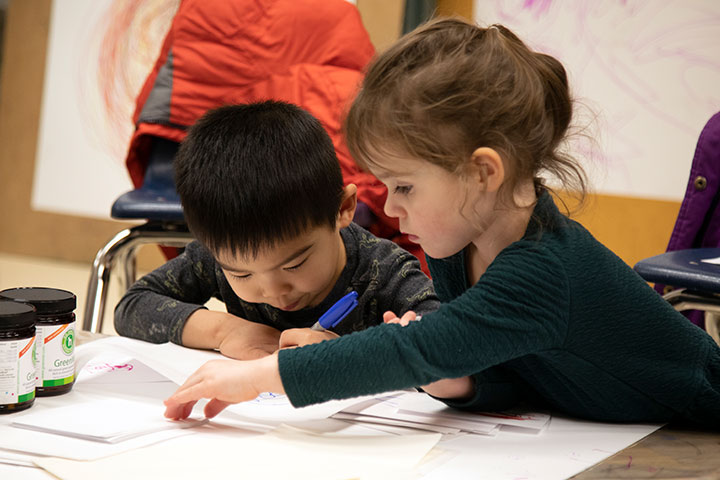 New for the 2023-24 Academic Year:
Tuition-free courses for Canadian Citizens and Permanent Residents in the ECCE Pathway!
Quick-start intensive Summer 2023 course option for students starting the ECCE Pathway in Fall term 2023!
Contact eap@capilanou.ca for more information.
Courses & requirements
The ECCE Pathway is a two-term program which begins each Fall term and continues through the following Spring term.
In the Fall term, students take one EAP course, EAP 090, and one ECCE course, EDUC 178. EAP 090 focuses on improving students' academic writing, grammar, reading, vocabulary, listening and speaking skills with a focus on the assignments in the EDUC 178 course. The EDUC 178 course provides students with the knowledge and abilities to create caring and learning environments for young children.
In the Spring term, students take two EAP courses, EAP 100 and EAP 101. In addition, they take two courses that are required for the ECCE diploma and degree: EDUC 173 and ENGL 100. EAP 100, EAP 101, and ENGL 100 continue to help students develop their higher level academic English skills. EDUC 173 gives students hands-on experiences in learning environments, curriculum planning, and teaching strategies for young children.
To successfully complete the Early Childhood Care & Education Pathway program you must earn a:
B or higher in EAP 090 to continue to the next level; and
B+ or higher in EAP 100 and 101 to continue to a degree or diploma level.
Upon completion of the ECCE Pathway, students are granted admission to either the ECCE diploma or degree program.
See also