Find the latest updates and detailed information about Capilano University's plans to construct a new, purpose-built facility that integrates teaching and experiential learning spaces, research, and 74 new childcare spaces for the School of Education & Childhood Studies (ECCE).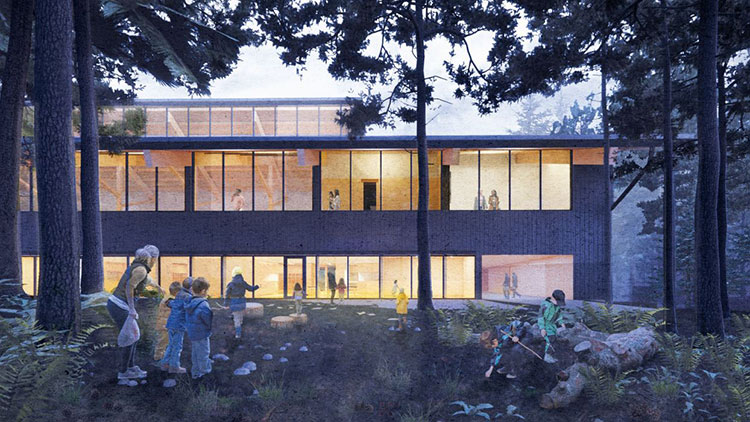 | | |
| --- | --- |
| Status: | Under Construction |
| Project location: | Main North Vancouver Campus |
| Budget: | $21.8 million |
| Projected completion date: | Summer 2025 |
| Sustainability: | Project will target LEED Gold and BC Energy Step Code 4 |
| Student capacity: | 25% growth in ECCE admissions, 20 additional ECCE practicum placement spots, and 74 new childcare spaces |
Project overview
Using a child-inspired approach, the Centre will be Western Canada's only degree-granting, purpose-designed, integrated Centre of Early Childhood Care, research, and Lab School education.
This state-of-the-art learning environment, located at the north of CapU's main campus, will facilitate the expansion of the University's ECCE programs, support a broad range of CapU interdisciplinary research programs, and double available childcare spaces on campus, meeting an urgent need in our province. The guiding philosophy for the Centre builds on the approach of the existing Children's Centre on CapU's main campus, where students, Early Childhood Educators, faculty, children, and families learn alongside one another, facilitating optimum learning in children from diverse backgrounds through the vitally important years of 0-5.
The new 23,000 square foot two-storey building adjacent to outdoor space and public transit will result in:
20 more practicum placement spots for ECCE students;
74 new childcare spaces (24 infants and toddlers and 50 preschooler spaces), doubling on-campus childcare for infants and preschoolers, creating a total of 143 childcare spaces on the main campus;
25% growth in ECCE Degree, Diploma and Certificate programs
New purpose-built studio space, study and research labs, classroom, faculty offices and student study areas for the ECCE programs; and
Expanded and consolidated space for ECCE, bringing together people and functions currently spread over three different buildings on the main campus.
Learn more about the campaign for the new Centre for Childhood Studies.
Community benefits
This project responds to three identified needs of British Columbians, residents of the North Shore and the University community:
Demand for CapU ECCE Graduates
In summer of 2021, Canada announced a historic Early Learning and Childcare Agreement with the Province of British Columbia that will result in 30,000 new childcare spaces over the next 5 years in BC. 12,000 new Early Childhood Educators (ECE's) are needed to ensure the success of this vital initiative. CapU's new Centre for Childhood Studies will accelerate the development of early learning professionals through a 25% increase in admission to ECCE programs.
Increase number of childcare spaces in North Vancouver
Childcare is linked to the social and economic development of our region. A lack of childcare makes it difficult for families to live, work and study on the North Shore. Demand for CapU's childcare spaces greatly exceeds availability. Currently, there are only 32 spaces for every 100 children aged 0-5 on the North Shore. CapU's new Centre for Childhood Studies will double available childcare on campus, resulting in 74 new spaces.
Create new, purpose-built academic research space for School of Education & Childhood Studies
CapU's School of Education & Childhood Studies is well regarded by peers across Canada, for its high-quality research and the leadership it provides to the field of Early Childhood Care & Education (ECCE). CapU is one of only four universities in Canada to offer a research-focused bachelor's degree in ECCE. CapU's Children's Centre serves as BC's only Lab School, providing experiential learning opportunities for ECCE students. Dedicated research and learning space in the new Centre for Childhood Studies will accelerate collaboration, foster innovation, and drive best practices for BC and beyond.
Project updates & community engagement
The demolition of the existing Facilities building is now complete. Monitor the work in progress of this project.
Frequently asked questions