Capilano University started as a handful of classes offered after hours in portables at West Vancouver Secondary.
Fifty-five years later, with more than 10,000 students from 80 countries and 50,000 graduates, we can proudly say CapU is an academic hub for the North Shore and beyond.
Key dates
1968: Capilano College opens
Capilano College opened on September 10, 1968, with 784 students attending classes after hours in a portable building at West Vancouver Senior Secondary School.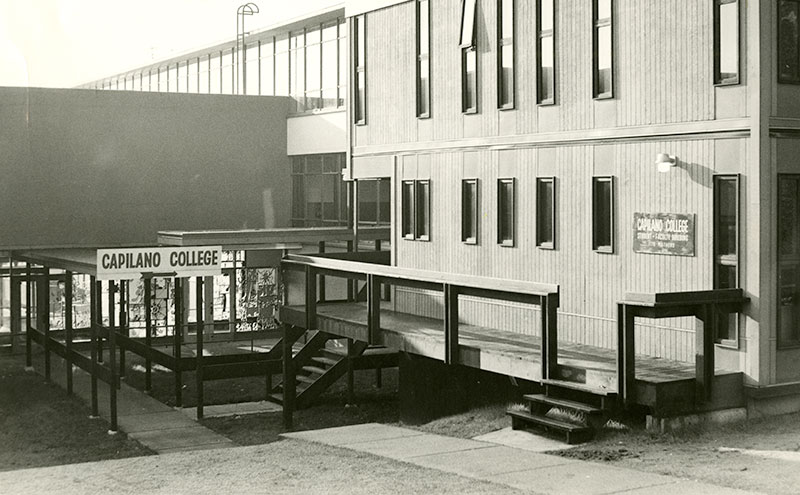 Original location, West Vancouver Secondary School, 1968.
1968: Alf Glenesk, first principal of Capilano College
Glenesk oversaw significant changes at the college during his six-year term, including opening its first permanent campus. Visit our Past Presidents page for more information about the leaders who helped bring us where we are today.
1973: Opening of the first permanent campus in North Vancouver
The permanent 13-hectare (34-acre) North Vancouver main campus opens at 2055 Purcell Way with 1,965 students in attendance.
We honour the territories of the LíỈwat, xʷməθkʷəỷəm (Musqueam), shíshálh (Sechelt), Skwxwú7mesh (Squamish) and SəỈílwətaʔ/Selilwitulh (Tsleil-Waututh) Nations upon which we are located and commit to acting with respect for the health and well-being of all.
1977: Sunshine Coast campus in Sechelt opens
The Sunshine Coast School District becomes part of the Capilano College's region and the first College classes are offered in Sechelt.
1988: Capilano College opens applications to international students
Students from around the world started studying here more than 35 years ago. Today, CapU is home to more than 2,500 international students.
1990: First bachelor's degree
In collaboration with B.C. Open University, Capilano College offered a combined Bachelor of Music Therapy degree, with the Bachelor of Music in Jazz Studies being added in 1992. Today, we offer 16 bachelor's degrees in a variety of subjects.
1993: Library Building opens
The opening of a standalone library building tripled the size of the existing library space on the main CapU campus in North Vancouver. The CapU Library was extensively renovated in recent years and is a vital collaboration hub in the University.
1996: Children's Centre opens
The Centre accommodates up to 79 children, from infants to five-year-olds and today, offers $10/day daycare for the children of students and employees.
1997: BlueShore Financial Centre for the Performing Arts opens
The 372-seat theatre was built as a much-needed performance space designed to nurture and showcase the University's emerging artists.
To celebrate its 25-year anniversary, CapU launched a successful fundraising drive to upgrade the seats, lighting, flooring and accessibility options at the BlueShore.
2008: Capilano College becomes Capilano University
B.C. Premier Gordon Campbell announced on April 25, 2008 that Capilano College is re-designated as Capilano University.
Greg Lee became the first president and vice-chancellor of the newly-designated Capilano University, with Peter Ufford appointed as the first Chancellor.
2012: CapU receives accreditation from the Northwest Commission on Colleges and Universities (NWCCU)
CapU was the first post-secondary institution in B.C. to gain NWCCU accreditation, followed by SFU (2015) and Thompson Rivers University (2018).
2012: Nat and Flora Bosa Centre for Film and Animation opens
A state-of-the-art film industry training centre, the Bosa Centre features film, animation, sound recording and mixing suites, as well as an 8,000-square-foot sound stage.
2013: Official opening of the Indigenous Student Centre
Kéxwusm-áyakn (a place to meet) — the Squamish Nation name given to the Indigenous Student Centre — provides a welcoming, multi-purpose space for students to meet, study, share meals, collaborate and learn from each other and Indigenous Elders.
2016: Rebranding Capilano University
Throughout 2016, CapU started to define a new brand with the assistance of our community of students and employees.
Thoughtful input from Indigenous student representatives, advisors and Elders helped guide the process to ensure that the final result honours the legacy of Joe Capilano's name with symbolism that is both inclusive and meaningful for all.
2016: Paul Dangerfield becomes president and vice-chancellor of CapU
The third president and vice-chancellor of CapU, Dangerfield started in his role on October 1, 2016.
2016: Sunshine Coast campus gets new name
"Beautiful," is how shíshálh Nation elder Anne Quinn described her Nation's act of naming Capilano University's Sechelt campus "kálax-ay," on May 24, 2016. kálax-ay translates to oceanspray bush or "iron wood."
2017: Centre for Teaching Excellence founded
The Centre for Teaching Excellence was created to foster and enhance a culture of excellence in teaching effectiveness and practice and learning with the goal of supporting student success.
2017: Opening of off-campus student housing
Capilano University opens the doors of its first off-campus student housing, CapU Student Housing, a mix of shared and single accommodations for domestic and international students.
2018: CapU celebrates its 50th anniversary
CapU turned 50 in style with a year-long celebration of our past, present and future.
From shows on campus (CapFest, CapRocks), a series of "great ideas" events, including the CapU50 Trail, a speaker series and murals on campus, and a legendary birthday bash, we closed out our first 50 years with a smile and are looking forward to the next 50.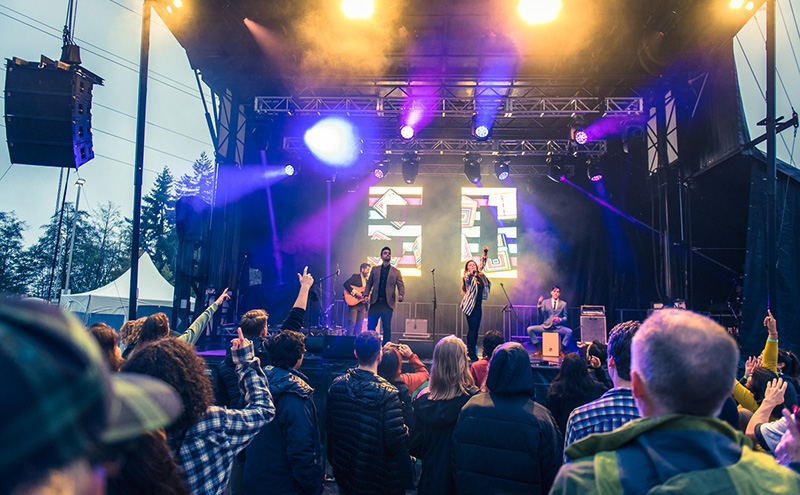 Students at CapFest as part of the CapU50 celebrations, 2018.
2018: Launching of 50th anniversary legacy canoe project
Master carver Ses siyam (also known as Ray Natraoro) began work to carve a ceremonial and sea-worthy canoe as a legacy of the University's 50th anniversary.
The 30-foot-long canoe symbolizes the University's commitment to Truth and Reconciliation and was carved outside the Bosa Centre on the main North Vancouver campus.
2018: Mural artists selected to beautify CapU
Four IDEA School of Design students were among a diverse group of artists selected to beautify Capilano University's main campus in North Vancouver with murals commemorating the University's 50th anniversary.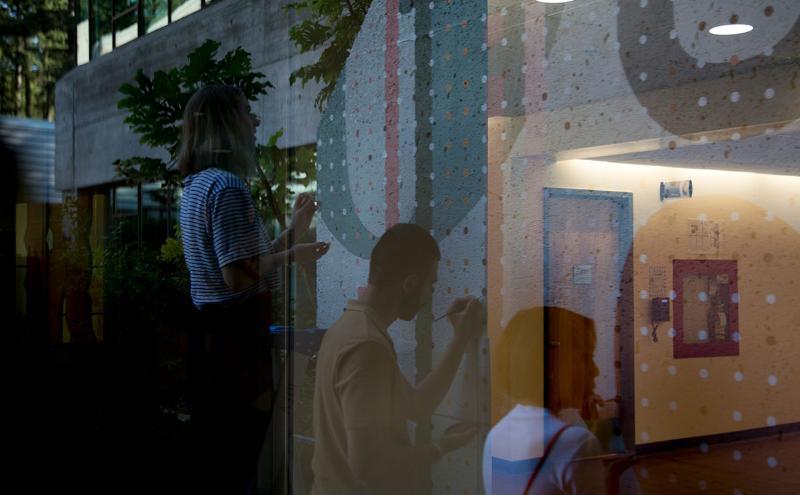 IDEA School of Design students working on their mural Connecting the Dots, Arbutus building, 2018.
2019: CapU hosts the legacy canoe awakening and naming ceremony — Skw'cháys
As Squamish Nation master carver, Ses siyam carved Capilano University's 50th anniversary legacy canoe, a story from his youth began to show itself to him and he knew that this would be the name of the canoe.
"Skw'cháys" is the name of the whirlpool that leads to the underwater world of the sea lion people. The name is a reminder that we must always be humble and kind, no matter what gifts we possess.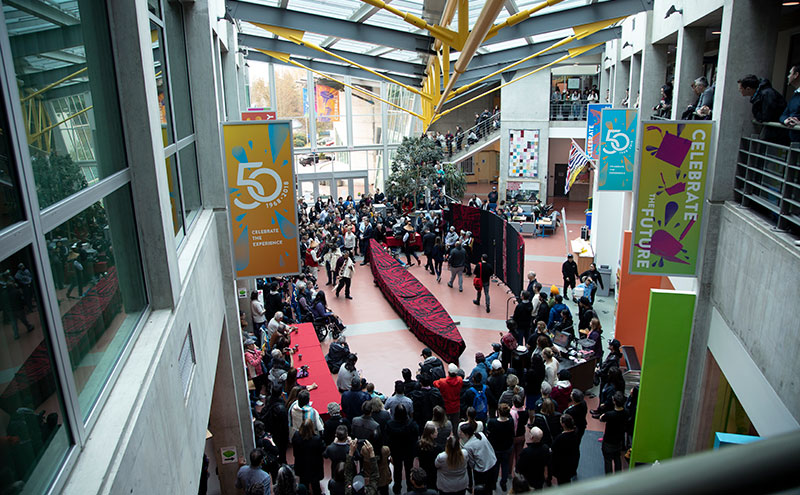 Capilano University hosts the Legacy Canoe Awakening and Naming Ceremony. The ceremony marked the completion of the CapU50 Legacy Canoe, named SkwÕch‡ys, created by master carver Ses siyam and carver Xats'alanexw siyam, 2019.
2019: Grand opening of CapU Lonsdale
Capilano University celebrated the opening of CapU Lonsdale, the University's new satellite location on the second floor of The Shipyards building in Lower Lonsdale. Classes started at CapU Lonsdale in January 2020.

The entrance to CapU Lonsdale at 250 - 125 Victory Ship Way, 2020.
2019: CapU and Líl̓wat Nation sign affiliation agreement
Leaders from CapU and Líl̓wat Nation signed an affiliation agreement that recognized shared values and commitments as they continue to work together to deliver post-secondary learning opportunities.
The signing took place at the newly re-opened Ts̓zil Learning Centre (TLC), that serves the Líl̓wat Nation and other Indigenous peoples.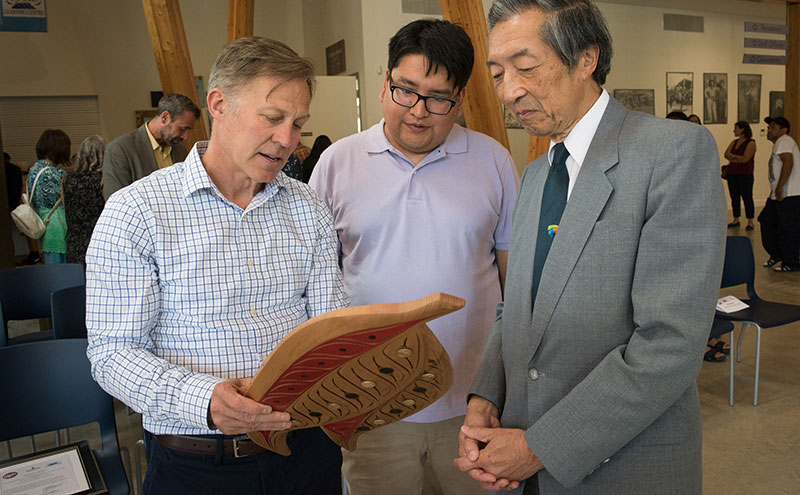 Ts'zil Learning Centre Grand Re-Opening and signing of agreement between Capilano University and the Lil'wat Nation, 2019.
2020: Envisioning 2030 — Our Vision: Inspired by Imagination
CapU released Envisioning 2030, its 10-year plan to transform the lives of learners, employees and communities with experiences and engagement opportunities to actualize their passion and potential.
In the next decade, CapU will focus on providing a dynamic and accountable place of thought and action that inspires imagination, prioritizes health and well-being and positively contributes to people and the planet.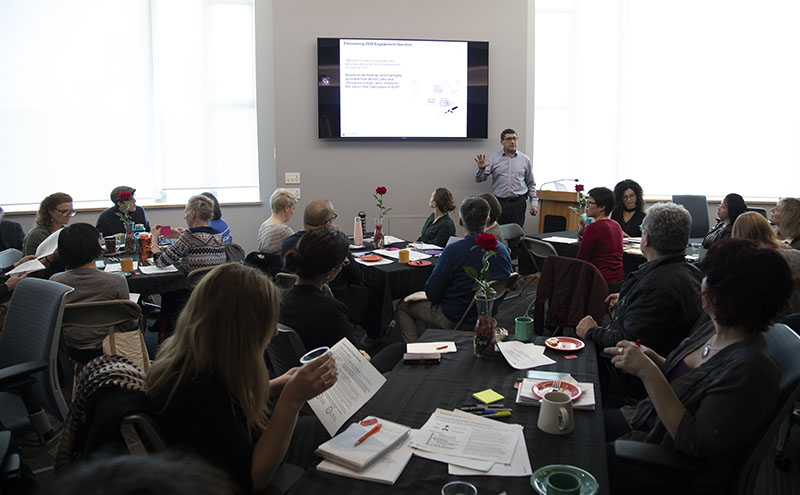 Capilano University hosts Envisioning 2030: Shaping CapU's Future Together, an event open to the community, 2019.
2020: CapU joins Universities Canada
Capilano University became the 96th member of Universities Canada, an advocacy group for higher education that promotes Canadian universities at home and worldwide.
2020: Launch of Capsule
Also in 2020, CapU launched Capsule, a digital magazine with multimedia stories written and produced by CapU employees and members of the University community.
2020: Yuri Fulmer, OBC, appointed fourth chancellor of CapU
An entrepreneur and philanthropist whose donation kick-started the Centre for Childhood Studies construction project, Fulmer was re-appointed for a second term as chancellor in 2023.
2021: Illuminating 2030 — the University's 10-year academic plan
Illuminating 2030 builds on goals set out in Envisioning 2030 and articulates CapU's evolving commitment to learners, communities, knowledge development and knowledge sharing.
The plan serves to create a shared understanding of academic directions, and provides guidance to other CapU plans and our annual integrated planning activities.
2022: Announcing the first on-campus student housing complex
The six-storey, 8,250 square metre complex will include 362-bed accommodation, a dining hall building, laundry facilities, student study areas and lounge space.
2022: Groundbreaking of the Centre for Childhood Studies
CapU welcomed elected representatives, community members and supporters to the future site of the Centre for Childhood Studies for the groundbreaking celebration marking the next phase of the evolution of main campus.
The purpose-built child-centred building is slated to open in 2024.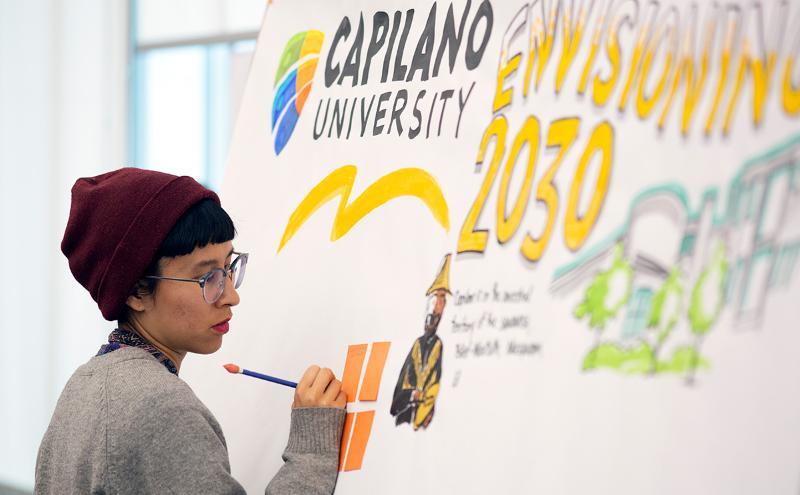 Envisioning 2030
See our plan for creating a distinct and meaningful university experience, supporting a healthier and happier campus community.
Visit Envisioning 2030
Illuminating 2030
Find out more about how our 10-year academic plan meets our commitments to learners, communities and knowledge sharers.
See our plan
CapU Fast Facts
1.6
kilometres
The length of the CapU50 Trail, connecting existing pathways and highlights some of the biological wealth on the main campus
784
students
The initial enrolment when Capilano College opened in 1968
800
years
The age of the red cedar from the Elaho Valley northwest of Whistler, B.C. that Skw'cháys — CapU's legacy canoe — was carved from
95,000
alumni
The number of diverse and talented alumni in CapU's network around the world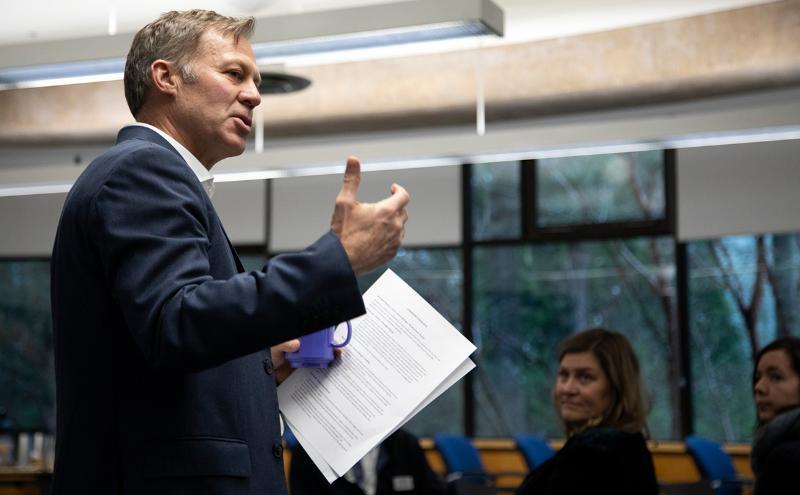 Our Leadership
We credit our growth and success to the character of our leadership. Get to know our senior leadership team.
Meet the Leadership team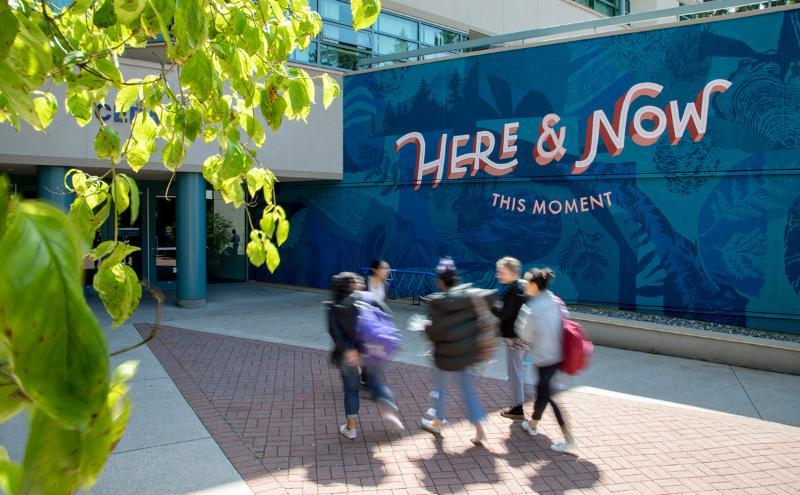 Our Values
CapU's strongly-held values reflect and guide our mission and vision to foster a culture of excellence, collaboration and inclusivity.
See our values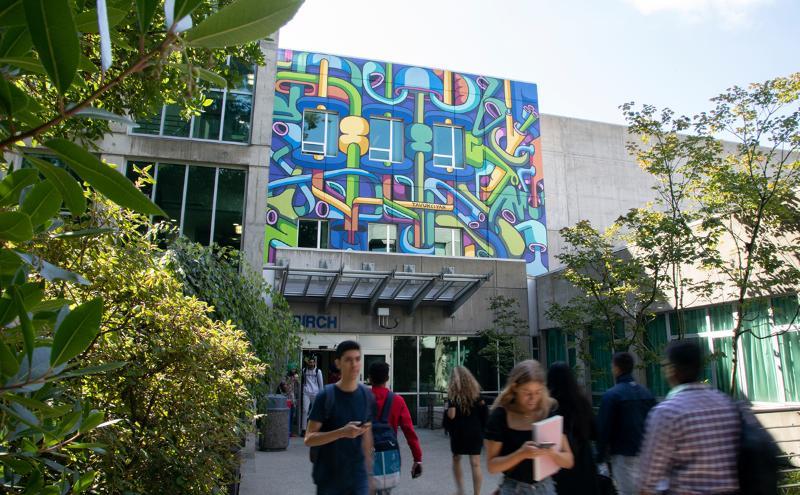 Our Locations
Our campuses are on the traditional and ancestral territory of the Squamish, Tsleil-Waututh, Musqueam, Lil'wat and Sechelt Nations.
Find us