Harvesting Rainwater in Your Backyard
Published21 February, 2023
Photo credit Rommel Cabanal and Patrick Leung
Winning team at CityStudio North Vancouver HUBBUB #7 came up with a creative solution for dealing with droughts.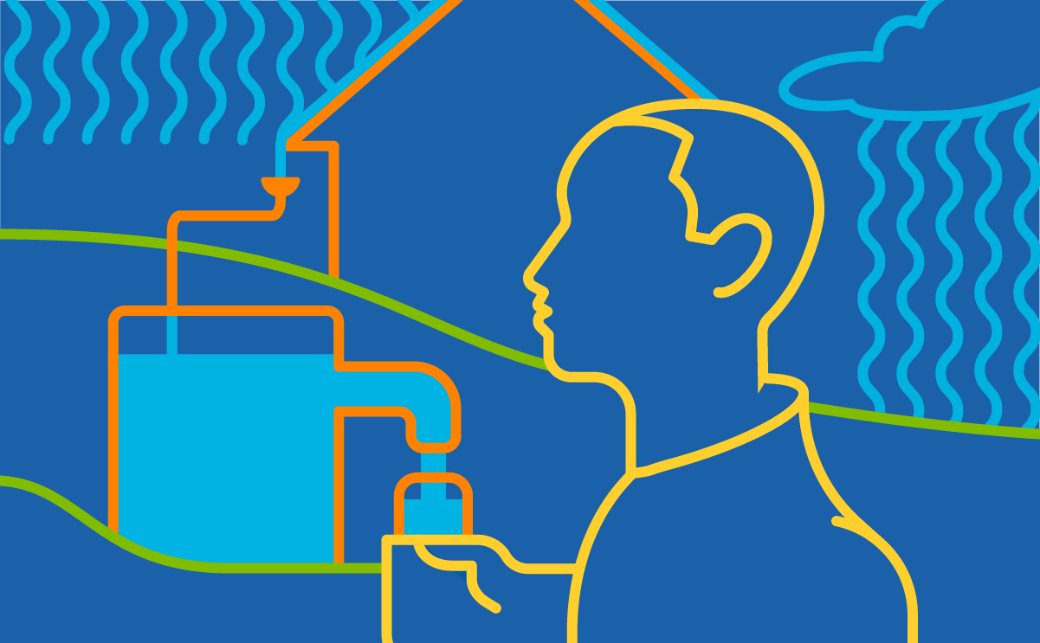 CapU students are using their creativity and ingenuity to help mitigate the impact of climate change in North Vancouver.
In December, CapU students, faculty, City of North Vancouver staff and elected officials gathered for the seventh HUBBUB event at Capilano University's Lonsdale location in The Shipyards for a celebratory showcase of innovative urban ideas created by CapU students.
The event was co-hosted by CityStudio North Vancouver, an experimentation and innovation hub where CapU students collaborate with the City and its partners to co-create impactful projects for the community.
Held twice a year, HUBBUB involves a panel of judges evaluating the most promising projects. After hours of hard work and a few sleepless nights, CapU Geography students Aine Corrigan-Frost, Dilkarn Singh and Dee Warapitiya created an impressive project that won them first prize.
Collaboration at its best
The project began as a collaboration between CapU's GEOG 316 Climate Change class, taught by Hojat Yazdan Panah, and Emily Dicken, director of North Shore Emergency Management.
Students were tasked with the question, "How can we best support North Shore Emergency Management and its partners to build a road map for climate change, resilience and sustainability?"
After meeting with Dicken, and bouncing ideas off each other, Corrigan-Frost, Singh and Warapitiya realized two things: North Vancouver needed to plan for future water resiliency proactively, and they had a solution to this problem that could take off.
After the devastating drought on the Sunshine Coast in 2022, the group wondered how resilient North Vancouver would be to future droughts. Research revealed that while North Vancouver does have significant water reservoirs, the City's population is rapidly expanding. "We don't have the water resources to keep up with population growth if climate change continues to cause droughts like this, which it will," Corrigan-Frost said.
The solution? Rainwater harvesting.
The group suggested that the City create a policy initiative to develop rainwater catchment infrastructure across the North Shore. Rainwater harvesting is a method of gathering run-off from structures, such as roofs, and storing the water for later use in a storage vessel, such as rain barrels or large cisterns. Storing the water from Vancouver's long rainy season and saving it for a drier day could soften the impact of future droughts.
How does it work? Homeowners would be offered one-time tax rebates against property taxes when they install a rainwater catchment system. In addition, all new builds would be required to install the systems to obtain permits starting in 2024. This model takes the onus off renters as property owners and developers would be required to buy and install the catchment system. This is a system that's worked in other municipalities, including in Nanaimo.
"Having a tax rebate system is actually really effective to incentivize development," Corrigan-Frost said.
Based on the rubric the initiatives were evaluated on, winning projects needed to be creative, relevant, viable and engaging. Perhaps most importantly, the winning project needed to be inspiring and exciting. The project created by Corrigan-Frost, Singh and Warapitiya clearly hit the mark as they won both first prize and the audience choice award.
CityStudio North Vancouver
CityStudio is an experimentation and innovation hub that is a joint partnership between Capilano University and the City of North Vancouver.
Find out about CityStudio
Key learnings
For Corrigan-Frost, this project helped her think about climate change more resiliently. While significant snow events, increased flooding, hotter summers and less water is the reality of our future, she believes our community can be more resilient if we acknowledge that climate change is happening and change our approach to development and infrastructure.
"As we're building out and building back, we're building systems that are not going to be derailed by those changing climate events," she said.
While it will take time to see if North Shore Emergency Management will adopt the student's plan officially and turn it into real policy, the group is hopeful rainwater catchment systems will be a big part of North Vancouver's future.
After all the hard work at the height of the finals, winning made it all worth it for the team.
"I was averaging four hours of sleep that week," Corrigan-Frost admitted. "So, standing there when they announced that … (I was) just on top of the world, honestly. It was amazing."