Alumni Q&A: Karen Roussy
Published8 March, 2022
Photo credit Steph Townsend
CapU alum Karen Roussy inspires her students that it is never too late to learn.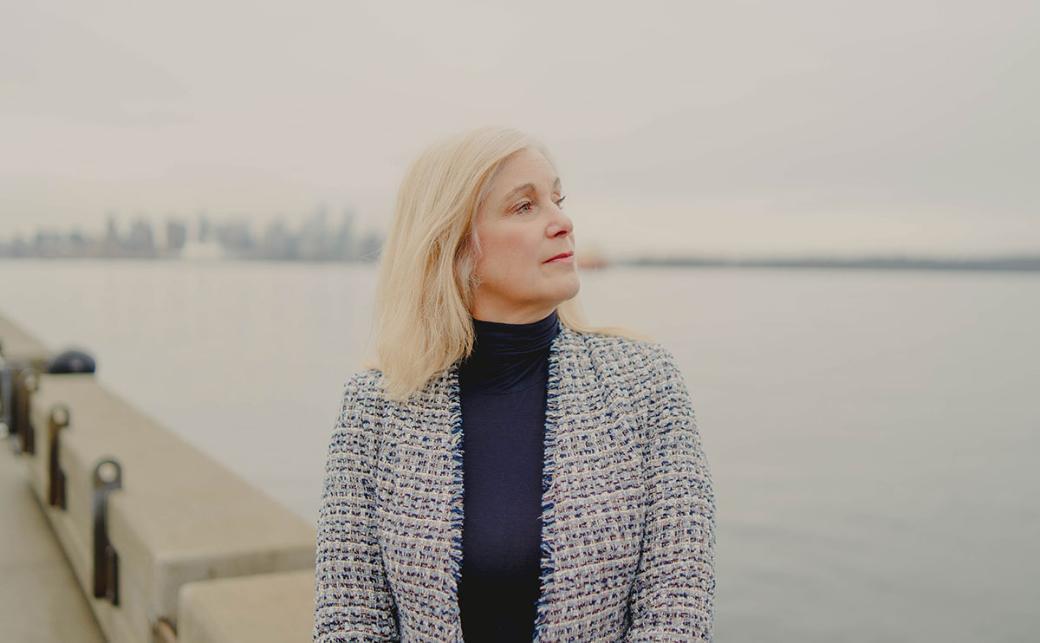 Karen Roussy is leading the way for paralegals.
As a family law advocate, Karen has provided legal support to low-income families in need. Her love of family law comes from her experience raising her own children and being active in their lives. She is passionate about taking care of families and supporting them through difficult transitions.
Karen is also a beloved instructor at Capilano University in the School of Legal Studies program. She goes above and beyond to support students, and the extra hours and networking she puts into her job are significant reasons why 100 per cent of her students get jobs in the field after graduation.
CapU is proud to honour Karen Roussy with the Luminous Award at the upcoming 2022 Alumni Awards of Excellence. Roussy's interview has been edited for brevity and clarity.
Please tell us the story about your unconventional resume.
When my children were young, I had the privilege of leaving the paid workforce and being a stay-at-home parent.
When I was returning to the workforce, I put that I was a caregiver/driver/cleaner/social convenor on my resume. This addressed the gap in my attachment to the paid workforce and allowed me to highlight my volunteer and community activities during this time.
How did people react to your resume afterward?
During a job interview, one of the partners of the law firm I was speaking with told me that he laughed out loud when he saw that on my resume and decided he had to meet me. It explained that gap without them having to ask and showed a sense of humour. I did accept a paralegal job at this law firm.
What motivated you to go back to school and why did you choose the Paralegal Diploma program at CapU?
Having been out of the workforce for many years when my children were young, I wanted to re-enter the workforce with confidence and update my knowledge and skills.
I have always been interested in the legal field and I researched programs that would complement my previous education and work experience. I chose Capilano University's Paralegal Diploma program because of its strong reputation in the legal studies field.
How did being a stay-at-home parent prepare you for your career in family law?
Being part of my children's lives as a stay-at-home parent was a great privilege. I was able to contribute and volunteer at their schools, sports, and music activities.
Nothing teaches you to multitask more than raising three busy children. Multitasking is invaluable to a paralegal or legal advocate working with a busy caseload.
Learning the law and court rules is vital to working as a paralegal. But family law is unique. I found that having raised children was a great benefit to supporting and empathizing with family law clients. Being able to think outside the strict legal box and to draw on real world experiences allowed me to create beneficial solutions and resolutions for clients.
What advice would you give to someone who may be hesitant to switch careers or get back into the workforce after some time away?
Changing careers is tough. Re-entering the workforce is tough. When I was trying to find a practicum host at the end of the paralegal program, some law firms were not interested in me because of my age. That is unfortunate. I had so much experience to offer and was looking to work full time without interruption for years to come.
For those changing career paths, my advice would be to think about what type of work interests you. Research how to start your new career with confidence and then take the leap.
How has your own experience of going back to school informed how you teach mature learners?
It is interesting to go back to school as a mature student. I was in classes with students the same age as my children. This experience has shaped how I teach because I understand the mature learner — I was one.
It was also a unique time as my daughters were in university at the same time. So, it was an experience we all shared at the same time. I have reflected on the post-secondary experiences of all my children, and I try to take the best of all our experiences and attempt to create that experience for my students.
What are your thoughts on how the pandemic has re-framed resume gaps?
The pandemic has created new opportunities and reflection on how we work, learn, and what our priorities are. Many students in the Legal Administrative Assistant program now used pandemic layoffs as an opportunity to shift their careers from the service industry to start something new.
Hopefully, one positive legacy of the pandemic will be an appreciation of personal choice: choice of work-life balance, whether that is the ability to work from home or have more flexible work schedules.
I am so grateful I took the leap of faith to start a new career. Getting my education at Capilano University was critical, and I am so pleased that winding path led me back here.