Alumni Q&A: Tierney Milne
Published13 November, 2020
Photo credit Tae Hoon Kim
An artist gives insight into how a background in psychology informs her work.
Tierney Milne is a talented artist who makes Vancouver more beautiful. After earning her B.A. in Psychology from UBC, Milne attended the IDEA School of Design at Capilano University in 2015. She first became interested in public art when she was working at Lululemon and created a mural for the company's head office.
Today, you can see her amazing work all around the city, including the Willow building at Capilano University. What makes Milne's work remarkable is how she uses her background in psychology to elicit emotions in her audience. While preparing for her next big project as part of the 2020 Vancouver Mural Festival, Milne took time to tell us about her process and how human behaviour plays a role in art.
Milne's interview has been edited for brevity and clarity.
How did your psychology degree influence your time in the IDEA program? How does it influence your art now?
Milne: My psychology degree gave me an interest in intentional art and communication design — especially trying to be thoughtful of the audience and their motivations and perspective. While I was in the IDEA program, I found myself working on infographics and experiential campaigns that were geared at trying to find novel ways of capturing people's attention, keeping them engaged, and trying to improve their mental state. I also loved thinking about how people respond to colours and patterns and what sort of emotions these tend to elicit.
[When I work on public art projects] I like to think about the setting and space that the art or mural or designs will be living in, and do a deep dive into who the audience is and how I'd like the art to make them feel. It's a very thoughtful process, and I like to think that my background helps inform that.
How do you think art can impact human behaviour?
Milne: Art's potential impact can vary drastically depending on what your motivation is as an artist. For me, art is a means to create a positive disruption in people's lives and to inject levity and bold beauty through colours and public installations.
Which one of your murals received the most attention or feedback from the public? Do you think there is a psychological reason behind their reaction?
Milne: The first would be the temporary murals I painted on shuttered storefronts during the onset of the pandemic lockdown. Those probably received the most positive praise overall — I would guess this because they gave voice and comfort directly to the public at a time when people were feeling disconnected and the streets seemed apocalyptic and foreign.
The second would be the circular public basketball court mural that I painted a few years ago on Great Northern Way near Emily Carr University. That piece gets the most engagement with the public, as people are using it and interacting with the design daily. I think the novelty of bright colours and scaled patterns in this secluded outdoor space is very memorable and provides a source of visual stress relief and speaks to a viewer's inner child when they're at play.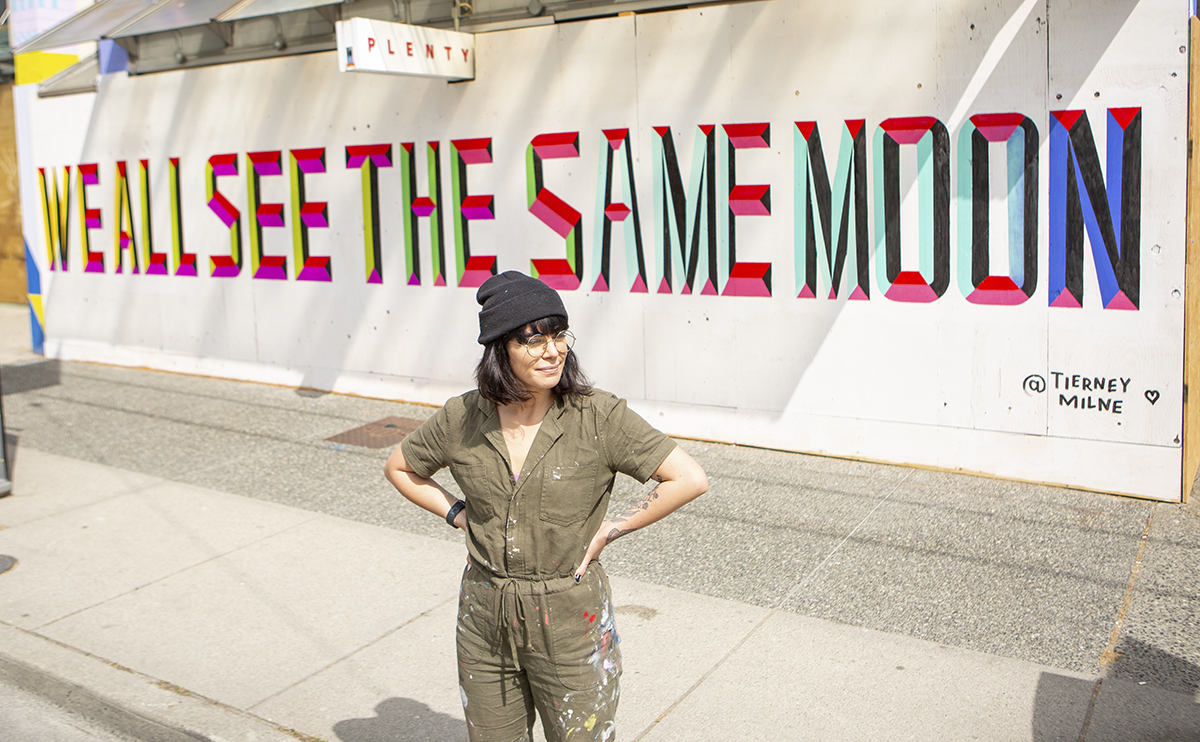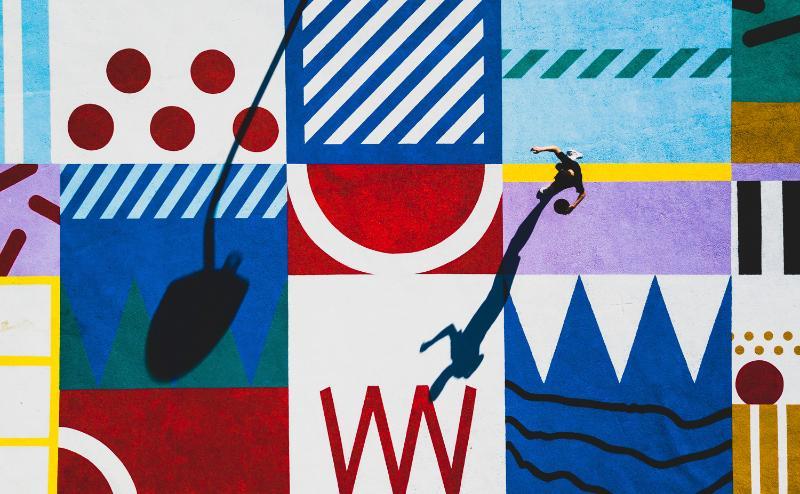 Have you seen a change how Vancouver and its people interact with murals?
Milne: It's been great to see an increasing respect for, and presence of, mural artwork in town. I know initially people didn't necessarily see the benefit to having their storefronts augmented with designs, but I feel like at this point people are almost clamouring to be involved — which is awesome! I love seeing artists gaining respect in general, and to have people starting to appreciate the mural process and the time that goes into it.
What is something you are passionate about that you wish to share with others? Do you find you communicate it through your art?
Milne: Colours and shapes in general — I can't get enough of their endless combinations. Increasingly, I'm working on being more transparent about sharing petitions and articles that support social justice reform. I like to use my daily frustrations or anger at what is going on in the world and almost transmute them into positive expressions of art. It's primarily an act of almost art therapy for myself, but I'm glad the work resonates with people as well.