Four Alumni and a Wedding
Published10 February, 2021
Photo credit Lumina, Inc.
Their dream wedding postponed, a couple returns to where it all started for an unforgettable day.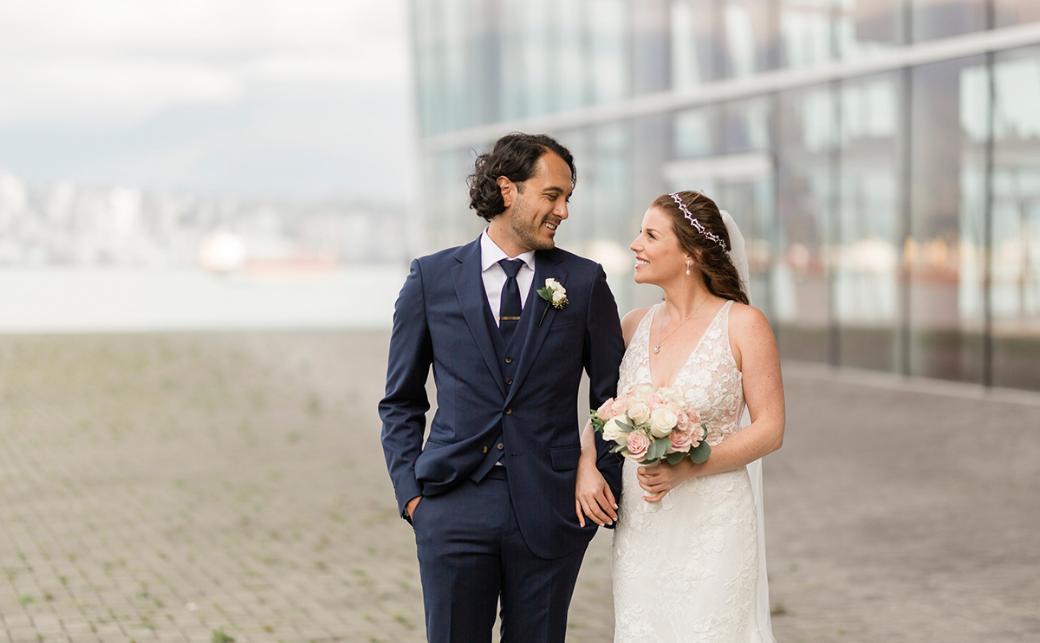 When Karmen and Ray met in the fall of 2011 in the Capilano University Bookstore, they never imagined they would be celebrating their love and lifelong commitment to each other outside that same building nine years later.
Back then, Karmen was a student in the Bachelor of Business Administration (BBA) program and worked at the Bookstore part-time. Karmen was stocking shelves when her friend Janice dropped by and introduced Karmen to her friend Ray — he was also in the BBA program, though they had never met.
After their introduction, Karmen and Ray fortuitously had back-to-back classes that semester, and walking together from class to class, they slowly started to get to know each other.
A few weeks later, they attended a BBA program social event at the Lamplighter in Gastown. After walking back to the SeaBus together and disembarking in North Vancouver, Ray asked Karmen out and they've been inseparable ever since.
In May 2018, Ray dropped down on one knee in the gorgeous vineyard of their favourite winery (Kismet) in Oliver, B.C., and asked Karmen if she wanted to grow old with him. It was the easiest question Karmen ever answered.
Shortly after Karmen and Ray got engaged, Karmen's sister Krista, along with her business partner Jared, started a wedding photography and videography business called Lumina Inc. Like Karmen and Ray, Krista and Jared are also CapU alumni.
"Starting a company is terrifying, you just don't know if people are going to book you or not, so knowing we had at least one wedding was enough motivation to get us started," Krista said.
Karmen hired her sister to plan and take photos at her wedding, which was scheduled for May 10, 2020.
"[Karmen and Ray] never even questioned it, they were fully supportive and so excited about the new venture and fully trusted us," she said.
Everything was ready to go until March 17, 2020, when Krista received the news that all gatherings were to be suspended. COVID-19 had finally caught up with the event industry, devastating many plans and dreams.
After making the incredibly difficult call to tell her sister the wedding would need to be indefinitely postponed, Krista was determined to create a special day for Karmen and Ray, big ceremony or not.
She planned a surprise car parade for them where they first met: the Capilano University Bookstore.
"I arranged for some of our closest family and friends to decorate their cars, cheering and holding up posters that read things like, 'Happy Original Wedding Day' and 'COVID-19: Is it Stage 4 yet?' and drive by the location to honk at them and celebrate what would have been their wedding day," Krista said.
Karmen remembers waking up the morning of May 10, 2020. They took a walk by the venue they had booked for their ceremony to provide a bit of closure.
"Waking up the morning that was supposed to be our wedding date was one of the biggest letdowns you could imagine," she said. "We weren't quite sure what to do with ourselves that day."
Karmen knew her loved ones had something special planned but had no details except to show up outside of the Bookstore, where she and Ray met nine years ago.
On the way to the surprise, both Karmen and Ray admitted that they were not in the mood to put on a fake smile and pretend to be happy for everyone else's sake. That apprehension was quickly forgotten as they approached campus.
"It was obvious from the moment we arrived that so much thought and effort had been put into making that day special for us and we were ready to take it all in," Karmen said.
"It wasn't until after we returned home and had a moment to process together that we realized how important it was for us to be around all of our loved ones, how special we were made to feel that afternoon and how a day we had been keen to forget is now a day we would never want to forget for the rest of our lives."
They eventually married in the fall, but they'll never forget that bright Sunday in May in front of the Bookstore.