If you've been admitted to Capilano University you can take the EAP Placement Test to determine which level of EAP courses are right for you. The Duolingo English Test is replacing our traditional paper-based test until further notice.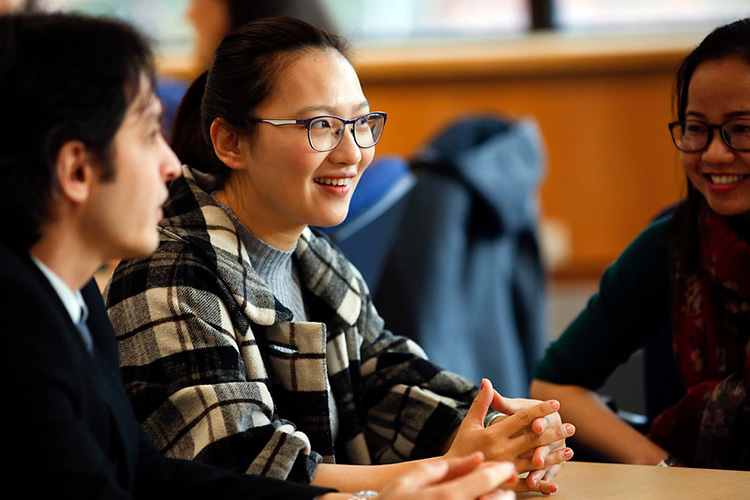 CapU's English for Academic Purposes (EAP) department offers the EAP Placement Test to domestic and international students each semester.
Duolingo English Test Overview
This test requires about one hour and is available online 24/7.
The test costs $49 USD on a major credit card or PayPal.
Identification to show on camera includes passport, driver's license, or government photo ID, but the rules vary by country.
Test scores will be emailed to you within 48 hours. You can then decide if you want your scores sent to the EAP Department at Capilano University.
The test can be taken twice within any 30-day period.
Make sure you download Google Chrome or Opera before trying to take the test.
In China, the test can be taken on 360 and QQ web browsers as well.
An Internet connection with at least 2 Mbps download speed and 1 Mbps upload speed is recommended for test sessions.
Before taking the test, you will be asked to test whether your computer's microphone and speaker are working properly.
It is also at this time that your identification information is collected and that you are informed of the test's administration rules.
While taking the test your web browsers will be locked down. This means that any navigation away from the browser where you are taking the test will invalidate the test session. Don't surf the net while taking the test. Additionally, all browser plugins must be disabled.
The following behaviors are not allowed while you are taking the Duolingo:
Interacting with anyone.
Allowing other people in the room.
Using headphones or earbuds.
Disabling the microphone or camera.
Looking offscreen.
Moving out of frame of the camera.
Accessing any outside material or devices.
Leaving the web browser.
Writing the Duolingo English Test
After becoming familiar with the overview and rules you'll be ready to take the Duolingo English Test. Here is the process:
From one of the permitted web browsers, you can take practice tests as often as you like before taking the official test.
For practice tests, you will immediately see a general estimate of your score.
Before taking the official test, please create an account and pay for the full test.
You will receive an email notification after your official test has been scored.
After you complete the full test, you will receive an email from Duolingo with your results, and you will be invited to share test results with the EAP Department at CapU.
You can also review your score by logging in to Duolingo. Duolingo will send your results to us after you give them permission.
If you experience any technical problems with the test, contact support by clicking the orange "Help" button on the bottom-right of any screen.
You can also email or visit the Duolingo FAQ for more information.
We look forward to receiving your test results soon. Good luck and welcome to the EAP Department at Capilano University!
Academic IELTS
TOEFL
(iBT)
Duolingo
EAP level
Overall
No score below
Most CapU programs
6.5
6.0
83
110 or higher
EAP 100/EAP 101 minimum grade B+
Business Admin Pathway
5.5
5.0
67
90 or higher
EAP 080 minimum grade B
ECCE Pathway
5.5
5.0
67
90 or higher
EAP 080 minimum grade B
EAP 100 & EAP 101
6.0
5.5
71
100 or higher
EAP 090 minimum grade B
EAP 090
5.5
5.0
67
90 or higher
EAP 080 minimum grade B
EAP 080
5.0
4.5
45
75 or higher
EAP 070 minimum grade B
EAP 070
4.5
4.0
32
65 or higher
EAP 060 minimum grade B
EAP 060
N/A
55 or higher
EAP 050 minimum grade B
EAP 050
N/A
45 or higher
EAP Placement Test (EPT)
After you have applied to CapU, you will receive an email from the EAP Department inviting you to take the Online EAP Placement Test if you haven't done so yet.
Please take the Duolingo English Test as instructed above and fill out the form at the bottom of this page so we can learn more about you.
You will receive information from the EAP Department about placement level and registration for the coming term of EAP.
We look forward to teaching you English for Academic Purposes very soon!
Privacy statement
We are committed to protecting your privacy and personal information through responsible information management practices. We collect, use, retain, disclose and dispose of personal information in accordance with the Freedom of Information and Protection of Privacy Act (FIPPA), other applicable legislation and Capilano University privacy management practices.
This form collects personal information for the purposes of EAP placement testing. It is collected by Capilano University under (s)(26)(c) of FIPPA. By submitting this form, you are providing your consent for the English for Academic Purposes (EAP) department to collect and use this information for this purpose. If you have any questions, please contact eap@capilanou.ca.