Moving with You at CapU
Published21 September, 2023
Photo credit Tae Hoon Kim, Junbum Im
Graduates of CapU's Bachelor of Kinesiology have a bright future.
For the first time, a group of students walked across the stage at Capilano University's convocation ceremonies this year and graduated from the University's new Bachelor of Kinesiology degree program. In 2020, the University's School of Human Kinetics became the School of Kinesiology and introduced the four-year degree program.
The success of the program is evident. Five of the 20 graduating students applied to master's degree programs in physical therapy or occupational therapy, and all five were accepted into programs at one of University of British Columbia (UBC), University of Saskatchewan and Oxford Brookes University.
You matter at CapU
Emma Russell, coordinator and instructor for the School of Kinesiology, credits the program's success to the unique connection that students formed with their instructors.
"Our team supports our students in the best way we can to help them reach their goals and find their own success," says Russell. "We get to know the students very well."
Kinesiology grad Samantha Doyle couldn't agree more.
Prior to attending CapU, Doyle was prepared to fend for herself after hearing from her friends and family about their university experiences – instructors talking at you rather than teaching and thinking of you as just a number.
She couldn't have been more relieved once she started at CapU.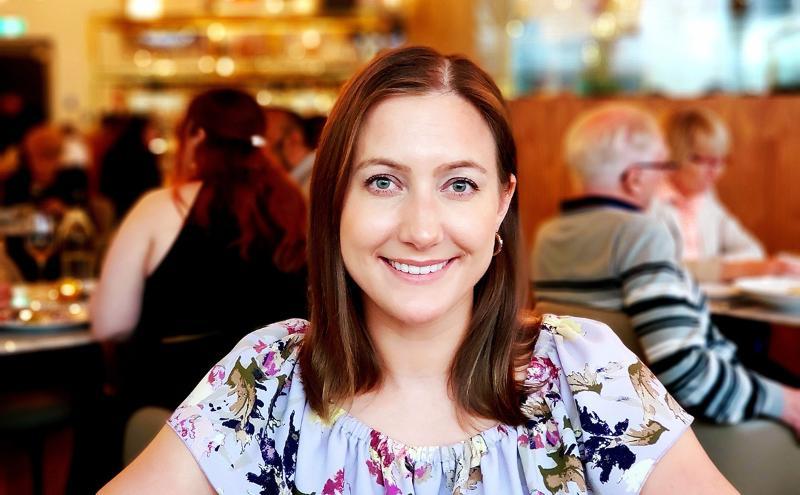 The program is designed to expose students to a variety of career options related to kinesiology through field placements, and to facilitate personal and professional growth. The result is a dynamic program that meets the needs of as many students as possible.
Doyle credits the career and professional preparation course series in helping her plan for and reduce the stress of applying to master's degree programs. The work and preparation from these courses helped her successfully apply and get accepted into the Master of Occupational Therapy program at UBC.
"During the application process, my professors continued to check in with me and were there every step of the way," says Doyle. "If I had not had all the preparation and support, I would have felt completely lost, become severely burnt out and I likely would not have had the success that I did."
For Tomas Kavan, he came to CapU with a focused mindset and end goal of being accepted into a physical therapy program. As a mature student, he heard how CapU is a place for people to restart and rebuild their academic careers.
"This was not my first swing at undergraduate studies," says Kavan. "The first time around I was disinterested and unmotivated, and that reflected negatively on my grades."
Realizing he needed improved grades to be accepted into physical therapy school, Kavan enrolled at CapU and found the care and support from instructors developed his self-confidence and curiosity in the field.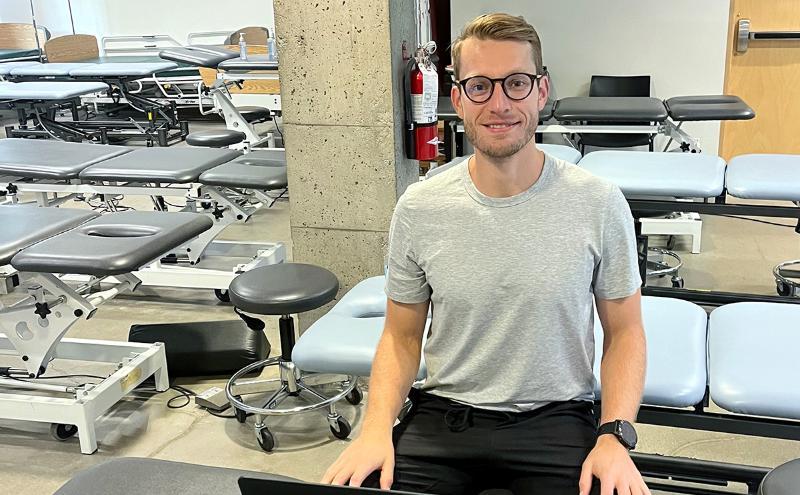 The dedication and care from instructors combined with the support of earnest peers helped Kavan's successful application and acceptance into the Master of Physical Therapy program at UBC.
Humanizing health care
Doyle, who used to be a semi-professional ballet dancer, became fascinated with the human body and movement following injuries which forced her to retire as a ballet dancer. This planted the seed to her studies in kinesiology and occupational therapy.
"I developed severe chronic pain and was forced to discontinue training. It took a long time for me to get help and to navigate the health care system," says Doyle. "I was overlooked because I looked like a healthy young adult."
Doyle found the health care system to be dehumanizing and problem-focused. It wasn't until her experience with an occupational therapist that her pain was acknowledged and an alternative path to healing and re-building her life was formed.
"I want to help individuals from a more holistic perspective," explains Doyle. "As an occupational therapist I hope to help patients navigate their health issue in a way that makes life accessible and brings joy back into their lives."
Study Kinesiology at CapU
Discover the science behind sport. Explore the human body and the relationship between exercise and health through the study of kinesiology.
Bachelor of Kinesiology
Kavan's passion for physical therapy was developed after having spent time working in various roles in the health care industry. His goal is to work with people to improve their quality of life and achieve their wellness goals.
"I love what physiotherapy attempts to achieve through evidence-based practice, advocacy for movement and empowerment through education. These values deeply resonate with my personal principles," says Kavan.
Kavan's eyes were opened to the ethics and sociology of health care during his time in CapU's kinesiology program and has honed his values as a health care practitioner.
"I want to be a clinician who is aware of everyone's unique situation and work with my clients to tailor the treatment to their needs," says Kavan. "I want to become a health care professional who will create an environment where anyone, regardless of gender, religious beliefs or ethnicity, feels safe and heard through continuing education, open-mindedness and advocacy."