On-campus athletic facilities include the Centre for Sport & Wellness and Lillooet Park.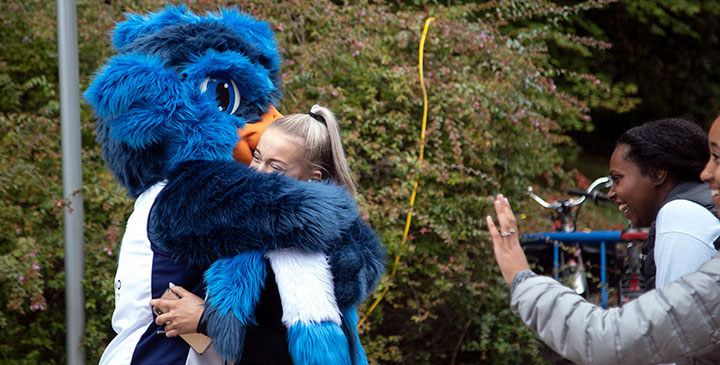 Accessibility
The Centre for Sport and Wellness is located across from the Birch building and has ground level and ramp access around the side and back of the building. The building is equipped with accessible washrooms/change rooms and one single stall bathroom.
If you require any assistance with access please feel free to ask any of our staff members.
Weight Room
New registration and waiver system
All students, staff, faculty and public users must follow the steps below to join us in the weight room, gymnasium, or at CapURec events.
How to get started with CapURec
Create an account —

All individuals who would like to access our weight room, drop in, intramurals, or other programming in the Centre for Sport and Wellness must create an account online.
Become a Member — To complete your waiver online, please "purchase" a membership. These are free for all CapU students, staff, and faculty. Public members can purchase memberships at this link too.
Get started! Join us in the weight room, during drop-in gym times or register for a program!
Community members can access the weight room with purchase of a Community Member Pass. Community Member Passes cost $60/term.
Locker rentals
Lockers are available to rent at the Centre for Sport and Wellness. Small lockers are $20/term and large Lockers are $30/term and each locker comes with a combination lock. Payment methods include: VISA, MasterCard, American Express, Debit and Cash. Lockers can be accessed only during open facility hours.
Information Required to rent a locker:
Name
Address
Phone Number
Student ID# (if applicable)
Email address
Lillooet Park
Capilano University uses one of the finest soccer fields on the North Shore. Lillooet Park is home to Blues soccer action as well as intramural soccer, ultimate and Blues sports camps.
Lillooet Field is adjacent to the Centre for Sport and Wellness, on the south side. For Lillooet Field information, please call 604 983 7532 or 604 984 4977.