Recommended Reads for Earth Day
Published21 April, 2023
Photo credit Patrick Leung
Fight solastalgia with thought-provoking books on what you can do to reinvest in our planet.
Do you feel powerless when it comes to climate change? You are not alone. According to the National Library of Medicine, "solastalgia" is the distress caused by environmental change near your home.
One way to alleviate this distress is to take action. This year's Earth Day 2023 theme is "Invest in Our Planet." The focus is on engaging governments, institutions, businesses and citizens to do their part for the environment – everyone is accounted for and accountable.
We are living during a green economic revolution. Unlike prior economic revolutions, there are two extra requirements: saving humanity from the climate crisis and building green economies in every country. The goal is for everyone to benefit from this green revolution, and it will only be successful if we work together to invest in our planet's future.
The Capilano University Library team are working towards creating a green economy. Staff are active in implementing greener ways to support the CapU community. The Library also provides access to materials about environmental activism to facilitate learning about climate change. As Ugandan climate activist Vanessa Nakate said in an NPR interview:
"There is so much to learn about the climate crisis. And learning about the climate crisis means learning from the voices that are on the front lines... We can't have climate justice if voices from the most affected areas are being left behind."
We hope these books soothe your solastalgia and inspire you to action, enabling you to reinvest in our shared planet.
Discovery Search
Search the Capilano University Library to read thought-provoking works about climate change and other environmental topics.
Search Our Database
Fighting the climate crisis one page at a time
Almanac for the Anthropocene: A Compendium of Solarpunk futures
Edited by Phoebe Wagner and Brontë Christopher Wieland
On the shelves at: GE195.A44 2022
The solarpunk movement positions ingenuity, generativity and community as ways to resist hopelessness in response to the climate crisis. This almanac is a call to action, collecting interviews, recipes, exercises and DIY instructions for a response to the environmental crisis.
A Bigger Picture: My Fight to Bring a New African Voice to the Climate Crisis
By Vanessa Nakate
On the shelves at: GE56.N35 A3 2021
In 2020, Vanessa Nakate appeared at a joint press conference in Davos with other prominent climate activists, including Greta Thunberg, Loukina Tille, Luisa Neubauer and Isabelle Axelsson. Associated Press cropped her out of the photo they took of the group, creating a storm of criticism and an international dialogue on erasure and diversity in the environmental movement. In this book, Nakate presents a new climate movement vision based on resilience, sustainability and genuine equity.
Ducks: Two Years in the Oil Sands
By Kate Beaton
On the shelves at: PN 6733.B369 D83 2022
Ducks is an autobiographical graphic novel about Katie, a Cape Bretoner who works in the Alberta oil sands to pay off her student loans. It is also the story of a country that prides itself on its egalitarian philosophy and natural beauty while exploiting the riches of its environment and the humanity of its people.
Earth Grief: The Journey Into and Through Ecological Loss
By Stephen Harrod Buhner
On the shelves at: GE140.B84 2022
Increasing numbers of people feel climate grief, ecological loss or solastalgia. In Earth Grief, Stephen Harrod Buhner travels into and through the feelings of guilt and shame that come from ecological devastation. No reader will ever again feel alone in the grief they feel for what is happening to our planet.
Generation Dread: Finding Purpose in an Age of Climate Crisis
By Britt Wray
On the shelves at: BF353.5.C55 W73 2022
Generation Dread illuminates how we can learn from the past, from our own emotions and from each other, to thrive in a changing world. Wray offers creative coping strategies by weaving insights from climate-aware therapists with critical perspectives on privilege and the future of mental health innovation.
Global Warming and the Sweetness of Life: A Tar Sands Tale
By Matt Hern and Am Johal
On the shelves at: TD195.P4 H47 2018
Matt Hern and Am Johal embark on a road trip from Vancouver to northern Alberta, seeking dialogues with people whose livelihoods depend on or are jeopardized by oil extraction. They conclude that ecology must begin with decolonization and that confronting global warming requires a different way of being in the world.
Mourning in the Anthropocene: Ecological Grief and Earthly Coexistence
By Joshua Trey Barnett
On the shelves at: GE140.B37 2022
Joshua Trey Barnett argues that ecological grief is a rhetorical achievement. Rhetoric makes things matter, bestows value, directs attention, generates knowledge and foments feelings. Therefore it can set our ecological grief into motion and illuminate pathways to a connected and caring earthly coexistence.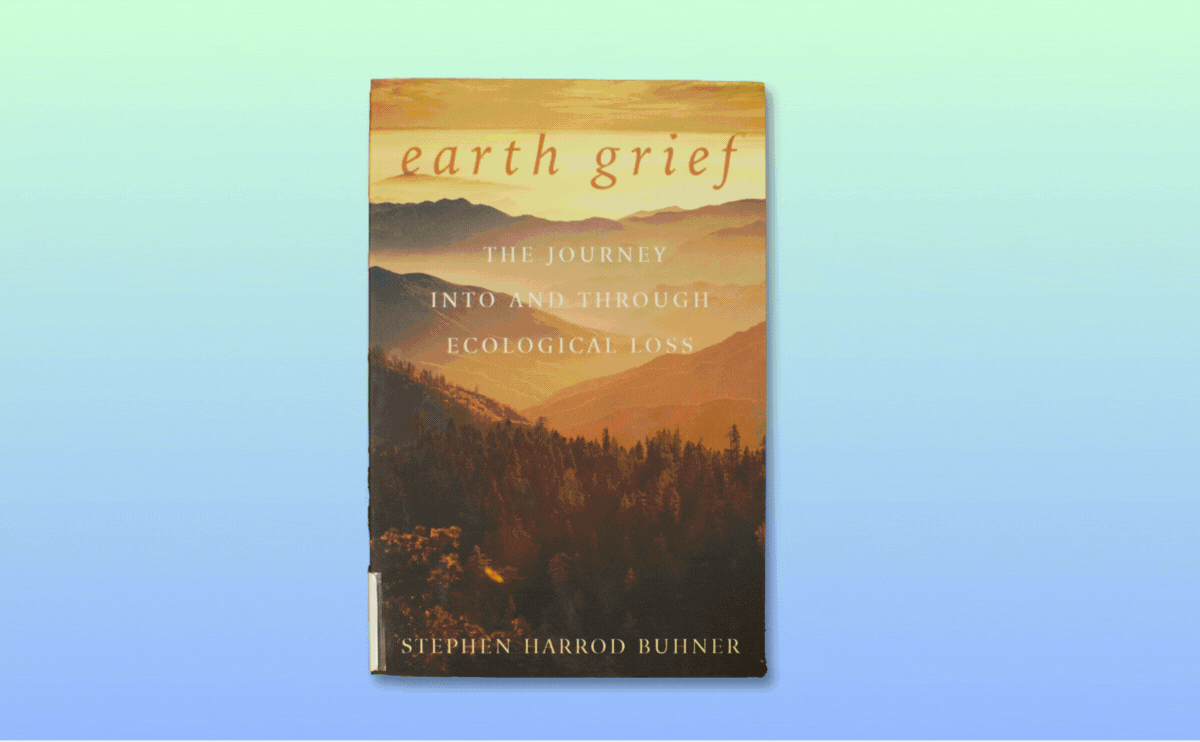 No One is Too Small to Make a Difference
By Greta Thunberg
On the shelves at: GE195.7 T58 2019
This book brings you a collection of Greta Thunberg's speeches that have made history across Europe, from the UN to mass street protests. They are a rallying cry for why we must all fight to protect the living planet, no matter how powerless we feel.
To Be a Water Protector: The Rise of the Wiindigoo Slayers
By Winona LaDuke
On the shelves at: GE195.L33 2020
Winona LaDuke is an Indigenous activist, economist, environmentalist and industrial hemp grower. In this book, she discusses several elements of a green economy and lessons we can take from activists outside the US and Canada.
The World as We Knew It: Dispatches from a Changing Climate
Edited by Amy Brady and Tajja Isen
On the shelves at: QC903.W6735 2022
In this anthology, 19 prominent authors reflect on how climate change has altered their lives, revealing the personal and disturbing consequences of this worldwide threat. From Antarctica to Australia and New Hampshire to New York, an intimate portrait of a climate-changed world emerges, captured by writers whose memories of familiar places have been changed in surprising ways.
Connect with the CapU Library
This is a sample of the books on climate change, environmentalism and activism at the Capilano University Library. Visit us in person or online at the Library to find more materials. We have books, e-books, e-audiobooks, journals, magazines and even movies for you to borrow.
The Library includes even more works of environmental activism that are waiting to be discovered.