All the World's His Stage
Published4 August, 2021
Photo credit Taehoon Kim
Chris May went from an Arts and Entertainment Management student at Capilano University to global stage show producer at Cirque du Soleil. It all started at the BlueShore at CapU.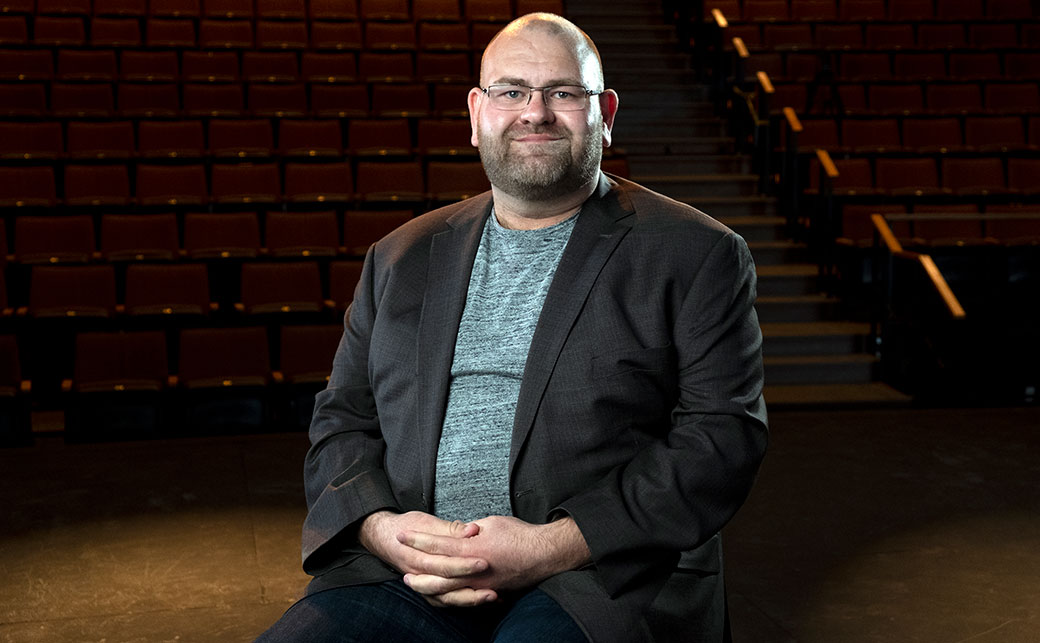 Since completing the Arts and Entertainment Management program in 2004, Chris May has been planning, managing and overseeing stage productions in more than 90 countries on six continents, spanning everything from concerts and musicals to circus acts and telethons.
The stage that launched it all is right here at Capilano U — our very own BlueShore Financial Centre for the Performing Arts. This stage is where May got his start as an 18-year-old musical theatre aficionado and where he landed his first industry gig.
"I had made a decision to be in arts management and I desperately wanted to travel for work," he said.
"In the program, the students had to run a folk music series," May said. As part of their training, students were tasked with everything from securing the musicians to promoting the shows.
One night, Welsh singer/songwriter Martyn Joseph played at The BlueShore at CapU. "The first night I heard him play, I was sitting in the back row of the theatre because I was the artist manager that night. I remember I had tears streaming down my face. Never had live music affected me that way before."
It was a night May says he will never forget — but not just because of the moving music. After the gig, Joseph confided in May about his exhaustion and desperate need for help in managing his last few shows on Vancouver Island.
It was the opportunity he'd been hoping for.
"The next day, I picked him up and together we toured around Vancouver Island," May said. "I'd sleep on the floor or couch. On the last night, we missed the ferry, so we slept in my parents' station wagon."
"By the time I dropped him off at the airport, I had fallen in love with touring and being on the road."
It was also the beginning of a fruitful working relationship.
Act One: Hitting the Road
May went back to finishing his program at Capilano U, and one day, his phone rang — it was a U.K. number. "Martyn called to see if he could book me for five weeks around the U.S. He said, 'I can't afford to pay you, but I can cover all of your expenses.' And I jumped at the chance."
May recalls fondly that at the end of the tour, Joseph gifted him a new iPod. "At the time, it was the greatest gift ever."
May spent the next year touring North America and the U.K. — first with Joseph, then with more established musicians, including Australian singer-songwriter Xavier Rudd, Jack Johnson and Dave Matthews. He built himself a comfortable niche working with a handful of bands.
And then he met his future husband — a developer based in Vancouver — and it was time to settle down. "You can't build a foundation on the road," May said. "So, I resigned and came back to Vancouver."
"I started working for a not-for-profit arts management company. I was managing a Métis dance company and an experimental theatre group, which was interesting artistically but not commercially."
His return to Vancouver didn't take. After working in larger-scale productions, he found the fit wasn't right. "I like driving margins," he said. "I like the business [aspect] of entertainment and I wasn't getting a ton of it."
In a fortunate bit of happenstance, Cirque du Soleil was in town hosting an open call for staff. May attended the event and was invited to an interview. It was an opportunity that would change the course of his career.
Act Two: Joining the Circus
It took several interviews over the course of four months, but May eventually got an offer from Cirque du Soleil for a travel management position with the arena division — a role that involved travelling to 40 cities per year for week-long shows.
"I gave a week's notice, and then took a second week off to take my partner to Cuba to say, 'I love you, don't forget about me.'" Then May flew to Alabama, where he began a five-year career with Cirque, visiting six continents and more than 50 countries.
After six months, he was given his own show to manage, becoming the youngest tour manager in Cirque's history.
Act Three: Heading back to my hometown
Eventually, he had to decide between spending his entire life on the road or laying down roots. He chose the latter and came back to Vancouver once again. "I wanted to have a family and a house, so I started looking at my options."
He reconnected with a vendor he'd worked with through Cirque and was offered a position at SDI Marketing as Senior Director of Entertainment. There, he started the Rogers Hometown Hockey Tour, a massive outdoor family festival that travels to 25 small communities across the country.
He had a son with his now-husband Matt and took a year off work. When he returned, he took on the responsibility for executing all SDI events across Canada, the U.S. and the Middle East, overseeing a team of 30 producers.
Then COVID-19 hit.
"It's been the worst year in our industry since World War II," May said. "I am one of the very lucky ones who stayed employed."
May helped SDI pivot to digital events and is now working to ramp back up as the world re-opens. As he's been hiring junior staff members who are keen to get their start in the industry, it's taken him back to his early days working in The BlueShore at CapU.
"That theatre had an enormous impact on me," May said. "It's where I got my first gig. I met amazing people who are still good friends, and I got to learn through doing."
"Venues like that, maybe they don't make a ton of profit or change the world. But they build the soul of a people and of a nation through culture and art, and that's really important to do. It's an incredibly important part of life."
After 25 years, thousands of performances and hundreds of graduating students, the seats and carpet in The BlueShore at CapU are in need of replacement.
Consider joining us in our Take a Seat campaign to refresh the BlueShore at CapU. You can name a seat as an individual, couple or family, or honour the memory of a loved one.
Each gift helps ensure performing arts students at Capilano University have a modern, accessible theatre to learn and practice their craft.
Help set the stage for performing arts on the North Shore with your gift today.