One-on-One with Mohamed Assani
Published15 March, 2023
Photo credit Kristine Cofsky and Patrick Leung
Meet Mohamed Assani, an award-winning sitar player, composer and instructor in CapU's Music Diploma Program.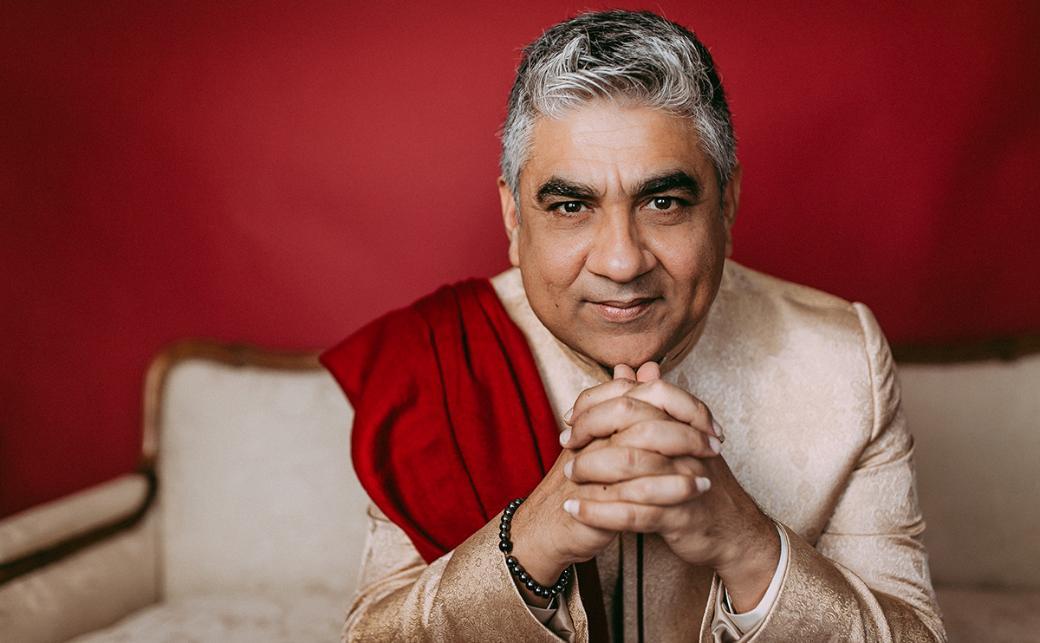 With a background that spans Indian/Pakistan, Western Classical, and jazz, Assani's musical compositions seamlessly blend various cultures and styles with impressive authenticity. He is a highly sought-after sitarist and composer renowned for his genre-defying approach to music-making.
In recognition of his exceptional talent, Assani was nominated as the 'Instrumental Artist of the Year' at the Western Canadian Music Awards 2021.
Tell us about your background and career journey.
Music has been a lifelong passion for me. In my teenage years, I joined a band in my hometown of Karachi, Pakistan, where I played bass guitar and keyboards. I studied music at the Dartington College of Arts in England, where I realized this is what I want to do for the rest of my life. I did a degree in Western Classical and World music and was exposed to South Asian, West African, and contemporary music. After graduating, I taught at the Royal Academy of Music in England.
In 2010, I moved to Vancouver, Canada, where I joined the Vancouver Symphony Orchestra School of Music. I teach and perform regularly and enjoy composing my own music. My career has been diverse, having performed with orchestras, as a solo artist, and even with DJs. I have a particular passion for world music: if you were to listen to my music, you would hear a melting pot of different influences.
What courses are you offering?
I specialize in South Asian music, so one-on-one sitar and tabla courses will be my main offerings. We will be focusing on composing, ensemble techniques and complex rhythms that will boost students' musicality.
Why did you decide to join CapU?
I've always been fond of CapU, and the Music Diploma program is very strong here. I was interested in doing both practical and theoretical work with my students, and CapU seemed to be an ideal place for that.
Music Diploma program
The Music Diploma (Classical) program provides a rich learning environment that nurtures the artistic and creative potential of each student.
Music Diploma
What do you like about playing sitar?
Playing the sitar is a unique and enriching experience. The instrument is incredibly versatile and allows me to emulate the human voice by bending notes and creating harmonics. It's both an instrumental and lyrical instrument, giving me endless options for expression.
Of course, playing the sitar is not without its challenges. It's a delicate and sensitive instrument that requires a lot of technical skill to play well. However, for those who have a passion for music and a particular attraction to this instrument or style of music, the rewards are abundant.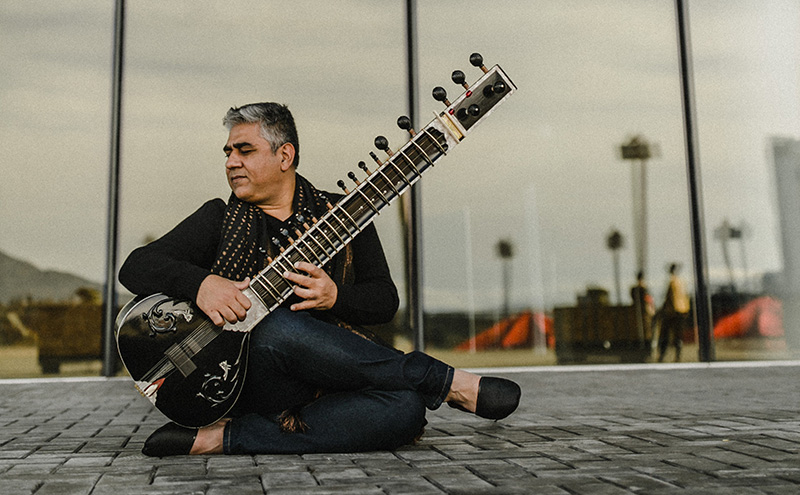 What can students expect in your class?
Learning South Asian music is like opening a whole new world. It offers a different way of thinking and understanding rhythm. It's based on an oral tradition, so students will learn to internalize the beats and rhythms rather than counting them on paper. The music is also based on moods and offers a great stimulus for composing and improvising.
There is a balance between composition and improvisation. Students will learn to improvise within a given rhythm cycle, such as a seven-beat cycle or a 16-beat cycle. The skills and knowledge they gain from learning sitar can be applied to other musical pursuits, such as playing in an orchestra or working with electronic music.
What is one fact that students might not expect about you?
The instrument I currently play, the sitar, was the last instrument I began learning. Before that, I had studied keyboards, bass guitar, and tabla for a long time. It was only later in my musical journey that I discovered the sitar and fell in love with its unique sound and versatility.
I believe that music is a universal language and that understanding it can open doors to new opportunities. If you're familiar with one instrument, you already have a head start on another. Whether you play guitar or sitar, drums or piano, the language of music is always the same. With time and effort, any instrument can be mastered and loved.
What is your favourite book?
"Siddhartha" by Herman Hesse. It's a beautiful story about Buddha, presented with the metaphor of a flowing river. It resonates with me because the river represents the constant flow of energy and change, which I embrace in my life. Additionally, I have a passion for Urdu poetry and have memorized many poems that I enjoy reciting.
Describe your perfect day.
My perfect day is filled with smiles, no matter what I do. It includes some great music, a fresh cup of coffee, a leisurely walk and a conversation with a friend. That's what makes my day truly perfect.
What is your advice to students pursuing music?
My advice is to always follow your passion and be open to change. The goalposts in your life will shift, but if you stay true to what drives you, you'll be on the right path. Originality is crucial in our field. Sure, you can become famous for a short period of time by doing cover songs, but true fulfillment comes from creating something unique and meaningful.
Embrace who you are and think independently – it's the key to making a lasting impact in the music industry.