Canoe-Awakening Ceremony Part of Ongoing Journey
Published21 June, 2023
Photo credit Patrick Leung and Taehoon Kim
Legacy canoe helping lead the way toward Reconciliation and Inclusion.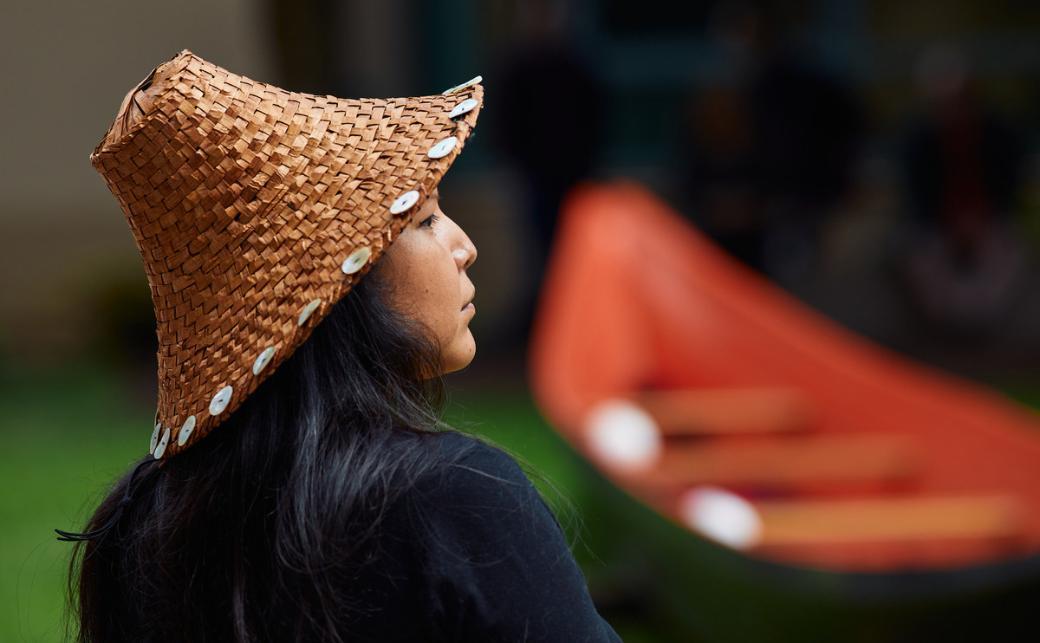 Skw'cháys is a 30-foot Coast Salish canoe commissioned in 2018 to celebrate CapU's 50th anniversary. The canoe is incorporated into convocation and new student orientation to symbolize the beginning and end of student journeys at CapU. Following cultural protocol, the University hosts ceremonies to awaken Skw'cháys every spring and put him to sleep every fall.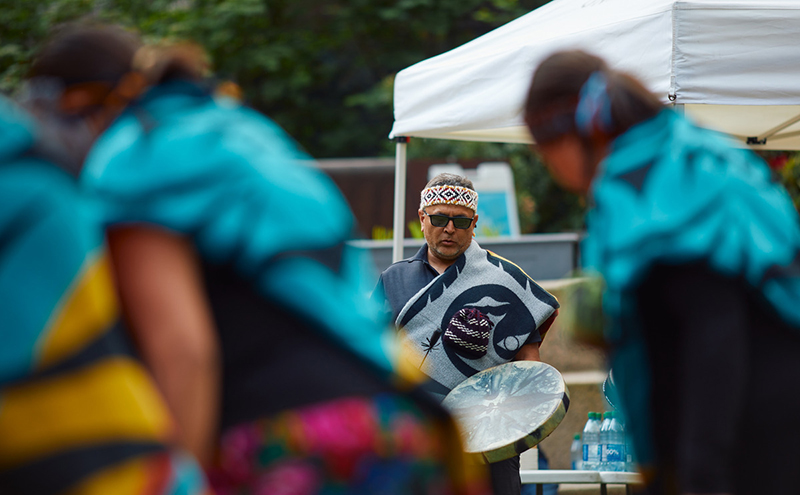 Ses siyam (Ray Natraoro) and Xats'alanexw siyam (Victor Harry) carved the seaworthy hunting canoe in the winter of 2019, giving students, employees and the community the unique opportunity to witness the transformation from tree to canoe.
The stunning black-and-red canoe was named in a moving ceremony led by leaders of the Skwxwú7mesh (Squamish) Nation that same year. The canoe is part of ongoing efforts to Indigenize and decolonize education at the University and affirm CapU as an inclusive place for Indigenous peoples.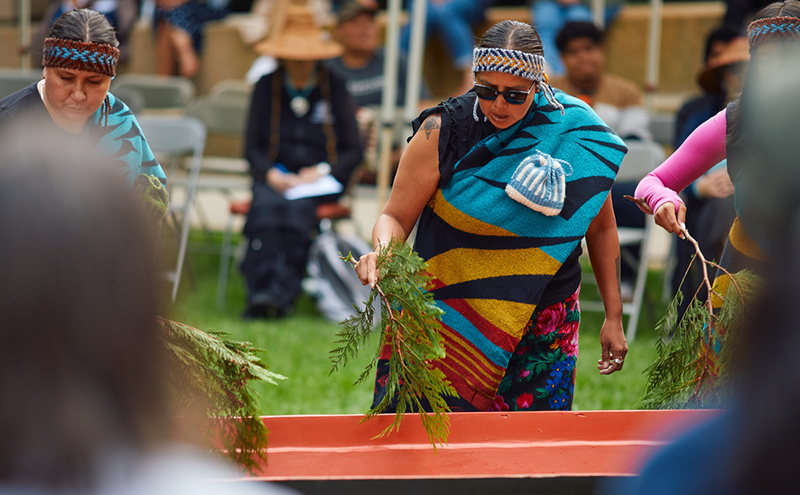 The May 30 ceremony included words from Elder Rose Nahanee and the carvers, who spoke of the process of creating Skw'cháys. CapU community members spoke of the canoe's meaning, how the event impacted them and their connection to the canoe. Skw'cháys was "cleaned" with cedar boughs following a traditional ceremony with singing and drumming.
Community members spoke of what Skw'cháys means to them, educating attendees on the deep cultural connection the canoe offers and its larger legacy as a guiding presence and intrinsic part of the University.
CapU is on a pathway of learning how to be a responsible canoe family and how to honour its relationship with Indigenous peoples and with Skw'cháys.
The lessons run deep as even the name of the canoe holds wisdom. Skw'cháys came to Ses siyam as he was carving the canoe. A story from his youth of a hunter blessed with a supernatural spear kept coming up in his mind.
In the story, the hunter became full of himself, confident in his ability to conquer any sea creature. The Creator saw this and sent him a test in the form of a large sea lion made of wood. The hunter didn't need to kill another sea lion, but he chased it for a long time anyway. When he finally threw his magic spear, the animal surprised him by swimming away. Eventually, he caught up to it and discovered that his great spear had broken off in the sea lion and could not be used again.
"Skw'cháys" is the name of the whirlpool that leads to the underwater world of the sea lion people. The name is a reminder to always be humble and kind, no matter what gifts you possess.