Earn academic credits for life and work experience with Prior Learning Assessment (PLA) at CapU.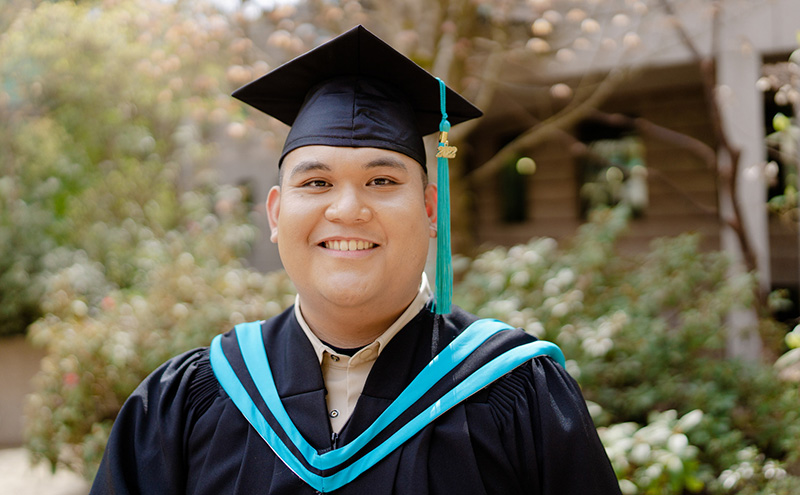 What is PLA?
Prior Learning Assessment recognizes the experience you're bringing to Capilano University.
Have you acquired skills and knowledge outside of a formal education setting that match what we teach in a specific course or program?
We'll explore what you've learned on the job, through self-study or Continuing Studies courses, volunteering or other life experience to grant you credit for a course or toward a program at CapU.
What are the advantages?
You can save time and money when completing your credential.
How does it work?
You must be accepted into a CapU program. Review your program profile to determine which course(s) you want to receive credit for based on your prior experience.
Consult with the program Chair, and submit your PLA Request Form (pdf). Provide evidence to support your request such as a portfolio of work samples, workshop or training certificates, and letters from employers or mentors.
The faculty assessor assigned to your request may request additional evidence such as a skills demonstration, an interview, or a learner's summary.
Credits earned through PLA are recorded on your transcript.
PLA at CapU success stories
Learn more about the PLA process from Chris and Melissa, two CapU grads who used PLA to gain credits for their on-the-job experience, additional training and broad experience.
The Capilano University PLA process is a game-changer for adult learners seeking credit for learning through work, training and life experience.
As a successful professional in the advertising and marketing industry worldwide, I initially needed to be more relaxed about the process. My fears were quickly dispelled as the PLA team went above and beyond to make the process as comprehensive and learner-centered as possible.
Throughout the process, I was impressed by the professionalism and dedication of the PLA team. They conducted interviews, reviewed my materials, and provided exercises to ensure I understood the subject.
This made the process both challenging and rewarding, and I came away with a renewed sense of confidence in my abilities and knowledge.
I want to express my sincere appreciation for the Capilano University PLA team, who took the time to understand my unique needs and circumstances and supported me every step of the way.
Thank you, Capilano University, for providing such an outstanding program! I recommend the PLA process to anyone seeking credit for their prior learning experiences.
In Spring 2021, while completing my undergraduate degree at CapU, I requested to complete Prior Learning Assessments (PLA) for credit towards two courses.
This experience was student-focused and allowed me to receive credits for previous learning which occurred through prior education and professional experiences.
Assessments involved demonstrating specific course learning objectives via written summaries, supporting documentation (e.g., courses, certificates, academic projects, professional projects), and interviews with faculty assessors.
The PLA experience allowed me to meet all graduation requirements on time which allowed me to accept an offer to graduate school that fall!
What does it cost?
PLA fees are 50% of the regular tuition fee for the course you're requesting.
Need more information?
If you have questions that are not answered in our FAQ section, email us at pla@capilanou.ca.
FAQs for students
If a course in your program covers material you already know, you can apply for a Prior Learning Assessment. To demonstrate your knowledge or skills, you might be asked to take part in an interview, present a portfolio, complete a learning summary questionnaire, submit an assignment, and/or give a demonstration or performance.
The type of assessment and how it is delivered (in person, online, on video) are determined on an individual, course-by-course basis by the program area. Approved program faculty with expertise in the subject area will assess your submission(s).
Where appropriate, external assessors such as community members or Elders may be asked to assist faculty. Students with disabilities will be accommodated during the process.
Assessors will compare your relevant, demonstrable skills and knowledge to the learning outcomes in the course. A passing grade results in a CR indicating Credit granted for that specific course, which will appear on your transcript.
You can also use PLA to earn unassigned credit in a subject area, indicated by year level (for example, ENGL 1XX or CMNS 2XX).
You must be admitted to a Capilano U program. You must be approved by the academic area as eligible to be assessed; see "How do I apply for PLA?"
Finally, in order to meet University residency requirements there is a limit to the number of transfer and PLA credits you can apply towards your credential.
These are determined by individual programs, but generally a minimum of 50% of the total credits you need to qualify for a Capilano University credential must be taken at Capilano University.
Here are the steps:
Review the course outline for the course(s) you are interested in. Start at Find a Program or Course.
If you cannot find a course outline, contact the program area directly to request a copy.
Carefully consider if your prior learning matches well with the Course Student Learning Outcomes described in a numbered list on the course outline.
If yes, download and complete the PLA Request Form (pdf). Email the completed form to the program area to request approval from the chair, convenor, coordinator or designate. Before approval is granted, the program area may contact you for further information to determine the likelihood of success.
PLA Request Forms that are signed and dated by both student and a faculty member (department designate) can then be submitted to Student Financial Accounts: sfa@capilanou.ca or LB152, Library building. PLA fees of 50% of the course tuition will be payable at that time; visit How to Pay for details.
When payment is confirmed, the Cashier's Office will contact the program area to let them know the PLA can proceed.
A faculty assessor will contact you to discuss what types of assessment will be used to determine your prior learning.
Submit your assessment(s) for grading, no later than 3 months after receiving your PLA assessment guidelines/instructions from the faculty assessor. If you need more time, speak with your assessor.
Within two weeks, receive the results of your assessment from the program area (the process may take longer in the summer). If successful, you will also receive an email from the Registrar's Office once the PLA credit has been processed to your student record.