Down-to-Earth Learning
Published28 October, 2022
Photo credit Patrick Leung
EarthWorks event at the Átl'ka7tsem/Howe Sound Biosphere Region shows students how they are a part of nature, not separate from it.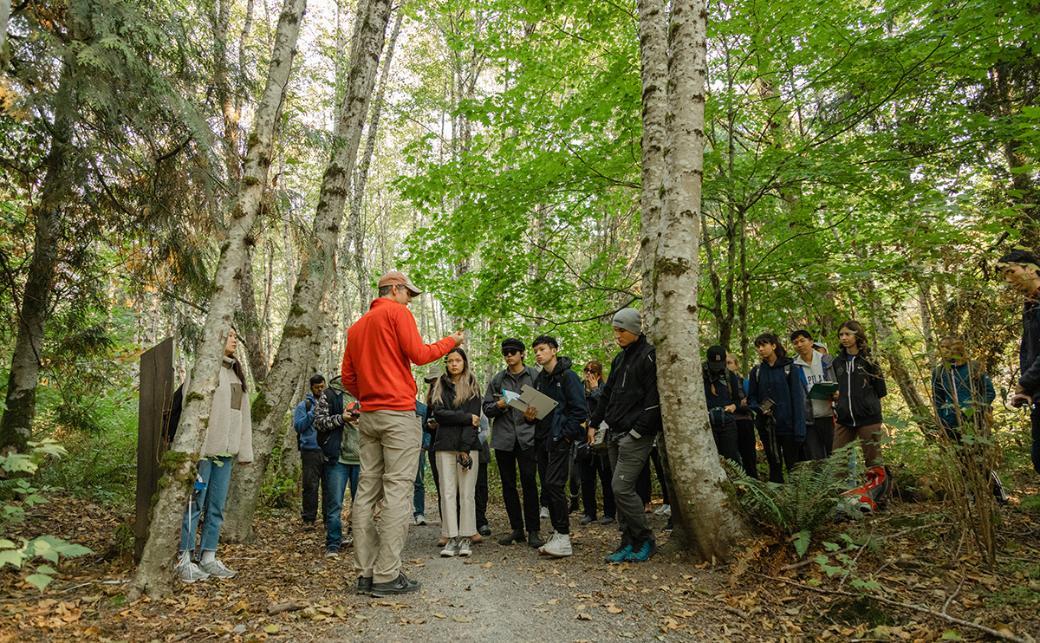 Capilano University students ventured into the Átl'ka7tsem/Howe Sound Biosphere Region this month to learn about biodiversity, sustainability, and how human resource use and wildlife can coexist.
CapU biology instructor Tom Flower led students through the forest on an unseasonably warm October afternoon, teaching them about the species they would find depending on the landscape's varying features.
Up along the mountainside, a drier ecosystem, where fir trees dominated. Further down in the riparian area, hemlocks, red cedars, and lady ferns thrived in the wetter and more nutrient-dense soil.
The students used apps like Seek and iNaturalist to survey and record plants they found in their assigned areas. As Flower demonstrated how to set wildlife cameras up for surveying Roosevelt elk populations in the area, he explained to students that the ecosystem in Átl'ka7tsem/Howe Sound evolved around 16,000 years ago, and Indigenous people have stewarded the land for nearly as long.
With the guidance of Flower, students learned about species abundance, surveying techniques, and how to set up wildlife camera traps. The lessons were part of Flower's learning objective to show students how they connect to the ecosystems around them.
The outing was part of an EarthWorks event held on Oct. 18. EarthWorks is an initiative driven by students, staff and faculty from CapU's Biology, English, Geography, Early Childhood Care & Education, Interdisciplinary Studies, Tourism Management, Outdoor Recreation Management, Motion Picture Arts and Documentary Filmmaking programs and beyond.
Having students explore Átl'ka7tsem/Howe Sound as part of the event is a hands-on way to boost understanding of our role in the ecosystem, as the area is home to an astonishing level of biodiversity. There are more than 4,000 species living in the Biosphere Region's 218,723 hectares.
Within the marine areas of the reserve, rare living glass sponge reefs – which were presumed to have gone extinct more than 40 million years ago – prevail. Flower noted that biodiversity loss is one of the biggest threats that the world faces today, and with 175 of those species that call Átl'ka7tsem/Howe Sound home listed as threatened or endangered, protecting the land and maintaining its health is critically important.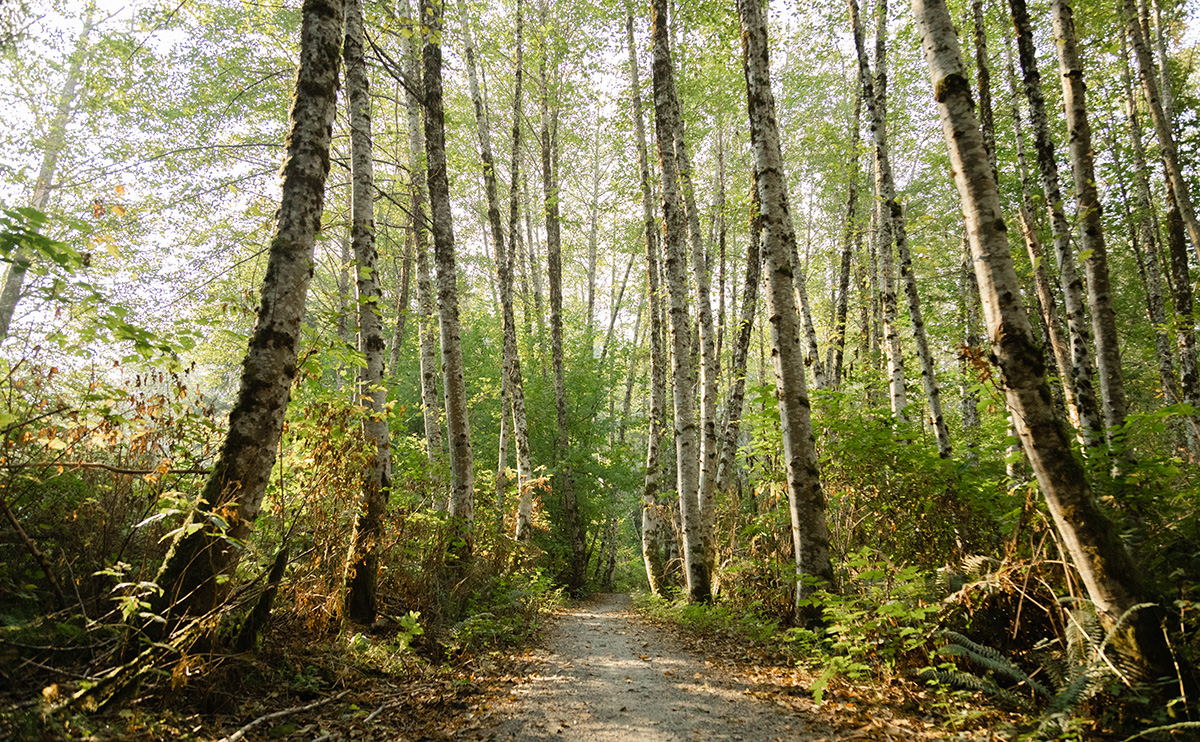 In September 2021, the Átl'ka7tsem/Howe Sound Biosphere Region became Canada's 19th UNESCO-designated Biosphere Reserve after a five-year application process by the Howe Sound Biosphere Region Initiative Society. Biosphere Regions unite conservation, development, reconciliation, and climate action to help balance environmental protection and economic development, ensuring a more sustainable future.
The Skwxwú7mesh Úxwumixw (Squamish Nation) and other Coast Salish peoples have thrived on and stewarded Átl'ka7tsem/Howe Sound land for thousands of years and were important collaborators in shaping the shared vision for Átl'ka7tsem/Howe Sound future.
Maintaining Átl'ka7tsem/Howe Sound as a place of learning for all ages is important for stakeholders in the area, and many students appreciated the opportunity to learn outside. Raphael Gasc, a second-year kinesiology student, enjoyed the learning experience of being in the field.
"We feel more energized and engaged, especially on a sunny day like this, it makes learning more fun," he said.
Flower understands the value of bringing students out into the Biosphere.
"You don't value something until you've actually experienced it and used it," he said. "By getting people out into nature, you can show them the value in those environments. You can see how other people use them, not just yourself."
For first-year student Serena Javaheri, the most interesting thing she learned at the event was that people have lived on this land for almost 16,000 years and that, "as much as we need the environment, it needs us as well."
As students piled back onto the bus after a few hours of hiking and surveying, Flower emphasized preserving biodiversity and balancing it with sustainable development.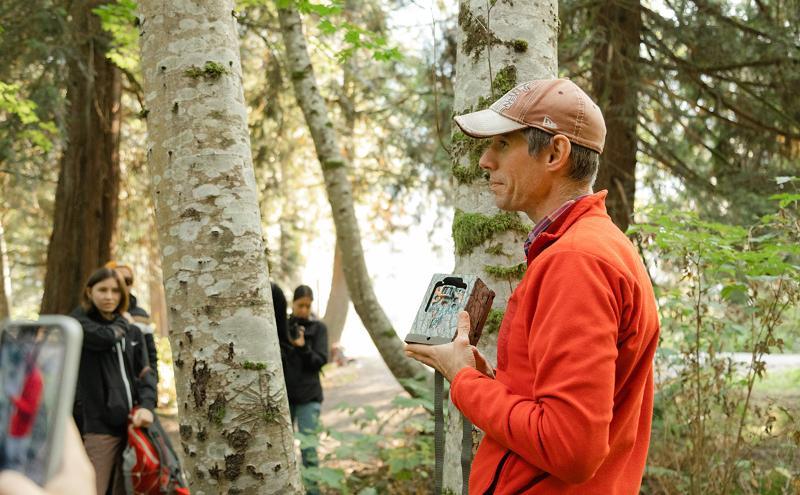 Everything humans depend on is a resource generated by an ecosystem, and if we lose biodiversity, we lose the resources on which we survive on, Flower said.
Átl'ka7tsem/Howe Sound is only the third designated Biosphere Region in British Columbia, and Flower believes allocating more land to these regions would be beneficial.
"I think it'll promote the model that we can live sustainably with our environment, and more broadly, we should be building to do that not just within Biospheres but within Canada as a whole," he said. "Hopefully, more countries will move towards that in the future."