A Bright Future for Soccer at CapU
Published5 October, 2023
Photo credit Patrick Leung and Paul Yates (Vancouver Sports Pictures)
Coach Steve Millar wants his players to express themselves without fear.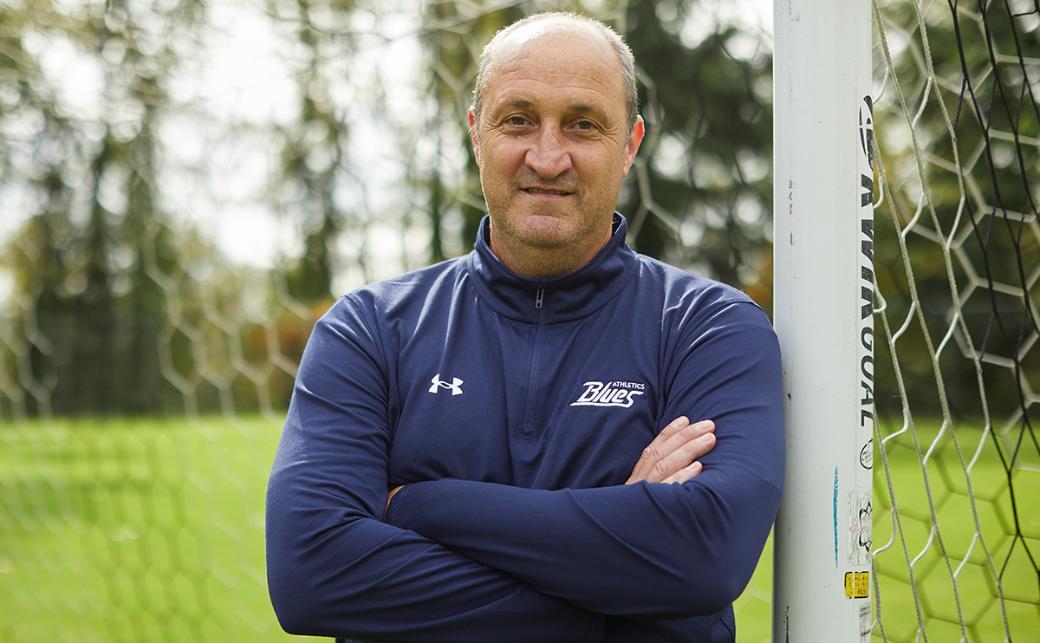 If you find yourself near the CapU soccer fields lately, the energy is palpable – you can see it on the players' faces, from the touchline to midfield and back.
The start of a new season has the Capilano Blues abuzz, but a recent addition has boosted the momentum. In April, the Blues hired experienced head coach Steve Millar to coach the men's soccer team.
"What I'm most excited about is working with these student-athletes hungry for success," Millar said.
Blues fans have plenty to be excited about, too. Millar brings a wealth of knowledge, experience and a successful resumé to the team. In his 91-game professional career, he suited up for the Winnipeg Fury, Vancouver 86ers and the Edmonton Brick Men.
"I was fortunate to play on some great teams with great players and won many championships," Millar said. "Individually, I was fortunate enough to score the winning goal in a few of these championships."
Join the Blues
Try out for a varsity athletics team or join the fans as they cheer on the Blues during a home game.
Blues Athletics
A bright future is in store for the men's soccer team with Millar at the helm; however, he knows building that program takes time and perseverance. "I know this won't happen overnight, but we will work hard at succeeding," he said.
"I look forward to working with CapU for hopefully a long time."