As one of your first CapU experiences, the International Student Orientation will be fun and meaningful.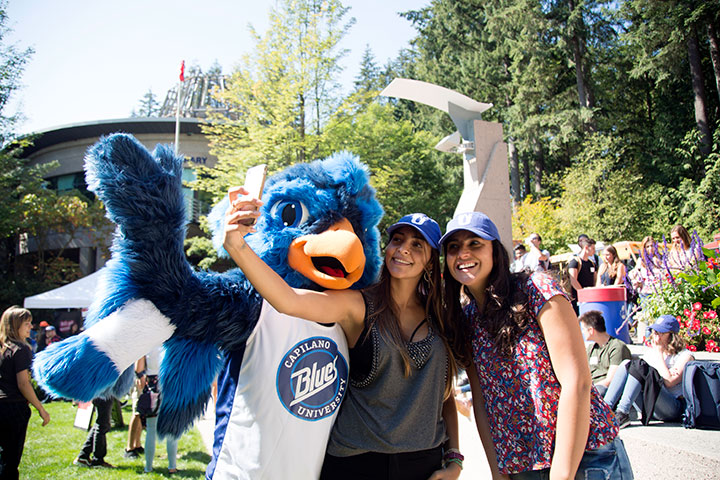 Your CapU journey is about to begin and we can't wait for you to join us.
As one of your first CapU experiences, this is your opportunity to discover CapU, learn about services and resources, meet fellow students and faculty, receive guidance from student mentors and have a ton of fun!
For a complete list of webinars and events taking place during orientation week, visit the Summer 2023 All Student Orientation Sign Up Form or the New Student Campus Wide Orientation page.
Summer 2023 Virtual International Student Orientation (Mandatory)
Monday, May 1, 2023 (Virtual)
8:30 – 10:00 a.m. (PST)
We're excited to invite you to the International Student Orientation, specially designed with you in mind! This event will be hosted virtually using Zoom Video Conferencing.
As a reminder, if you are a new international student starting your studies with us this summer, your attendance is mandatory. As a new CapU student, you can expect an informative morning to get you started off right.
Meet with faculty and staff, connect with new and current students, be introduced to the campus and important resources, meet your mentors, and learn all the tips you need to succeed throughout your CapU journey.
Plus:
Learn more about health insurance and students basics;
Find out more about the Canadian classroom environment and Academic Integrity;
Learn about our different online learning platforms and best practices for staying focused;
Learn about important Immigration, Refugees and Citizenship Canada (IRCC) information; and
Find out how to get involved in both online and on-campus events and activities.
If you are uncertain about your travel plans or study permit status, we still recommend you register for this virtual session so you can be prepared to begin your experience as a CapU student.
Please check your CapU email for an invite and the registration link.
Other Orientation events (all times PST)
Monday, May 1 | 10:30 – 11:30 a.m.
Start off your Journey at CapU with our All-New Students Orientation Kick-Off session where you'll learn about campus culture and resources from CapU staff and student leaders during engaging activities.
It is mandatory for all Summer 2023 New Students including International and Domestic students. This live interactive session will not be recorded so be sure to join us!
Learn more about all Summer 2023 orientation events on the All New Student Orientation page, and sign up via the form below.
Thursday, May 4 | 12 – 2 p.m. (In-person)
Join us for the in-person Welcome Fair & New Students BBQ taking place on campus. You won't want to miss this opportunity to enjoy a free BBQ lunch, student services fair and participate in some fun activities. All new students are encouraged to attend this in-person event.
Learn more on the New Student Campus-Wide Orientation page and sign up via below.
Friday, May 5 | 4 – 6 p.m. (In-person)
Meet the International Leadership and Mentorship Program mentors, request a mentor and make new friends. Plus, we will have food, fun games and prizes. RSVP via the form below.
Other reminders
Welcome Guide for International Students
Check out your Welcome Guide for New International Students on eLearn! It has everything you need to know (and then some) about starting at CapU and will be an important resource for you to reference at different times throughout your studies.
To access the Welcome Guide, log in to eLearn and click on the Welcome Guide for New International Students course in your dashboard. Note: you will need your CapU login and password to access eLearn.
Make sure to upload your study permit or study permit approval (letter of introduction) to the drop box on the Welcome Guide for International Students on eLearn as soon as you receive it.
*Please note that there are two separate modules on e-learn that you must complete as a new CapU Student; the Welcome Guide for International Students prepared by the Centre for International Experience and the Pre-Orientation module prepared by Student Affairs.
Sign Up for a Student Mentor
Our student mentors are part of the International Leadership & Mentorship Program (ILMP) and are specifically trained to help you navigate your first term at CapU.
Our student mentors are in their second year or more and are eager to share helpful tips and tricks for being a successful student, show you how to access student services, and invite you to fun events so you can start meeting new people and making new friends.
This is a free service. All new international students are encouraged to participate to help make your transition into your school and new life in Canada a success.
Please submit the "Request a Mentor" application from from the link below and check your myCapU email for the next steps. Applications close on May 5 at 8 p.m. PT.
Fall (September) 2023 International Student Orientation
Registration will open mid-July 2023. Keep an eye on your myCapU email for updates.