The Ultimate Juggling Act
Published22 October, 2021
Photo credit Tae Hoon Kim & Alia Youssef
What happens to mothers when childcare facilities are inaccessible? A look at the systemic shifts we need to fix a broken system.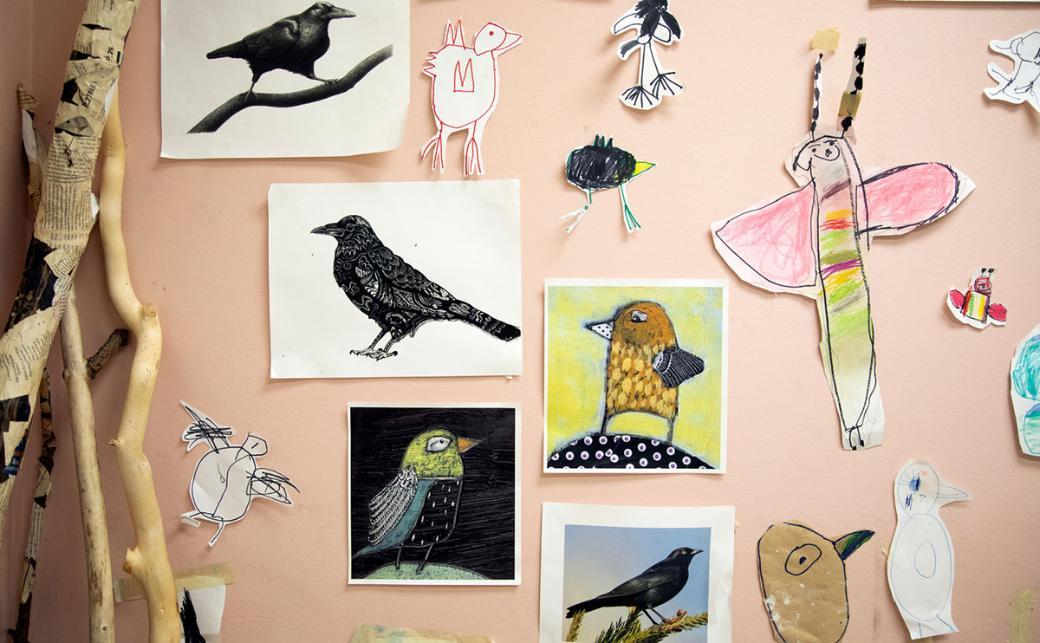 When COVID-19 shut down much of the globe in the spring of 2020, media headlines were quick to point out how women were the hardest hit. With schools and childcare centres closed, women around the world struggled to juggle working or studying from home while simultaneously parenting little ones or managing the online schooling of their older children.
Here in North Vancouver, Nicole Israelov, a Capilano University student who was in her second-to-last term of the Diploma in Tourism Management International program, found herself in a dire situation. Losing childcare for her two children was devastating to her studies and had long-term repercussions for her career path and the development of her special needs son.
Before the shutdown, Israelov had both her now 5-year-old son and 3-year-old daughter at CapU's Childcare Centre. When the centre was forced to shut down along with in-person classes, Israelov was left to complete her coursework online while also parenting. "I was struggling as a parent full time and a student full time," she said. "I had no daycare, no help, no family members here or neighbours. And I couldn't call a babysitter because of COVID."
As an international student from Israel, Israelov was left to shoulder the childcare burden without a support network, while her husband, an IT worker at a construction company, was required to work longer hours than ever.
To make matters worse, Israelov's son — who is autistic and non-verbal — lost access to his therapist, putting his development on the backburner. The shutdowns affected Israelov's ability to study for tests and focus during her online classes. "I would be on mute with my children fighting in the background or needing attention or food," she said. "Once they went to sleep, around 9 p.m., I'd sit down and study until 1 or 2 a.m. Then they'd wake up at 6 a.m. I'm still here to say it's possible, but it was not easy."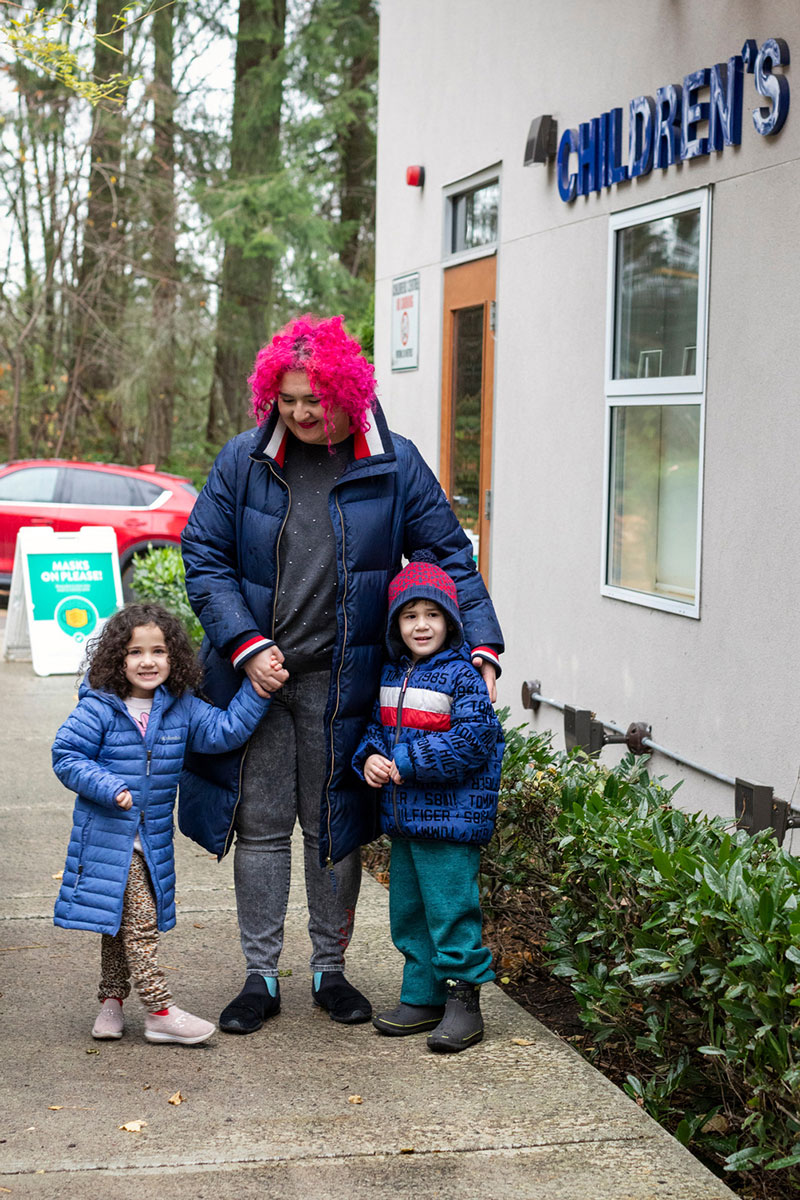 Old problems, new solutions
Access to childcare was a problem long before the pandemic, particularly in B.C., where limited spaces and years-long waitlists have forced many families to either pay more than they can afford for premium services or forgo one person's career and income — usually the mother's — to raise the children.
"What COVID made visible was the fact that there is no infrastructure here," said Kathleen Kummen, chair of the School of Education and Childhood Studies at CapU. "B.C. (and Canada) was noted by the OECD as having a patchwork system. Childcare functions as a market, and parents are the consumers, which is not how an education project needs to function," she adds. "It fell apart [during COVID] because there was nothing in place to maintain it."
B.C.'s childcare landscape is a marketplace of service providers – some licensed, others unlicensed, some based in centres, some based in homes – where the focus is ultimately on childcare over education. Kummen would like to see that shift. "How do we create spaces where children learn to live well and learn well with others?" she said.
She argues a publicly funded early childhood education system with a responsive curriculum, licensing and education requirements for staff would allow educators to shape future citizens in their early years.
In contrasting our situation in B.C. with Europe's during COVID shutdowns, she said, "Did they close, did they struggle? Absolutely. But when you have a publicly funded system, people aren't losing businesses. Things aren't closing forever."
Universal childcare becomes an election issue
Could the $10/day system piloted in B.C. have solved the problems COVID created? Possibly.
The urgent need for affordable, reliable and accessible childcare was a prime federal election issue this fall, particularly in Metro Vancouver, where the cost of living is so high that most families can't afford to have one parent stay home.
"I sit with the $10/day plan," Kummen said. "I believe we need a publicly funded, publicly run, early childhood program that's operated in the same way as a school."
Kummen is working to change the view that childcare is a commodity to be bought and sold. "We work with an early learning framework. We see [early childhood] educators as educators, not as childcare providers. In being rigid with my word use, it's to change a narrative," she said.
"Early childhood education needs to function as an educational project for children, not as a service."
That philosophy extends to CapU's Childcare Centre, which offers care and education for children aged 0 to 5. During the COVID shutdown, educators at the centre worked to maintain connections with the centre's children virtually.
"We said, 'if our work is creating relationships with families, we should still do this in a different way,'" said Sara Sutherland, manager at the Childcare Centre. "We took to the platforms and we started newsletters and virtual story times. We ran a postcard project with our families so the children could send each other postcards. We sent seeds and families could send pictures of what was growing."
"What we realized," she adds, "is, you know you're an essential service, but when you watch the stories unfold, it kicked us in the gut. How do you advocate for those families (like Israelov's) and advocate for your team to be safe? Many vulnerable families will struggle to recover from that five-month closure."
Which is exactly the case for Israelov, for whom the absence of childcare changed the trajectory of her career. While she petitioned for extra help and lenience in her class that spring, she ultimately failed her final exam. She appealed, and was able to retake it, and eventually passed and completed her term. But she was not able to return for her final semester in the summer, as she still did not have childcare or special needs support for her son. "I saw my friends finishing school in the summer and it was sad to watch," she says.
Israelov was eventually able to find administrative work and returned to full-time care for both her children at the Children's Centre. She wants to go back to school but is wary of juggling full-time schooling and parenting again. "I was interested in the Accounting Assistant certificate program, but it's only offered full time, which is not possible for me. So, I gave up for now."
She holds out hope that maybe one day her parents can join the family in Canada and help with childcare.
For Sutherland, the last 18 months might end up having a silver lining for parents who are desperate for a better support system.
"I'm convinced COVID-19 pushed the idea of a universal childcare system way forward for governments," she said. "I hope this is going to be the silver lining out of a very challenging year and a half."