Customized Unreal Engine workshops to boost the skills of students, indie game developers & businesses.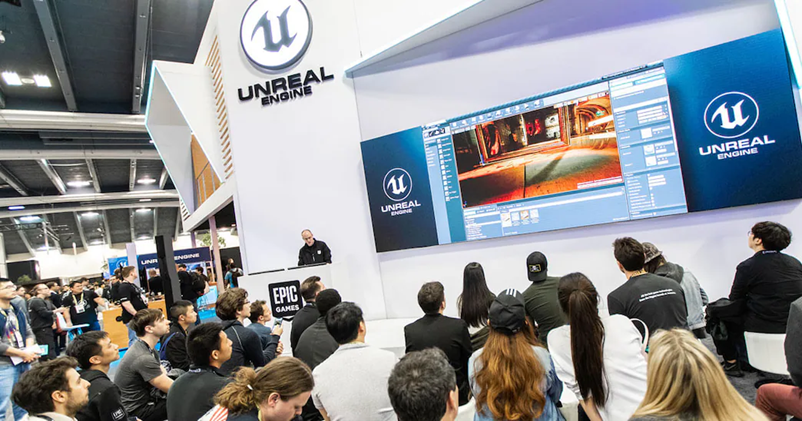 Work with the same tools AAA game developers use
Unreal Engine is used by game production and development leaders and offers the world's most advanced real-time 3D creation tool.
Unreal Engine provides a user-friendly environment with tools and assets to allow designers and developers to produce real-time immersive and interactive environments for games, simulations, visual effects, virtual production, architecture, virtual and augmented reality.
Learn from Unreal Authorized instructors
Capilano University School of Animation & Visual Effects (AVFX) instructors facilitate the Unreal Engine workshops in collaboration with industry experts and Unreal Authorized instructors.
Unreal Engine workshops are delivered through various means, when applicable, including high-end computers, motion capture studios, film studios, 3D scanners and virtual reality.
Unreal Engine workshop facilitators:
Upcoming workshops
We are excited to offer two workshops in Unreal, planned for May and June 2023, please contact unreal@capilanou.ca for more information and to register.
Workshop info
Duration: 15 hours – Two Days
Learning Resources: Will be provided by the facilitator
Workshop description
This workshop takes students through the steps of building realistic and interactive environments inside the Unreal Engine. From concept design to production, students will execute the technical and creative skills necessary for this type of work.
Throughout this workshop students will be taught the rules and principles for designing a realistic and believable environment and apply the industry best practices involved in that process.
Students will create references for game environments, build proxy mesh, place the proxy mesh in the environment as block out objects, build interior and exterior environments, set up lights, and create mood and atmosphere.
Students also learn and practice level and asset optimization to ensure the game level runs smoothly at run-time.
Learning objectives:
Upon successful completion of this course, attendants will be able to:
Design a concept for an interior or exterior environment;
Discuss the steps involved in the process of producing a game environment;
Import assets built in other applications into the Unreal content browser;
Generate proxy mesh as placeholders to block out space based on design concepts;
Discuss lighting methodologies and techniques for interior and exterior environments;
Create and configure static and dynamic lights and shadows.
Build terrain using the tools provided by the engine;
Paint multi-layered terrain texture;
Create and place organic objects on the terrain
Create an atmosphere by using post-processing volumes;
Apply proper collision settings on different objects in the environment; and
Run, test and debug the environment.
Duration: 15 hours — Two days
Learning resources: Will be provided by the facilitator
Workshop description
Creating immersive and engaging environments is an integral part of any real-time rendering interactive experience, especially in video games. The Lighting and Atmosphere course introduces students to the fundamentals and importance of creating compelling lighting and atmosphere in Unreal Engine and the techniques to do so.
Under the supervision of the instructor, students will learn and practice lighting techniques, baking lights, dynamic lighting, lighting for exterior and interiors, and a variety of other methodologies involved in creating engaging and compelling atmospheres, light, shadows, and reflection effects.
Students will set up indoor and outdoor level environments and apply different lighting and shadowing techniques for different times of day and different moods while considering the real-time rendering performance and user experience.
Learning objectives:
Discuss the fundamentals of environmental lighting.
Apply different lighting techniques, such as 3-point lighting, image-based lighting, indirect lighting and global illumination;
Bake lights and shadows where applicable to optimize the real-time rendering;
Discuss the differences between different lighting nodes in Unreal Engine;
Setup proper dynamic lighting for indoor and outdoor environments;
Create light effects to enhance the immersive experience;
Create and configure reflections in the scene;
Develop environmental effects such as Bloom, lens effect, and Fog; and
Optimize lighting throughout the scene to ensure optimum performance at run-time.
About the Facilitator
Greg is a seasoned instructor and trainer; he currently works at Sony Pictures Imageworks as their Training Department Manager. He is also in charge of Academic Outreach and Artistic development.
During his time at Imageworks, he has been involved with the training of artists that went on to create the stunning imagery that you see in films like academy award nominated "Mulan" and the 2018 Multiple award-winning "Spider-Man - Into the Spiderverse" He is spearheading the training initiatives there as the studio moves towards utilizing Unreal Engine in various capacities.
Greg has been an instructor/trainer for over 20 years, earning his initial credentials for teaching Autodesk | Maya. Soon after, he was asked to join the instructor evaluation program at that same company. He has helped many instructors refine their trade over the years.
Greg also has been an educator, teaching in various animation and VFX-related courses in several private and public post-secondary institutions. He received his Unreal Authorized Instructor designation in July of 2021.
Education
Alberta College of Art & Design
University of Calgary
Autodesk Academy
Unreal Authorized Instructor
Areas of Expertise
Learning and Education Master
Curriculum design and implementation
Autodesk | Maya
Unreal Engine
Foundry Nuke & Katana