BA (Hons), MA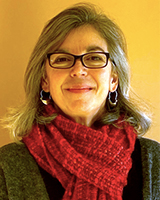 Instructor, English
School of Humanities
Faculty of Arts and Sciences
School of Humanities - English

604.986.1911 ext. 2426
Fir Building, room FR404
vross@capilanou.ca
Education
MA, English, University of British Columbia, 2000.

PGCE, Institute of Education, University of London, 1991.

Diploma of Associate, London College of Music, 1990.

BA (Honours), English Literature, Cambridgeshire College of Arts and Technology/Anglia Ruskin University, 1986.
Bio
Victoria Ross (MA, University of British Columbia, 2000) has taught English at Capilano University since the early 2000s.
Prior to this, she worked in both publishing and the voluntary sector in Cambridge and London (UK), as well as in Montreal, where she also reviewed books for the Montreal Gazette.
Ross has been the Coordinator of the English Department twice and has served on numerous committees engaged in developing English programming.
The study of literature and writing is enriching and empowering. At every level, my courses are designed to offer students access to an impressive variety of imaginative work that will enrich their lives and empower their voices.
In my English 100 course, students read new writing published in Granta Magazine and consider how language plays a powerful role in political discourse. My first year literature courses focus on the life of the city in different locations around the world, while the historical survey course I teach at the second year level includes some of the most distinct and revolutionary writers in English from the Medieval to the Modern periods.
Music, visual art, as well as film, also play an important role in my teaching.