BA (Hons), MA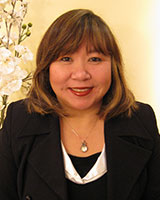 Instructor (Chinese)
Faculty of Arts and Sciences
School of Humanities
School of Humanities - Chinese

604.986.1911 ext. 2423
Fir Building, room FR404
tchow@capilanou.ca
Education
MA, Department of Political Science: International Trade Relations between Canada, China and Japan, Simon Fraser University, Vancouver, BC, 2003.
BA (Honours), English Department (Chinese Minor), Beijing Foreign Languages University, Beijing, China, 1983.
IB Full Diploma, International Baccalaureate, United World Colleges of Lester B. Pearson College of the Pacific, Victoria, BC, 1982.
"Student achievement is the focus of my teaching. It is important that they feel they have gained from my classes. They have my full support in wherever learning of Chinese language can lead them."
Bio
Tong Zhang Chow (MA, Simon Fraser University, 2003) is a Chinese language specialist whose main research focuses on comparative usage of Mandarin Chinese and English in the applied field of professional English-Chinese translation, cross-cultural communication between the East and the West, and bilateral trade relations between Canada and China.
After receiving degrees from Simon Fraser University, Beijing Foreign Languages University and the United World Colleges of Lester B. Pearson College of the Pacific, Chow taught for the Advanced Interpreter Education program at Simon Fraser University from 1987 to 1994. She has taught Mandarin Chinese for Modern Languages Institute at the University of British Columbia since 1988. She was also a sessional Chinese Instructor for Modern Languages Department at Douglas College from 1998 to 2009. Chow has been a Chinese Instructor at Capilano University for the Languages and Linguistics department from 1998 to present, and served as Coordinator from 2016 to 2018.
Chow is a professional English-Chinese translator accredited to the Secretary of State of Canada. She has interpreted for world leaders, multinational corporations, non-governmental organizations and academic institutions. Her interpretation highlights include the APEC Summit in Vancouver, Asia Pacific Foundation, BC Province, the Bill Gates Foundation, Canada China Business Council, Teck Resources, UBC, Vancouver Economic Commission and Young Presidents Organization (YPO).
Chow has been an Examiner Responsible for Chinese for the International Baccalaureate Organization (IBO) since 1996, setting IB examination papers, standardizing assessment criteria and providing final grade boundaries. She is on the IB global school authorization team approving applications. She initiated an IB Chinese teacher training workshop in Melbourne in 1997 and has led 60 IB global Chinese workshops.
Chow was the keynote speaker for the international education forum at Jiaxing School of Beijing University with more than 140,000 online viewers for her presentation of International Mindedness in International Education in September 2018.