BA, M.Ed.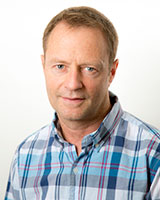 EAP Instructor, Instructor
Faculty of Education
Health & Human Development
School of Access & Academic Preparation

604.986.1911 ext. 3434
stephenking3@capilanou.ca
Education
M.Ed., Simon Fraser University, 2005.
BA, University of Victoria, 1993.
Bio
Steve King (M.Ed., Simon Fraser University, 2005) holds a Master of Education degree from Simon Fraser University, specializing in second language acquisition. He currently teaches in both the School of Communication and the English for Academic Purposes department.
King's educational career began by teaching English to international and domestic students, and more recently he has built on his communication background by also instructing students in business writing and technical writing.
In addition to teaching, King has edited textbooks, written a series of teacher's guides and provided consulting services to business and embassy clients. He has been at Capilano University since 2014.
I am intrigued in the variety of mediums used for communication and try to bring this interest to the classroom. I am passionate about making learning materials relevant to my students' immediate needs to better empower them, whether in business writing, technical writing or English as a foreign language context.
My additional interests include cross-cultural communication, critical thinking and mountain biking on the North Shore trails.