B.Mus., M.Mus.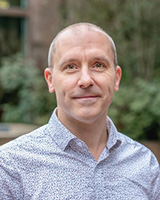 Instructor, Jazz Studies
School of Performing Arts

604.986.1911 ext. 7206
Fir Building, room FR201A
skaldest@capilanou.ca
Education
M.Mus., McGill University, 2000.
B.Mus., McGill University, 1994.
Bio
Steve Kaldestad (M.Mus., McGill University, 2000) is a jazz saxophonist and the academic coordinator of the Jazz Studies program at Capilano University.

Originally from the prairies, Kaldestad spent the 1990s studying and performing in Montreal, obtaining his Bachelors and Masters degrees from McGill University. During this time, he was awarded a Quebec Arts Council grant to study with the legendary Lee Konitz in New York.

In 2000, Kaldestad began an eight year stint in London, England. He joined the Kate Williams Quartet, the Matt Wates Sextet, the Pasadena Roof Orchestra, and performed with the BBC Big Band, the Humphrey Lyttleton Group and others.

Based in Vancouver since 2008, Kaldestad has become one of the most in-demand saxophonists on the jazz scene, performing as a sideman with the Dan Brubeck Quartet, Jodi Proznick's Quartet, the Jill Townsend Jazz Orchestra and various other musical projects. He has released three CDs under his own name on the Cellar Live label to great acclaim, including Straight Up featuring the Mike LeDonne Trio and his newest release, New York Afternoon with the Renee Rosnes Trio.
Kaldestad is a D'addario Artist and plays Select Jazz reeds on all of his saxophones.
As I consider the studying and performing of jazz to be a humbling lifelong pursuit, I feel very fortunate to be afforded the chance to share my personal experience and expertise with my students, whom I consider to be my fellow-practitioners of this great music.
Steve Kaldestad Quartet. New York Afternoon, CD, Cellar Live, 2015.
Steve Kaldestad Quartet. Straight Up, CD, Cellar Live, 2014.
Steve Kaldestad Quintet. Blow Up, CD, Cellar Live, 2010.