Dip. CBT, BA, MFA, PhD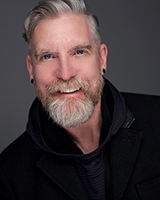 Instructor, Theatre
School of Performing Arts - Theatre
School of Performing Arts

604.986.1911 ext. 2412
Arbutus Building, room AR106
satkins@capilanou.ca
Education
PhD, University of Kent, 2021.
Dip. CBT, London Centre of Excellence, 2020.
MFA, SImon Fraser University, 1996.
BA, Simon Fraser University, 1988.
"While aiming high in terms of craft & technique, I'm a strong exponent of Emergent Learning & creative/collaborative frameworks. I'm here to inspire you to great heights in your education journey."
Bio
Stephen Atkins (PhD, University of Kent, 2021) is a performer, director, writer and creative deviser with a portfolio of works in Canada, UK, USA, EU, China and Australia. His practice-led research is in actor training, directing and creation for theatre, film, transmedia and new theatre.
After receiving degrees at Simon Fraser University, Atkins's professional practice led him to independent performance and new media production houses across Canada and the USA. He has trained with performance companies such as SITI Company (NYC), the Atlantic Acting School (NYC), the Meisner Center (LA), Meyerhold's Biomechanics (Lubljiana, Slovenia) and several independent studios in Europe, China, the United Kingdom and Australia.
Atkins received his PhD in Drama (Practice as Research) from the University of Kent under the supervision of Professor Paul Allain, a scholar of Grotowski and the Suzuki Method of Actor Training who also serves on the advisory board of Digital Theatre Plus (a.k.a. DT+).
Atkins's most recent acting role was in the independent short film Mousie, (D. Bartlett, W. Poole, Kewhaven Pictures UK, 2019). It is a short film portraying the circumstances of displaced Romani children in 1936 Nazi occupied Europe. The film was made in support of the refugee charity, The Separated Child Foundation. Mousie's premiere was at the 2019 Berlin Film Festival followed by an invitation to the Miami Jewish Film Festival. It has been invited to several USA/EU/UK festivals since. It has won two Best Short Film awards (International jury and Italian jury) at the Festival del Cinema Citta di Spello, Italy, 2021. Director: David Bartlett. Director of Photography: Paul Kirsop. Original musical score by Jack C. Arnold.
Atkins is a published author whose works include short fiction, screenplays, stage plays and Crosspoints: An Integrative Acting System, available on Amazon. The Crospoints System was developed in dialogue with Mary Overlie, the originator of The Six Viewpoints.
Future projects include a documentary series of masterclasses on Crosspoints and an open access project titled FuseRelay, a performance pedagogy journal slated for launch in early 2022.
Atkins is a former Senator for the Faculty of Fine and Applied Arts. He has served on several university committees including Indigenising the Curriculum, the LGBTQ2IAS+ Steering Committee,the Senate Academic Planning and Programme Review Committee (SAPPRC) and the President's Advisory Committee for Academic Freedom. He is certified in Professional and Organisational Development and is a dedicated reader in the Scholarship of Teaching and Learning (SoTL).