BPR, M.Sc.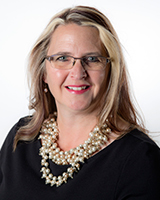 Chair, Schools of Tourism & OREC
School of Tourism Management
Faculty of Global and Community Studies
School of Outdoor Recreation Management

604.986.1911 ext. 5825
Cedar Building, room CE 320
swells@capilanou.ca
Education
M.Sc., Educational Leadership, University of Leicester, 2010.
BPR, Communication Studies, Mount Saint Vincent University, 1990.
"Take advantage of the opportunities presented, you never know what exciting path lies ahead."
Bio
Stephanie Wells (M.Sc., University of Leicester, 2010) is the co-chair in the School of Tourism Management and Outdoor Recreation Management, and leads a team of faculty passionate about teaching and developing the next set of tourism management professionals. Her breadth of experience and knowledge includes marketing communications, sales, customer service, business management and communications.

Wells' belief in the power of tourism and tourism development began when she worked at Walt Disney World's EPCOT Centre. This introduction to different cultures and the second-to-none experience that Walt Disney offers its guests set her on a path to instill in others a sense of passion, service and pride in their surroundings enabling them to showcase the best their communities have to offer to visitors from around the globe.

She has been a project lead, alongside a team of faculty and students, on several international initiatives through Capilano University to consult, train and develop relationships that build the capacity of the local population to garner the economic benefits that tourism provides. These initiatives have led her to incredible destinations including Ecuador, Russia, Philippines and Vietnam.

She is focused on internationalization and global citizenship, which is demonstrated through her membership within the Pacific Asia Travel Association (PATA) and as a committee member on the Human Capital Development Committee. In addition, Wells is a faculty advisor to the PATA Vancouver Canada Student Chapter, the Tourism and Outdoor Recreation Student Association and an advocate of Capilano University's Centre for International Experience's study abroad/academic exchange program.
I love teaching marketing communications as it provides students the opportunity to put both research and academics to work with creativity. A semester-long project provides the chance to really know the 'customer' and develop a marketing campaign that can yield results.
We dig into the 'why' of marketing messages and find ways to say the same thing across platforms but for different groups, it's always fascinating to see what students develop.