MA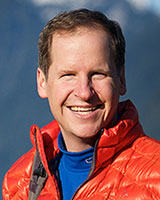 Instructor
School of Global Stewardship

604.986.1911 ext. 2203
Fir Building, room FR545
rjantzen@capilanou.ca
Education
MA, Environmental Education and Communication, Royal Roads University, 2005.
Diploma, Outdoor Recreation Management, Capilano College, 1991.
Certificate, Wilderness Leadership, Capilano College, 1991.
"Learning is a collaborative process and I teach best when students are involved and engaged in the classroom."
Bio
Roy Jantzen (MA, Royal Roads University, 2005) is a professor of Natural History, Ecotourism, Tourism and Climate Change, and Environmental Stewardship in the Faculty of Global and Community Studies at Capilano University. He teaches students in Tourism Management, Outdoor Recreation Management and Global Stewardship.
For over two decades, Jantzen has helped educate the public about the importance of biodiversity and our human place within it. Though he has a passion for local ecosystems and the species that inhabit them, he also has a strong desire to relate the environment to our lives and to larger planetary issues. Using information that he also shares in his natural history courses, he recently published a book entitled, Active Vancouver: A Year-Round Guide to Outdoor Recreation in the City's Natural Environments.
Since 2015, Jantzen has completed 15 online courses through the United Nations Sustainable Development Solutions Network, and is able to use this current global content to help educate students on his latest passion The Sustainable Development Goals.

In addition, Jantzen has stayed closely connected to the adventure industry in both BC and the Yukon. He leads an ecotourism and consulting company he began 24 years ago, has organized multiple industry advisory committees and continues to facilitate student connections to adventure business owners and operators.
Jantzen holds a Master of Environmental Education and Communication from Royal Roads University and asks, "shouldn't all education be environmental education?"
When appropriate, I prefer to take my classes into the field. On any given day, I may be leading students on an interpretive walk along the CapU50 Trail, using a driftwood pencil to map out coastal weather systems on a sandy beach or getting into hip waders to do a stream assessment at the Seymour Hatchery.
It's important to me to build a sense of place in my students and I think the North Shore has so much to offer as a local learning environment.
No matter what my teaching focus is, I will be aspiring not just to educate, but to curate the most appropriate resources for the course, to inspire you to learn more by stimulating your curiosity and to increase your awareness of the natural world and the threats humanity places on it.
Jantzen, Roy. Active Vancouver: A Year-Round Guide to Outdoor Recreation in the City's Natural Environments, self published, 2018.