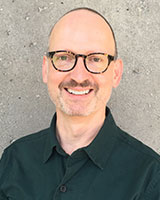 Instructor, IDEA School of Design
IDEA School of Design

604.986.1911 ext. 7182
Arbutus Building, room AR206
pmilelli@capilanou.ca
Education
Diploma, Visual Arts, Alberta College of Art and Design, 1988.
Bio
Pascal Milelli is an award-winning illustrator whose clients include Scribner Books, Vancouver Opera, British Columbia Securities Commission, Simon Fraser University, Pfizer Pharmaceuticals and The Atlantic Monthly.
Milelli's work has been recognized by Communication Arts magazine and the Society of Illustrators in New York, and among his five children's picture books, Seal Song (written by Andrea Spalding), was a finalist for the TD Children's Literature Prize.
Milelli has co-coordinated the Bachelor of Design program since 2012, and has taught illustration, creative thinking and portfolio development for over two decades.
I began teaching at Capilano University as my illustration career was gaining momentum, and for many years my field experience was a key strength I brought to the classroom.
Now, it's a seasoned eye for conceptual strength and composition, and a greater understanding of illustration's history and where it's headed next.
I work to create a collaborative and inclusive learning environment, where students have a chance to develop their technical skills alongside their illustrative voice.