BTM, MA.URP (Hons), DSocSci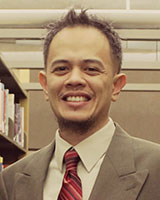 Instructor


604.986.1911 ext. 3563
Cedar Building, room CE226
paolofresnoza@capilanou.ca
Education
DSocSci, Interdisciplinary Studies, Royal Roads University, 2021.

MA.URP (Honours), Urban and Regional Planning, University of the Philippines, 2008.

BTM, Capilano University, 2005.
"It's good to have firm direction but better to have an open mind."
Bio
Paolo Fresnoza (DSocSci, Royal Roads University, 2021) is an accomplished tourism expert with a wealth of experience in the tourism industry in Canada, Australia, Thailand and the Philippines. Armed with over 15 years of experience, his specialties include tourism planning, destination and policy development, tourism sustainability, advanced tourism theories, and disaster risk management in tourism.
Fresnoza brings together his experience and expertise into the classroom environment, as a former assistant professor at the University of the Philippines - Asian Institute of Tourism and as a current instructor at Capilano University in North Vancouver.
Also wearing his urban planner hat, Fresnoza believes in the synergy of tourism and urban planning in creating a progressive and innovative approach to develop sustainable communities that prosper through tourism. His latest achievement was the tourism planning of a 4,000-acre mixed use, integrated tourism and heritage destination in the Philippines. This project is expected to generate CAD $200 million worth of investments and provide over 800 meaningful jobs for just the first two phases in its 10-year development.
Fresnoza is a graduate of Capilano University's Tourism Management Degree program and holds a Master's degree (with honours) in Urban and Regional Planning from the University of the Philippines. He recently completed his doctoral dissertation, which focuses on disaster risk management in tourism in the perspective of Indigenous systems and practices.
As a think-outside-the-box advocate, Fresnoza is passionate about transforming communities to become more resilient, encouraged and empowered, realized through sustainable tourism.