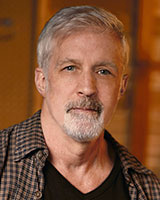 Instructor, Theatre
Faculty of Fine and Applied Arts
School of Performing Arts - Musical Theatre
School of Performing Arts
School of Performing Arts - Theatre

604.986.1911 ext. 3605
Arbutus Building, room AR004
neilgiroday@capilanou.ca
Education
Meisner Technique: Fred Kareman (3 years), Carnegie Hall Studios, 1995-98.
Meisner Technique: William Alderson (2 year Meisner Program), 1989-92.
Theatre Dance (Full Scholarship): Ann Reinking (Fosse), Peff Modelski (Ballet), Michael Owens (Jazz Dance), Zena Rommett (Floor Barre), 1985-87.
Simonson Technique of Dance: Lynn Simonson (4 years), 1986.
Circle in the Square Professional Workshop (Acting): Larry Moss, Michael Kahn, Edward Berkeley, Nikos Psacharopoulous and Alan Langdon, 1983-85.
Jacob's Pillow Dance Festival (awarded Lynn Simonson's Full Scholarship), 1983.
Sag-Aftra Actor Training/Workshop: various, including Voice with Kristin Linklater.
"'The foundation of acting is the reality of doing. The reality of doing means to actually do something, not pretend you're doing it. Relaxed Meaningful Doing!' - Sanford Meisner"
Bio
Neil Giroday is a graduate of the Professional Workshop at the Circle in the Square where he studied acting with Larry Moss, Nikos Psacharopoulous, Edward Berkeley and Alan Langdon. He studied the Meisner Technique of acting for more than 5 years with William Alderson and Fred Kareman at Carnegie Hall Studios. He studied the Simonson Technique of Dance with Lynn Simonson, who awarded him her scholarship to the Jacob's Pillow Dance Festival and, later, put him on faculty at her studio in New York (Dance New Amsterdam). He also studied dance on full scholarship with Ann Reinking (Fosse), Michael Owens (Jazz), Peff Modelski (Ballet) and Zena Rommett (Floor Barre).
Giroday has performed in theatres across Europe and North America, most notably at the Theatre an Der Wien in Vienna. He played Alonzo, Skimbleshanks, Pouncival and Mr Mistoffelees for more than 5 years with the Vienna, Zurich, Basel and 1st International Tour of Cats. Numerous other musicals include 3 productions of A Chorus Line (Greg), The Pajama Game (Steam Heat Boy) and the Wizard of Oz in which he played the Lion for 8 months.
A charter member of the OHIO Theatre in SOHO New York, Giroday apprenticed and performed with the Mirror Repertory Company. His work in plays includes All My Sons (Chris), Three Sisters (Andrei), Home Of the Brave (Coney), Orphans (Phillip), A Midsummer Night's Dream (Puck), and Dogg's Hamlet, Cahoot's Macbeth (Charlie/Ophelia). He has played lead or co-lead roles in 13 films, including FILUM, Prisoner of War, The Ongoing Audition, Fathers and Gaiety, Colours, Using the Mirror and Margaret and the Dollhouse, which won honourable mention at the Montreal World Film Festival.
Giroday spent his adolescence as a competitive figure skater. Coached by Linda Brauckmann, he was the Junior Men's Figure Skating Champion of Canada, the Silver Medalist at the Canada Winter Games, Western Canadian Senior and Novice Men's Champion and was twice awarded Most Artistic Skater in British Columbia.
In 2012, Giroday took Lynn Simonson's Teacher Training Certification. Upon completion of the course, Ms. Simonson put Giroday on faculty at Dance New Amsterdam, her studio in New York. He has taught Simonson Technique for Musical Theatre Dance as well as Dance and Movement for Actors at numerous studios in New York and in Vancouver BC. He teaches Acting (the Meisner Technique) in Vancouver, BC.
Working from an awareness of, and responsiveness to others, we tell the stories of ordinary people facing challenging circumstances.
The actor, in learning to be simple and true, in learning to speak to the point despite being frightened, and with no certainty of being understood, aligns himself with the dilemma the character in the play must face.