B.Sc., MA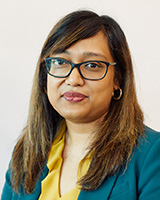 Instructor
School of Tourism Management
Faculty of Global and Community Studies

604.986.1911 ext. 3689
Cedar Building, room CE317A
mohnabaichoo@capilanou.ca
Education
MA, Tourism Management, Royal Roads University, 2017.
Master Certificate in Hospitality, Cornell University, 2014.
B.Sc., Hospitality and Tourism Management, University of Massachusetts, 2012.
Advanced Diploma, Hotel and Tourism Management, César Ritz Colleges, Switzerland, 2010.
"Learning is an ongoing process that takes place in different ways, and has to be innovative, inquisitive, and at the same time, inspiring and useful."
Bio
Mohna Baichoo (MA, Royal Roads University, 2017) is an instructor in the School of Tourism, Faculty of Global and Community Studies. She was born and raised in Mauritius which is an island state with a significant tourism sector. She visited different countries where the local culture always questioned her mind as to how people live in different areas of a globalized world.
Her interest grew further when she was selected for an advanced diploma course in Hotel and Tourism Management at the Cesar Ritz Colleges, following her schooling in Mauritius. University of Massachussets, Amherst was her next step, where she further delved into Hospitality and Tourism Management.
Her thirst for knowledge inspired her to obtain an online Master Certificate in Hospitality Marketing & Revenue Management from Cornell University, as well as a Master's degree in Tourism Management from Royal Roads University.
Baichoo was involved across various cities and countries. She worked for the following companies, Hotel de la Paix, Lausanne, Switzerland, Select Service Partner, Zurich, Switzerland, JA Resorts & Hotels, Dubai, UAE, Ministry of Education & Scientific Research, Mauritius and Fairmont Empress, Victoria, B.C.
She has also been teaching in both post-secondary private and public schools in Vancouver and New Westminster, British Columbia. As a faculty member in the School of Tourism Management at Capilano University, Baichoo brings her hospitality and tourism knowledge and experience in the classroom.
Critical skills, design and implementation of effective sessions and inspiration of the students are her priorities. She is also serving as the chair in the curriculum committee at the School of Tourism Management, where she supports the department in strengthening the development of an academically relevant and professionally useful curriculum.
Baichoo is also a member at ACE-WIL (Association for Co-operative Education and Work Integrated Learning BC/Yukon) and serves in the external relations committee.
I have been teaching since 2012 in the post-secondary education sector where my style of teaching tends to be more of a liberal reflective approach, without, however, losing the main structure and content of what is to be learned.
Case study analysis, lectures, guest speakers, in-class activities, field trips, documentaries, videos, and Ted talks are all parts of my teaching, while quizzes, essays, literature reviews, presentations, reports and exams under my coaching and feedback test the knowledge of my students.
My aim is to turn them to academically sound critical listeners and be able to function effectively in the hospitality, travel and tourism industry.
My Masters thesis addressed the issues of the evolution of customer service and how technology has given rise to personalized service in boutique hotels in Victoria, British Columbia.
The aim of my thesis was to investigate the importance of technology in personalized service in boutique hotels, where the following research objectives were identified: what is personalized service, how critical is technology in personalized service, the criticality of the relationship between personalized service and customer satisfaction and what is the relationship between personalized service and customer/company loyalty.