BA, M.Ed.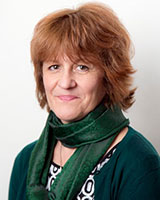 Instructor, EAP
Faculty of Education
Health & Human Development
School of Access & Academic Preparation

604.986.1911 ext. 3679
Birch Building, room BR364
macimovi@capilanou.ca
Education
M.Ed., Teaching & Learning (Second Language Education), OISE/University of Toronto, 1997.
Certificate, TESL, George Brown College, Toronto, 1995.
BA, English Language and Literature, Faculty of Philology, Belgrade University, 1984.
Bio
Milica Acimovic (M.Ed., University of Toronto, 1997) has been teaching EFL, ESL and EAP since 1984. She received her Bachelor of Arts degree in English Language and Literature from Belgrade University, and taught English as a foreign language at the Institute for Foreign Languages in Belgrade, Serbia for eight years.
After moving to Canada in 1992, Acimovic was teaching ESL at Centennial College, Seneca College and York University in Toronto while at the same time taking courses to receive her Masters of Education in Curriculum, Teaching and Learning (Specialization: Second Language Education) from OISE in 1997. She has been an instructor in the English for Academic Purposes (ESL) department at Capilano University since 1998.
Acimovic is greatly interested in teaching and curious about the process of learning languages. That is why, over the years, she has learned, in addition to English as her second language, several other languages including French, Italian, Swedish, German, Russian and Spanish.
My main teaching goal is to empower students. I feel that having a good grasp of the language significantly contributes to improved self-esteem and allows for faster and more successful integration into society.
Learning a new language allows one to understand the new culture better, to see the world through a slightly different perspective.
I enjoy seeing students develop and grow in different areas, challenge themselves and succeed.
My research interest is collaborative learning, students' perceptions of their learning as well as the effect of different teacher feedback on learning.
Exceptional Service Award, Capilano University, 2013.