B.Mus., MBA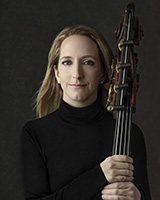 Interim Coordinator, PMI Instructor
Faculty of Fine and Applied Arts
School of Performing Arts - Musical Theatre

604.986.1911 ext. 3193
Fir Building, room FR115
meaghanwilliams@capilanou.ca
Education
MBA, Beedie School of Business, Simon Fraser University, 2016.
Arts and Entertainment Management Certificate, Capilano University, 2009.
Konzertexamen,
 Universität der Künste, Berlin, Germany, 2005.
B.Mus., Performance, Glenn Gould Professional School, 2002.
"I bring out the best in my students, I encourage them to dream big, while every detail in the music and technique is carefully covered."
Bio
Meaghan Williams (MBA, Simon Fraser University, 2016) was raised in St. John's, Newfoundland. She completed her undergraduate degree in performance at the Royal Conservatory of Music in Toronto with virtuoso bassist Joel Quarrington.
During that time, she also had the privilege of studying with bass legend Gary Karr. Williams earned her Konzertexamen with Michael Wolf at the Universität der Künste in Berlin. She also attended the Carl-Flesch Akademie in Baden-Baden, Germany where she studied with Finnish double bass phenomenon Janne Saksala, Principal Bass of Berlin Philharmonic.
Following her studies, Williams performed with the Neue Lausitzer Philharmonie in Germany and she was founding member of the Hyogo Performing Arts Center Symphony Orchestra in Japan.
Since returning to Canada, she has performed with ensembles from coast to coast including the Vancouver Symphony Orchestra, Victoria Symphony and the Newfoundland Symphony Orchestra. She is the Principal Bass of the Okanagan Symphony Orchestra and a member of the Vancouver Opera Orchestra.
A believer in diversity and innovation, Williams enjoys working with living composers and expanding the repertoire for double bass. She premiered the Concerto for Cello, Bass, Suona & Dizi by Dr. Ning Wang (Beijing) with the Nu:BC Collective and premiered Placentia Bay: Summer of 1941 for double bass and orchestra by Mark Haney with the Okanagan Symphony in November 2019.
She is a passionate advocate of Canadian design and craftsmanship and performs on a double bass made by Peter Mach (Gatineau, QC) and bows made by Reid Hudson (Duncan, B.C.) and Max Kasper (Halifax, NS).
Williams is grateful to have been supported throughout her career with grants from the Newfoundland and Labrador Arts Council, the BC Arts Council, and the Canada Council for the Arts. She teaches at Capilano University, privately both in person and online, and at the West Coast Amateur Musicians Society course in Squamish, B.C., each summer.
I focus on developing each double bass student's sound and empowering them with the technique and skills they need to play well and improve quickly.
I teach my students how to analyze and creatively solve complex problems, one note at a time, so they can let their musicianship take centre stage.