M.Sc., PhD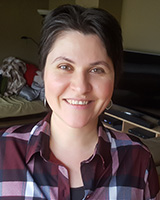 Instructor, Mathematics and Statistics
Faculty of Arts and Sciences
School of STEM
Mathematics & Statistics

604.986.1911 ext. 2407
Fir Building, room FR495
mahshidatapour@capilanou.ca
Education
PhD (Applied Mathematics and Statistics), University of Saskatchewan, 2008.
M.Sc., Sharif University of Technology, 2003.
Bio
Mahshid Atapour (PhD, University of Saskatchewan, 2008) is a faculty member in the Department of Mathematics and Statistics at Capilano University and an Adjunct Professor with the Department of Finance and Management Science at Edwards School of Business, University of Saskatchewan.
She received her Master of Science from Sharif University of Technology in 2003 and her PhD in Applied Mathematics and Statistics from the University of Saskatchewan in 2008. She then completed a three-year postdoctoral program in applied probability at York University followed by a MITACS-Accelerate postdoctoral fellowship in the Department of Computer Science at the University of Saskatchewan.
Mahshid has several published papers in peer-reviewed journals as well as consulting experience with local industrial companies such as March Consulting Inc. (in mining) and NexLev Solutions Inc. (in IT).
I have been teaching in the field of mathematics and statistics for more than 10 years. I previously taught at Humber Institute of Technology, York University, Saskatchewan Polytechnic and the University of Saskatchewan.
My research includes using a variety of mathematical and statistical models to investigate problems in molecular biology, public health and social policy. I am currently working with researchers at the University of Saskatchewan on projects in the area of "data analytics for crime prevention and community safety."