B.Sc., PhD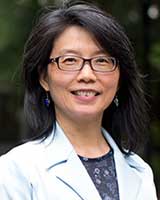 Instructor, Mathematics & Statistics
School of STEM
Mathematics & Statistics
Faculty of Arts and Sciences

604.986.1911 ext. 2483
Fir Building, room FR482
lyen@capilanou.ca
Education
Postdoctoral Fellow, Department of Combinatorics and Optimization, Faculty of Mathematics, University of Waterloo, 1996.
PhD (Mathematics), University of Pennsylvania, 1993.
B.Sc. (Mathematics and Statistics), Simon Fraser University, 1989.
"I believe that mathematics is a beautiful human endeavour to be enjoyed by all at any level."
Bio
Lily Yen (PhD, University of Pennsylvania, 1993) is a mathematics educator and researcher. She first focused on computer algebra and algorithmic proof theory with Herbert S. Wilf, then algebraic combinatorics with David M. Jackson. After the birth of her first child, she took a twelve-year break from research and started a tutoring business with her husband. In September of 2000, she returned to teaching as part-time faculty at Capilano University.
Since 2008, Yen has returned to research and expanded her focus to other fields of mathematics.
In addition to teaching and research, Yen is an organist and choir conductor at Good Shepherd Lutheran Church in Coquitlam. She loves singing and making chamber music with her husband and children.