BHK, M.Sc.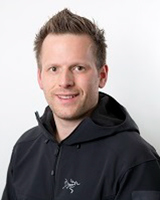 Instructor, Kinesiology
School of Kinesiology

604.986.1911 ext. 2442
Fir Building, room FR529
kyleguay@capilanou.ca
Education
M.Sc. (Performance Enhancement and Injury Prevention), California University of Pennsylvania, 2014.
BHK, University of British Columbia, 2010.
Diploma, Human Kinetics, Capilano University, 2008.
Bio
Kyle Guay (M.Sc., California University of Pennsylvania, 2014) was born and raised on Vancouver's North Shore, which lead him to develop a love for athletics and education. From a young age, he was fascinated by the human body's ability to enhance performance through physical training so naturally ended up pursuing a career where he could combine these two loves.
After finishing the 2-year Human Kinetics diploma at Capilano University, he went on to receive his degree from the University of British Columbia. After working in the field of strength and conditioning for 4 years, he realized his true passion was in education so set out to complete a Master of Science in Human Performance and Injury Prevention from the California University of Pennsylvania. Almost one year to the day after completing his graduate degree, Guay began working in the same classrooms he once attended himself with the School of Human Kinetics.
Guay continues to work as a Strength and Conditioning Specialist where he puts theory to practice with elite and recreational level athletes alike. In his free time, he loves getting outside and exploring the great landscape BC is known for, whether, through camping, hiking or trail running. More recently, he has begun competing in ultra trail running races furthering that first-hand experience he talks about in his classroom.
Being a Certified Strength and Conditioning Specialist since 2008, I have always found the constantly developing sport science field extremely interesting. Therefore, I try to weave in developing concepts and ideas into course content whenever possible. This helps expand the student's understanding of the theories they are learning about as well as develop their critical thinking skills.
I love how we are able to positively impact the human body through physical activity. As a constant topic of discussion, I feel it is imperative that we continue to grow the field of human kinetics and showcase the benefits we can all experience on an individual and community level.
Recipient, President's Entrance Scholarship, University of British Columbia, 2008.