BFA, MFA, PhD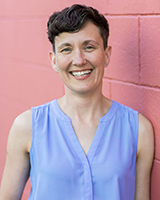 Convenor, WGST/Instructor, CMNS, WGST, MOPA
Liberal Studies
Bachelor of Arts
School of Communication
School of Social Sciences
Women's & Gender Studies
Capilano University Faculty Association
School of Motion Picture Arts - Motion Picture Arts Program
Interdisciplinary Studies
School of Motion Picture Arts

604.986.1911 ext. 3498
Fir Building, room FR542
kwight@capilanou.ca
Education
PhD, Educational Theory and Practice (Equity Studies Stream), Faculty of Education, Simon Fraser University, 2022.
MFA (Interdisciplinary Studies), Simon Fraser University, 2002.
BFA (Integrated Media), Emily Carr Institute of Art and Design, 2000.
Bio
Ki Wight (PhD, Simon Fraser University, 2022) is a critical media and creative industries scholar who studies the relationships between social justice and media arts education, cultures, and practices. Her research, creative projects and teaching passionately engage critical and decolonial pedagogy, critical media literacy, social justice education, visual arts-based methodologies, critical race and critical whiteness studies, intersectional feminist and queer theory, and cultural studies.
She holds a PhD from the Equity Studies Stream of the Educational Theory and Practice Program in the Faculty of Education at Simon Fraser University where she was a SSHRC Doctoral Fellow. Prior to joining Capilano University, Wight was a commercial film and television producer for Canadian and international productions.
I like to think of teaching as a welcoming and an opening of a door to new perspectives, theories, analytical frameworks, skills or histories.
It is important for me to establish community-minded and reciprocal learning environments, and to help students make critical connections between their diverse and unique knowledges to course content.
Another focus in my teaching is linking education, agency and social change, as I believe in the capacity of our students to make significant social and cultural contributions.
Journal Articles
Wight, K. (under review). Critical media literacies for socially just media production practice and representation. Creative Industries Journal. tandfonline.com/journals/rcij20
Wight, K. (2022). Dominant discourses in Canadian film school program websites. Media Education Research Journal, 11(2), pp. 1-18. doi.org/10.5281/zenodo.7459950
Wight, K. (2021). Fighting for social lives: Public versus market pedagogies. SFU Ed Review. 14(1), 8-16. journals.lib.sfu.ca/index.php/sfuer/article/view/1227/2239
Wight, K. (2020). Becoming a blockade: A diffractive reading of an academic office as the site of a queer feminist pedagogy of resistance. MAI: Feminism & Visual Culture, 5. maifeminism.com/becoming-a-blockade
Book Chapters
Wight, K. (2022). Transforming industry standards: Tensions between social change and media production education. In C. Thompson and M. Campbell (Eds.), Creative Industries in Canada. (pp. 250-272). Canadian Scholars Press.
Wight, K. (2020). Missing beats: Critical media literacy pedagogy in post-secondary media production programs. In S.R. Steinberg and B. Down (Eds.), The SAGE Handbook of Critical Pedagogies (pp. 1146-1156). Sage Publishing.
Media Interviews
CBC News: The National. (2022, December 16). Avatar sequel criticized for lack of Indigenous representation [TV News Video]. cbc.ca/player/play/2148849219975
Gonzales, J-L., and Roach, M. (Hosts). (2022, October 27). Workshopping together: transformation in media arts with Ki Wight and Helena Krobath (Ep. 1) [Audio podcast episode]. In Mentorship in Motion. Grounded Futures. groundedfutures.com/shows/mentorship-in-motion/
Wight, K. (2021, June 21). Critical pedagogy for socially just media production education and media futures. Research in Focus (Research Hub @ Faculty of Education, SFU). sfu.ca/education-research-hub/research-in-focus/spotlight-series/student-research/ki-wight.html
Book Reviews
Wight, K. (2019). [Review of the book Feminism: A brief introduction to the ideas, debates, and politics of the movement, by D. Cameron.] Canadian Woman Studies Journal: Feminist Gift Economy, A Materialist Alternative to Patriarchy and Capitalism. 34(1-2), 175-176.
Paper Presentations and other Speaking Engagements
June 15-16, 2023 – Media Futures – The London Economic School of Economic and Political Science (LSE) Media & Communications 20th Anniversary Conference (under review)
Paper: Critical media literacies for socially just media production practice and representation
May 22 – June 2, 2023 – Canadian Communication Association Annual Conference (at Congress of the Humanities and Social Sciences 2023) (under review)
Paper: Disinformation literacy in media production pedagogies: A review of literature
April 13-16, 2023 – American Educational Research Association (accepted)
Paper: Media literacies, media futures and social injustice: Analyzing dominant discourses in Canadian film schools
March 2-4, 2023 – Global Media Education Summit (accepted)
Co-Authored Presentation with Dr. Alaa Al-Musalli: Co-developing competency taxonomies and pedagogies for critical media production and disinformation studies; and
Co-Authored Paper with Alisha Samnani: Critical de/colonial and anticolonial media production pedagogies: A review of literature
Oct. 6, 2022 – Creative BC (BC Government) Creative Pathways Annual Governance Meeting
Guest speaker presentation: What we say we do: Public film school discourses and media futures
May 19, 2022 – Canadian Communication Association Annual Conference (at Congress of the Humanities and Social Sciences 2022) (online)
Paper: Media education programs and the reproduction of industry inequities
June 2, 2021 – Canadian Communication Association Annual Conference (at Congress of the Humanities and Social Sciences 2021), University of Alberta (online)
Paper: Transforming industry standards: Tensions between social change and media production education
March 4, 2020 - Capilano University Open Education Symposium
Panel: Open Education Resources Faculty Showcase
May 6, 2019 - Capilano University Teaching and Learning Symposium
Panel: Brave Queer Content: Creating Positive Safe Space for our Students in our Classrooms
September 12-14, 2018 - CAMEo Conference on Care in the Media and Cultural Industries, University of Leicester
Paper: Imagining inclusive and equitable industry standards in applied media education
May 28, 2018 – BC Campus' Festival of Learning Symposium
May 11, 2017 – Capilano University Teaching and Learning Symposium
May 17, 2017 – SFU Teaching Symposium
November 3, 2017 – SFU TA/TM Certificate Program
Workshop presentation: Diversity, adversity, perversity and the university (co-presented with David Geary) – workshop for educators about diversity and curriculum design
May 7, 2018 – Capilano University Teaching and Learning Symposium
Workshop presentation: The values and challenges of the Privilege Walk (co-presented with David Geary)
November 2, 2017 – Capilano School of Motion Picture Arts Faculty meeting
Formal presentation: SOGI (sexual orientation gender identity) best practices in the classroom
October 18, 2017 – Capilano School of Motion Picture Arts Faculty meeting
Formal presentation: power and privilege in the classroom in the wake of Harvey Weinstein
October 5, 2017 – Capilano University Campus Panel on Sustainability
Panel: Sustainability, social justice, and ethics of care at the university
March 16, 2017 – Capilano University Campus-wide ChatLive Forum
Presented and facilitated: discussion about queer issues and identities in 2017
March 9, 2017 – Capilano University Campus-wide ChatLive Forum
Presented and facilitated: discussion on the status of women in the media industries
July 8 – 17, 2016 –LA Outfest Outset Program
Youth film award mentor: LA Outfest (hosted by Directors' Guild of America)
February 25, 2015 – Capilano University Campus-wide ChatLive Forum
Presented and facilitated: discussion titled "Queer 101" about queer identities and culture
October 30, 2012 – West Vancouver Community Centre Forums
Panel: film industry trends in Hollywood North